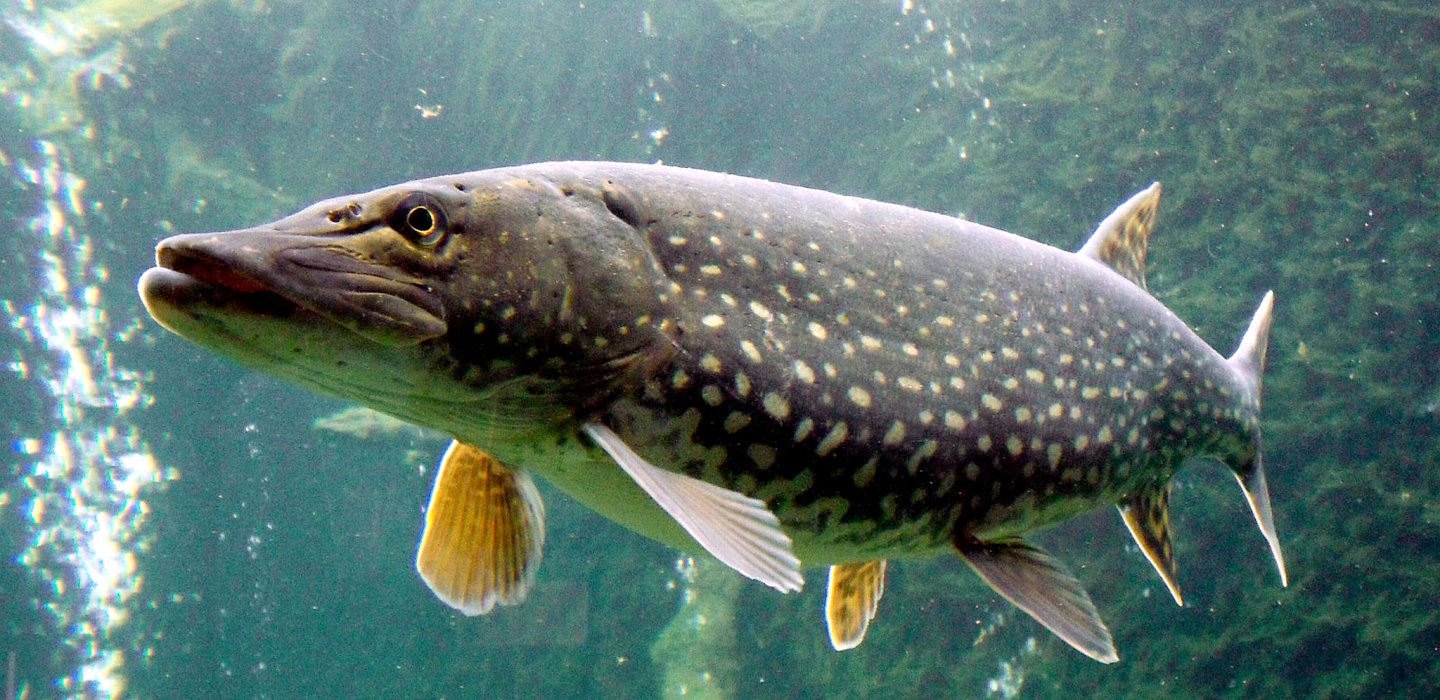 As we move into the new year, Adirondack winter days get longer, colder, and brighter. It's hardwater fishing season. In many lakes, that means northern pike.
One of the best lakes for northern pike is called Mountain View Lake, which shares its name with the surrounding town. Both are a wonderful winter destination.
A challenge
There are plenty of reasons why there are so many pike fans. These fish, from the family Esocidae, are large predators with wedge-shaped heads, gaping mouths, and abundant teeth. They have the fighting spirit that makes them a fun catch, and the heft to make that triumphant photo a real keeper.
Northern pike are the top of the food chain. They like to hide in areas of vegetation, relying on their olive-green coloring and spotted camouflage to help them ambush prey. They have the ability to hang motionless until a target is in range, and then they accelerate with amazing speed to capture their prey. That's also what makes it so thrilling when a pike takes the bait.
Ice fishing for pike is so popular because winter is when the biggest ones get caught. The pike are more hungry, and slower moving, than they are in the summer months.
Mountain View Lake
One word explains why Mountain View Lake is so popular for fishing: structure. "Loads and loads of it," according to one fisherman I consulted. This means the 235-acre lake has a lot of variety in its bottom contours, which creates areas where fish gather for feeding. A sudden barrier can also make potential prey momentarily hesitate before changing direction, creating an opening for hungry pike to strike. With such an irregular shoreline and bottom, Mountain View Lake has the abundance of weeds and stumps that pikes like.  
Use the car-top launch on the west side of the lake for easy access to good spots. Bring a shovel if there's a lot of snow cover.
Winter changes a northern pike's behavior. They seek deeper water, and they are less active. They will move to a more strategic approach instead of patrolling the lake for prey as they do in summer.
Larger pike prefer wider areas and larger territories. Unlike smaller specimens, they have less need to hide from other fish, and better acceleration to go after them. As the weather moves into February and March, the lake ice will thicken and support those venturing across the ice to access deeper areas of the lake. Always think of safety first, and check the ice before walking out on it!
The season for northern pike is the first Saturday in May through March 15. The minimum length of a northern pike is 18 inches, with a daily limit of five.
Pike have better flavor in the winter months.
Full adventure
Pike fishing happens early in the day as the fish stir from sleep, so experts advise getting out early. Often, this means wrapping up early, too. Fortunately, a full day still beckons.
Snowmobile trails are abundant in the area, Trail C8 runs through Mountain View and nearby Owl's Head, with groomed trails plenty of scenery. C78 is a bit north of Mountain View for more exploring.
Dining is easy to get to on a snowmobile, and a famous stop is a short ride away. It's Belly's Mountain View Inn, a tavern that is also the headquarters for the local snowmobile club.
Find out more about this popular dining spot with the blog "Make Your Belly Happy."
This little corner of the Adirondacks is a beautiful spot, with plenty to offer the winter sports enthusiast. It is only a 20 minute scenic drive from downtown Malone.