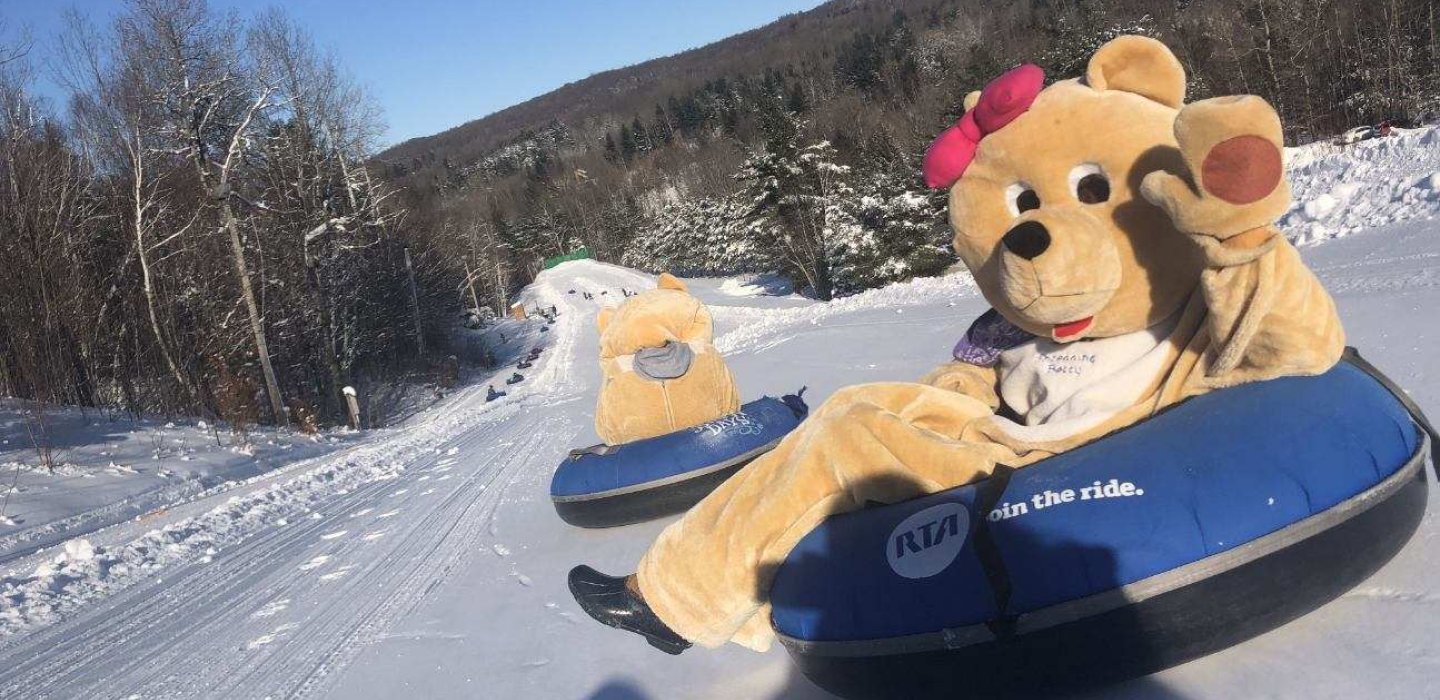 Get out and have fun in Malone!
Winter is here, has been here, and isn't leaving for a few more weeks. It's nothing to fret over, though! While we all might have a little cabin fever in us right now, the winter season is the perfect time to participate in some activities that get you out of the house to either enjoy the beauty of the outdoors, or even to enjoy some old (and new) hobbies indoors -- without feeling guilty about spending time inside.
Malone is full of off-the-beaten-path activities, many of which are little hidden gems of our area. When the snow is falling and there is a chill in the air, these cabin fever relievers are just what the doctor ordered. So put your boots on and rid yourself of that fever!
1. Hiking and snowshoeing
One of the easiest and most affordable ways to enjoy the winter in our area is to go hiking or snowshoeing -- all you need are some warm clothes, boots, and snowshoes (if that's your reliever du jour) -- bonus points for bringing a companion.
Depending on your outdoor prowess, there are trails available from novice to expert outdoorsman alike. If you are just in the beginning stages of getting outside, there are many places that you can hit the trails that don't require much knowledge.  The Malone Fish & Game Club is a great place to start. Not only do they have snowshoe rentals, but they also have groomed trails for beginners to advanced snowshoers and cross-country skiers. (For those just beginning, "groomed" means that the trails have been worked on to create an easy route so there's  no need to walk through drifts of snow!)
For the more adventurous, Owl's Head and Elephant's Head are great intro-to-winter-hiking mountains. Each only just a little over a mile, you may find that someone has broken trail before you or you may be the first. There are great views of the Adirondack Foothills from both summits, and on Elephant's Head you have another view of Lake Titus.
No matter what your level of expertise in hiking, don't forget about safety -- check the local weather reports and DEC alerts before heading out.
2. Ski (or tube) Titus Mountain
If you are looking for something that includes a little more speed than your average hike or snowshoe, Titus Mountain is a great place to start. Once again, Titus is full of activities that are great for both the novice and the seasoned winter warrior.
If you're thinking about bringing the family out or just want to spend some fun in the outdoors without picking up a new hobby, then tubing is perfect. The Titus tubing hill offers two lanes of tubing and a rope tow that brings you (and your tube) back up to the top of the hill. All you need are warm clothes (and to be 42" tall). It's a great way to get out of the house and put a smile on your face.
If you have a little tickle inside that you want to try something new, the Titus Mountain ski school has just what you need, from rentals to great instructors that can get you set-up and ready to enjoy winter in all its alpine glory. They have a dedicated team of ski and snowboard instructors that love the winter sport and want to pass along that love to you as well.
Already a skier or snowboarder? Titus Mountain was voted #1 Family Friendly Ski Resort in North America for the 2017-2018 ski season, so there is no need to worry that you'll be wasting your day outside at Titus. From easy groomers to difficult glades to varied terrain parks, Titus Mountain has a little something for everyone. And with night skiing on Fridays and Saturdays, your day outside doesn't have to end when the sun goes down.
3. Make it to the market
There is a reason that mall walking is a movement that keeps growing. When the weather isn't cooperating, shopping (even if it's just window shopping) is a great way to burn off some energy and to meet up with old friends or make some new ones.
When you take this idea and make it more local -- a "market crawl," if you will -- you even get the added benefit of finding interesting local wares and even getting to chat with the people who make them.
There are a lot of places that you can get your steps in, but to get the most out of your "market crawl" with the most diverse items, I suggest the Market Barn and the Pine Country Outlet. The Market Barn is home to a few dozen individual shops, from jams and syrups to soaps and silver, and you could spend a whole day looking at each individual booth. If you do end up spending the day, you can fuel up at the Market Barn Deli, located right in the center of the Barn. The Pine Country Outlet also has wares from different vendors and crafters, from antique stoves to repurposed ladders and lots of things in-between.
Of course, there are lots of other places such as Fountain's Enchanted Florist, IBC, Adirondack 1892, Village Furniture, Serendipity Salon, Furniture Weekend, Glaziers, Pouring Light Studios, The Artist's Cellar, and so many more. Plan your crawl here.
4. Put on your crafty pants
One way to get through the seeming doldrums of winter is to create something new. A fun way to do this is to head to Clay, Cloth, and Wood for their Ceramic Shop painting nights. Every Tuesday, Wednesday, and Thursday you can head to the shop to pick out one of 13,000 pre-cast ceramics to paint and put your very own artistic touch on. If they don't have something already made up for you, the hometown shop owners, Deb and Norm, will make it for you; if they don't have it, chances are it doesn't exist!
The painting room has plenty of seating to bring your friends and get your craft on together, but if you come alone chances are you will be making some friends since the shop is always full of crafters putting their flare on holiday, kitchenware, gifts, lights... you name it. Not only is it fun to be creative, but it's also incredibly affordable too, and you get to take home your work of art. And if you don't feel like painting your own, you can also find many pre-finished holiday items and more (alongside additional crafting supplies like needles and yarn) at the adjoining shops, Happy Holidays and the Craft Corner.
5. Get your geek on
Last, but not least, one of the hidden gems of Malone is the Gaming Cave, a second-floor store and game room located right on Main Street. When you walk up the stairs and enter the main room, you'll see an assortment of board games, video games, playing pieces, and more paraphernalia of the gamer, geek, and movie buff alike. Take some time to peruse some of the items that they offer and pick up a new (or classic) board game for game night. Invite your friends and family.
Looking for some people to play with? The Gaming Cave offers weekly (and many times nightly) events as well as tournaments for those interested in upping the ante. Every other Monday is board game night where you can bring a game or find one there -- there is always someone and something to play with! Additionally, there are weekly events for classic card games such as Magic the Gathering and Yu-Gi-Oh! as well as tabletop games such as Warhammer 40,000 and Dungeons and Dragons. Don't know how to play? Employees know a thing or two about the games and are always helpful in setting you up with the basics and offering some tips as well.
While currently located on Main Street, the Gaming Cave has experienced a lot of growth and will be moving into a larger storefront soon, but you'll have a few months to check out the current digs to get your geek on.
However, you choose to get out of the house and get rid of your cabin fever, Malone has what you need. You can check out these ideas, and more (snowmobiling, ice fishing, dining, just to name a few) by visiting Malone.
---
This week in ADK news: