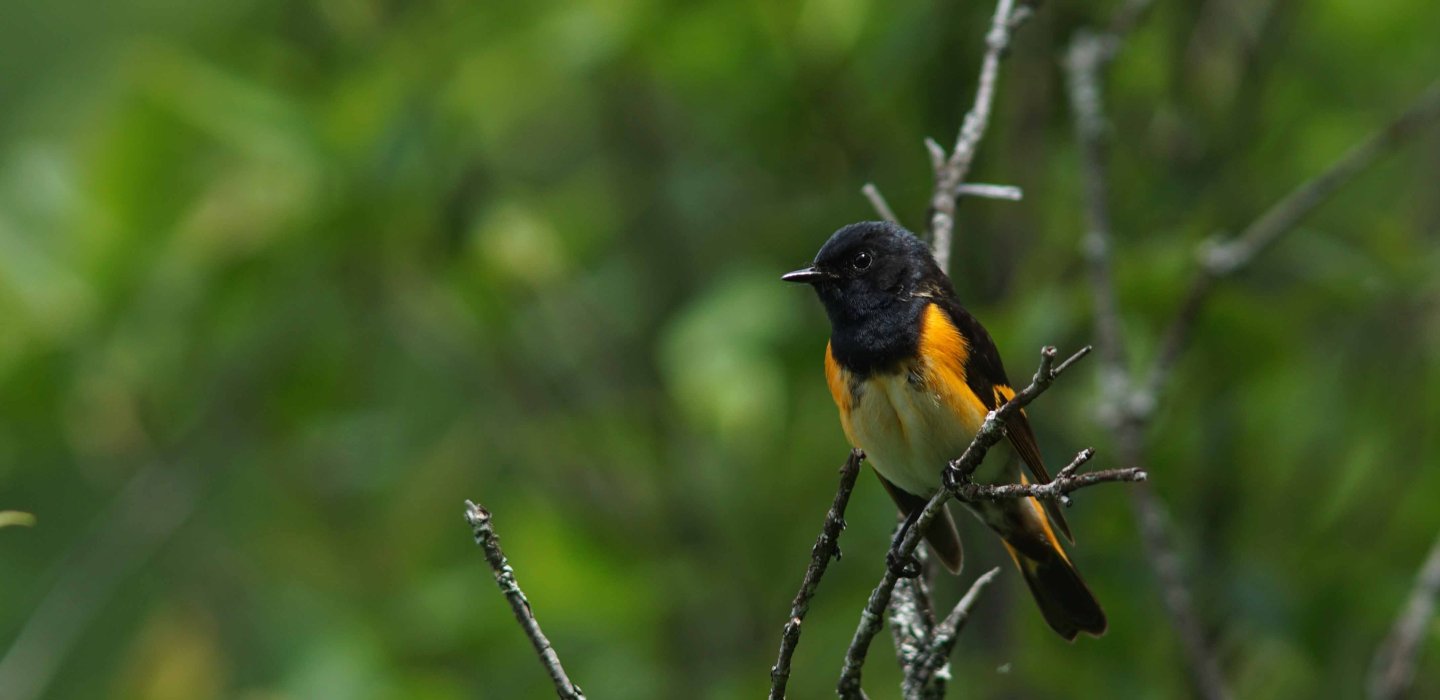 North Country transformation
While my outdoor activities have been centered on winter for the past few months, it is not too early to begin thinking about spring. After all, March is the month when winter begins to show chinks in its armor thanks to longer days and warming temperatures. Soon the grasses begin to poke through, offering a promise that leaves will follow them later in the season.
The birds know this. Early migrants begin to show up, harbingers of the diversity that is to come, and the birds which have spent the winter here may begin to sing. They are reminding us that while winter birding in the St. Lawrence Valley and the North Country can be great, an array of species will be arriving soon, and it may be time to prepare for their return. Here are a few birding locations to plan for in the North Country this spring.
Malone area fields
Some of the first places to show the change of the calendar are the fields which cover much of the St. Lawrence Valley around Malone. The snow softens to meltwater, forming puddles which early season migrants like ducks may use as pit stops on their way north. Raptors too migrate during the early part of spring, hunting in fields and stopping in hedgerows, and wintering Rough-legged Hawks are replaced by arriving American Kestrels and Northern Harriers, making the time of transition a good time to find a variety of species.
The same is true of field birds as wintering Snow Buntings, American Tree Sparrows, and Horned Larks are joined by arriving Song Sparrows, Savannah Sparrows, Eastern Bluebirds and Eastern Meadowlarks. Many of the wintering birds move north (some Horned Larks may stay to nest in the region), but the changeover makes for a diverse time of year. Vesper Sparrows and American Pipits move through the region on their migration and before we know it our local woodlands and thickets have welcomed back their nesting Broad-winged Hawks, Yellow-bellied Sapsuckers, Yellow Warblers, and American Redstarts.
Birders can watch this transformation on both the landscape and the birds almost anywhere across the region, such as the series of field-lined roads west of Malone including Wheeler, White, Depot, Brockway, and Garvin Roads. Birders can also head north for similar opportunities around Fort Covington on roads like Mary Reilly Road, Burns Holden Road, and Drum Street Road. If they do the latter, they may also want to pause along Chapman Road where a large wetland attracts the likes of Green Herons and Black-crowned Night-Herons.
California Road
Birders in search of a variety of warblers this spring will likely want to travel south from Malone and up in elevation into the Adirondacks. For instance, despite a name which pays homage to the west coast, California Road is a short drive south of Malone that's reached by taking Duane Road or Route 30 from town. The dirt road (the best sort of birding roads) follows Duane Stream through some beautiful boreal habitat where species like Black-backed Woodpecker, Gray Jay, and Boreal Chickadee can be found.
This list of birds balloons come spring as a colorful pattern of warblers like Magnolia, Canada, and Palm arrives to join other boreal breeders like Olive-sided and Yellow-bellied Flycatchers, and birders will be best served by parking on the side of the quiet road and walking to listen for their feathered quarry. If you go, you will not only find that the woods and wetland sing with life, but that they also buzz with an army of biting insects. This means you must be prepared for their happy greeting -- it is often part of the deal with such great spring birding sites.
Dexter Bog and Santa Clara Flow
Similar in habitat to California Road, Dexter Bog is quickly accessed along Dexter Road off Route 458 in the little community of Santa Clara, southeast of Malone. Once again, an easily walked (or driven) dirt road leads through splendid boreal habitat good for Gray Jay, Black-backed Woodpecker, and Boreal Chickadee. During spring, the diversity soars with warblers, vireos, flycatchers, thrushes, and sparrows, all under the watchful gaze of hunting Sharp-shinned Hawks. After a couple miles, Dexter Road reaches Blue Mountain Road which birders can also bird along as they wind their way south toward the Madawaska Complex and the amazing birding opportunities there.
Birders looking for adventure using a different form of transportation can also slide a canoe or kayak onto the waters of Santa Clara Flow, a wide, easy portion of the St. Regis River accessed a stone's throw from Dexter Bog in the community of Santa Clara. If you do this, you should follow the water away from Route 458 (that is, south) following the Flow past mixed forest habitats and lines of conifers, along alder thickets, and around rocky outcrops.
The forests are once again the haunts of a long list of warblers and other songbirds, while marshy dead-ends in the stream may harbor Wood Ducks or Hooded Mergansers. You should also keep an eye open above for Bald Eagles, while Merlin chatter loudly from the tops of the spruces and firs. In this way you can cover two amazing places - one by foot and one by boat - in almost one stop.
Spring birding is coming and it is not to be missed. Plan your outdoor adventure today by visiting our lodging and dining pages.
---
This week in ADK news: