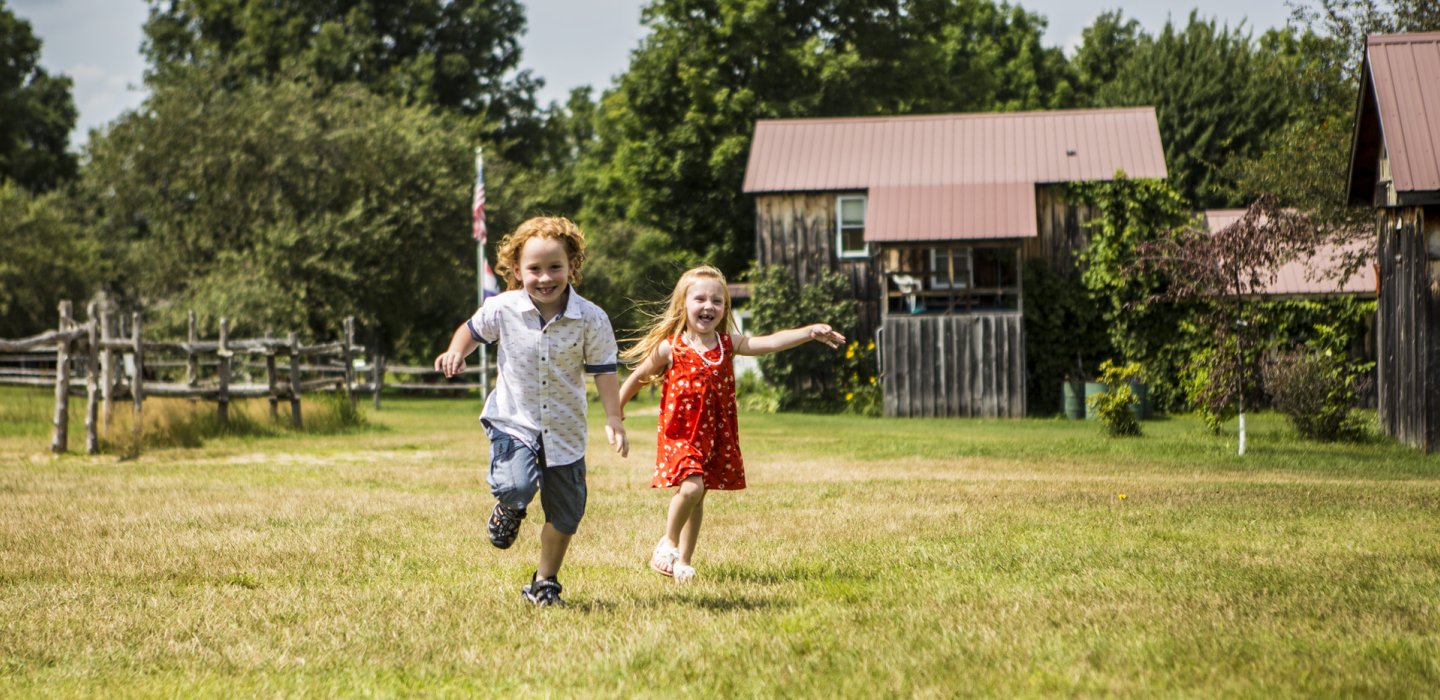 What do the founder of Gibson Guitars, Almanzo Wilder of Little House on the Prairie fame, and William Wheeler, the 19th vice president of the United States have in common? They were all born and raised in the Malone region, which is a great location for a day of exploration and adventure for the young and young at heart. Because planning a family day can be a challenge and simply having fun is more important, we've done the work of planning for you!
Morning glories
To start your day, grab a muffin -- or two -- then head to the Malone Memorial Recreation Park, just south of downtown, for a scenic walk that is perfect for a morning warm up. Away from the noise of the road, the park's Pinnacle Trail can be done as either a one or two mile loop. The longer loop takes you into fragrant woods with a gentle incline that is great for even young walkers. On hot days, be sure to bring your bathing suits and water wings for a fun post-walk swim. The rec park hosts many family friendly events throughout the summer, including night sky viewing, fun runs, and art activities, so be sure to check our events page for a full list.
Car hopping vibes
For a tasty and memorable lunch, head to
Bokie's Drive In
, a popular retro restaurant on Route 11. You can't miss the bright pink building and neon sign topped with a pink convertible. Inside, the floors, walls, and tables are decorated with memories of yesteryear, from images of Hollywood legends to local high school snapshots. Order at the counter, take a seat in a booth or outside at a pink picnic table, and enjoy a bowl of fresh popcorn while you wait for your meal. Not sure what to order? The kitchen at Bokie's is known for outstanding specialty burgers, Canadian-inspired poutine featuring locally produced cheese curds, and grilled foot-long hot dogs. No matter what you order, make sure to save room for dessert! If there is a line at the ice cream counter, trust me when I tell you that Bokie's homemade ice cream is well worth the wait. With a variety of inventive flavors ready to scoop, get the sweet treat of your dreams, from a decadent sundae to the classic vanilla and chocolate twist. The Apple Tree Crunch sundae is especially good, a tasty twist on the classic apple pie a la mode.
Walk back in time
After such a decadent lunch, you'll want to get back out in the fresh air to stretch your legs and experience more of the area's unique attractions. From Bokie's, drive about 2.6 miles east to the Almanzo Wilder Homestead, the boyhood home of Almanzo Wilder, known to generations of readers as the husband of Little House on the Prairie author Laura Ingalls Wilder. Starting Memorial Day weekend, the homestead is open seven days a week and provides visitors with a hands-on view of farm life in the 19th century. Enjoy a guided tour of the original, restored Wilder family home, reconstructed barns, henhouse, newly constructed one room schoolhouse, and museum. Dedicated volunteers guide the tours, sharing a treasure trove of fascinating facts about the Wilder family, demonstrations of essential rural skills, and artifacts recovered from the site, all presented with a genuine love for history.
Having traveled back to the 19th century at the Wilder Homestead, why not travel even farther back in time, say, 12,000 years? A few miles east of the Wilder Homestead, the High Falls Park Campground along the Chateaugay River is the location of a beautiful, 120-foot-high series of cascading waterfalls. The campground charges a very modest entrance fee and welcomes day visitors who want to walk the short 0.2 mile trail to the falls. As you get closer to the falls, the trail changes to stairs to make access easier. Your reward is a stunning view across a pool at the base of the falls, which were created thousands of years ago when a retreating glacier carved into bedrock. Strata of rock are clearly defined and continue to be slowly worn away by the continual rush of water. Explore the rocky edge of the pool, or simply savor the stunning view from a conveniently placed bench. You might even see a fly fisherman or two casting in the cool water for trout.
Downtown stroll
Round out your day with a visit to unique shops and galleries housed in a number of historic buildings in downtown Malone. Here, you'll find art, clothing, and Adirondack-style home furnishings. We love looking at the classic wool blankets at Adirondack 1892, admiring the talents of local artists at Pouring Light Studio and Gallery, and shopping for outdoor gear at International Border Company. From there, it's just a short walk or drive to dinner. Whether you're in the mood for Mexican, steak, or pub food, Malone has all of that and more, with dining options for the whole family.
We hope you'll enjoy your time in Malone and that if you have a fun day trip, you'll check out our lodging options for a longer stay. We have something fun going on in every season!