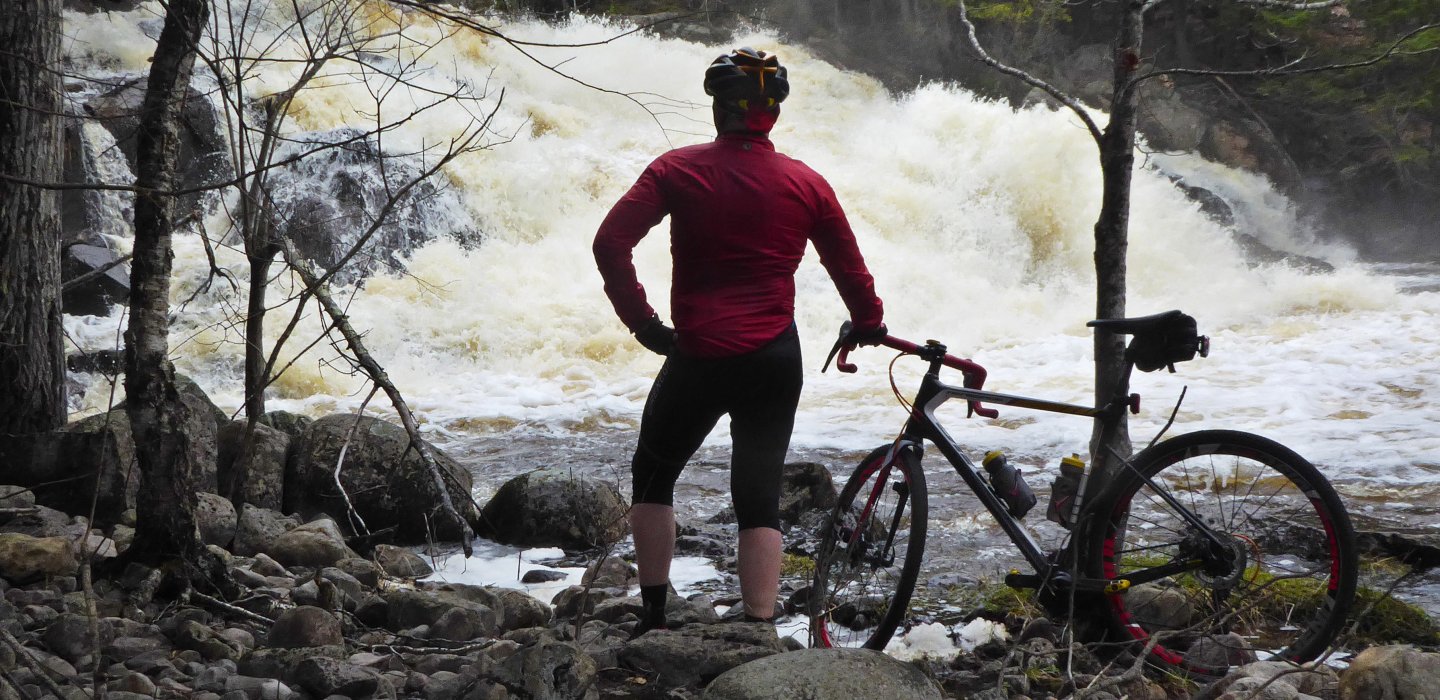 Submitted by guest blogger Dave Kraus/KrausGrafik
Enjoy a group ride with friends through miles of gently rolling farmland. Or find your solitude on unpaved tracks through primeval forest. Test yourself on challenging climbs or enjoy a relaxed cruise on the flats. Malone has it all.
I've cycled all over upstate New York, and the Malone area features both the scenery and climbing challenges of the Adirondacks, combined with flatlands that allow for endless variety when planning rides. 
It's also a great base for your adventure. This village of 5,900, which straddles the foothills of the Adirondacks to the south and the St. Lawrence valley to the north, has plenty of lodging, restaurants, and other services you'll need, as well as easy access to other activities once you get off your bike.
The Routes
These three routes, which may take you from a couple of hours to the better part of a day to complete, showcase much of what this region has to offer. Each route leaves from Malone Memorial Recreation Park and heads south on Duane Avenue along the Salmon River, and all include a challenging climb past Chasm Falls with its multiple drops. You will often hear the falls before you see them as the Salmon thunders over the rocks. Take note: Both of the longer routes include unpaved sections where wider tires will be a must-have.
Short Loop
For the shortest of these routes, just under 20 miles, climb past the falls and continue up the challenging last pitch to the crest of Titus Mountain. Make sure to stop for a moment and turn around to enjoy the view across the hills behind you. A scenic cruise west and a fast downhill to Route 30 puts you on the way back into town as the land flattens out and the going gets easier.
Medium Route
The medium route, a bit less than 32 miles, will give you a taste of Adirondack wilderness as you pass Chasm Falls and turn onto the unpaved Studley Hill Road as it continues south, hugging the bank of the Salmon River. You'll need the wide tires of a gravel or mountain bike to navigate this section.
Be ready when you get to the main climb just before mile 12, where the grade is over 11 percent. There are few houses here and lots of forest, and the only thing you're likely to hear is your panting breath as you head uphill. Finally, you'll reach the Port Kent-Hopkinton Turnpike, where a right turn will take you back to the Route 30 scenic byway that will take you back to Malone.
Long Route
If you're itching for a bigger challenge, the longest circuit, 52 miles, shows off everything the Malone area offers the dedicated cyclist. It starts with the same climb over Titus Mountain and northward return on Route 30 as the short ride. But then a westward left turn just after mile 15 takes you across gently sloping farmland and into the Deer River State Forest.
Had enough? Then turn north at mile 20 and head back to town. But if you go south to continue, the road turns narrow and unpaved as you head into deep forest. Wider tires are mandatory through this section. 
It's quiet and serene as you ride slowly under the pines. The road rises and falls gently, and you never know what's around the next curve. A bridge across the Deer River marks the halfway point of this journey, and there's a spot to stop and rest where you can watch the river flow by. Eventually you find pavement again and go through the hamlet of Dickinson Center and turn north to link up with Route 11B. 
Once you reach the highway, you will quickly see the inviting doorway of Township 7 Brewing just up ahead. Owner Nate Drake has almost 20 years of brewing experience, and his two-year old business in the middle of this endless farmland features smooth concoctions with names like Deerfly IPA, Raspberry Haze, and Backwood Brown.
But don't get too comfortable. You've still got a rolling, straight cruise back into Malone, past farms dotting this countryside sloping gently toward the St. Lawrence River to the north. This is Amish country, so there's a good chance you'll see a local farmer or family traveling via horse and buggy.
Once you arrive back in Malone, make sure to explore the local restaurant scene and fuel up for tomorrow's ride. Or take a day off and explore some of the local sights. The Almanzo Wilder Homestead, outside Malone on Stacy Road, is a living museum that was the boyhood home of Almanzo Wilder. His wife, Laura Ingalls Wilder, based her classic children's novel "Farmer Boy" on his boyhood experiences. You can take a tour and see exhibits. Or visit the nearby Akwesasne Cultural Center Library & Museum, where you can learn the area's extensive Native history.
Whatever you do, make sure you have a little gas in the tank. Because after all this riding, you've only covered south and west. There's still north and east to explore.
Round out your day in Malone with a hearty dinner and rest your weary legs at one of our comfy lodging options.
This week in ADK news:
A Week's Worth of Nightlife in Saranac Lake
Southern Access to the High Peaks