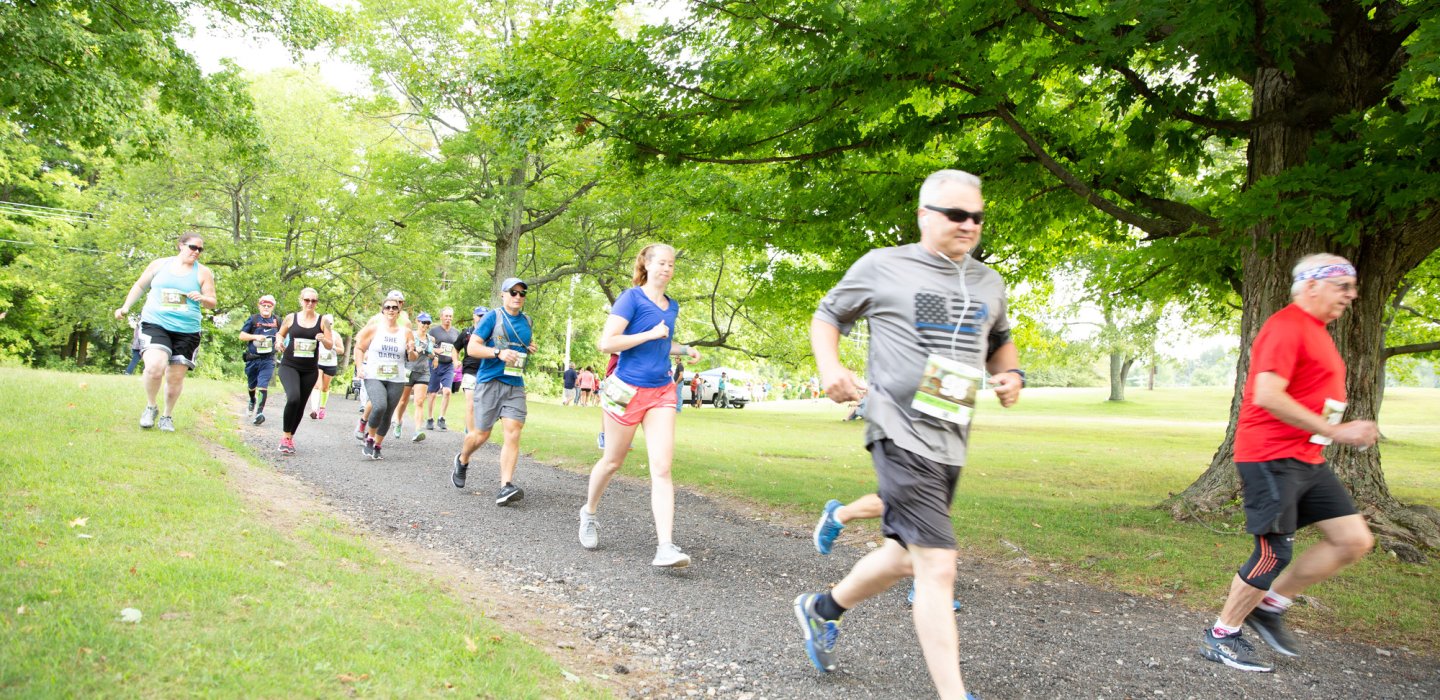 Looking for a fun physical challenge through a scenic landscape that rewards you with a T-shirt and the knowledge that you are doing some good for other people? Look no further than the second annual Star of the North Races, a day of foot races in Malone that's a perfect outing for runners of all ages and abilities. The races take place on Saturday, August 31, beginning and ending at the Malone Civic Ice Arena.
There are a total of five distances: family-friendly 3k, 5k, 10k, half marathon, and marathon. Last year, runners ranged in age from 13 to 76 and everyone had a great time! To learn more about the event, I chatted with race director Matt Tessier. He's a former teacher and running enthusiast eager to give back to the community.
Q: How did Star of the North get started?
A: I have created many races over the years; the last was the Malone Middle Mini Marathon (2.62 and 1.31 miles) when I was teaching Health at the middle school. I previously was founder/president of Run for the Border Marathon Inc. which was initially the title of what became the Potsdam Raquette River Marathon, Half, and Labor Day 10k. That event was giving money to Women's Cancer Research through the Warner Cancer Treatment Center. Now that I live in Malone, I decided we needed a marathon...which had never happened here before.
Q: What should potential racers know about the race?
A: The course(s) are scenic, traveling along the river and there are event distances for everyone. When you check in on race day, you receive a race goodie bag, as well.
Q: Do you have to be a great runner to participate?
A: This is open to everyone who wants to try. Last year we had 100 people participate; I am expecting 200 this year.
Q: What's the course like?
A: Rolling hills and views of the Salmon River.
Q: What kind of charities do you support through the proceeds?
A: We give to the Be Positive (B+) Foundation, which gives money to families with a child getting cancer treatments so they can afford lodging, travel, and meals that get expensive, as well as cancer research.
Q: Do people still have time to sign up?
A: All the way until August 30. Run Signup and Local Races are the sites found on our website. You can access the races from any of those places.
Q: What kind of response did you get from runners last year?
A: The course was great, runner bags were enjoyed, and everyone liked the medals!
The details: On race day, the marathon begins at 7 a.m., while the rest of the races begin at 9 a.m. After the race, participants and families will enjoy food, music, and other fun outdoor activities. The routes cover truly pretty scenery south of the village. It's a great way to spend a late summer day with your friends and family, or add a little boost to your vacation. Be sure to register no later than August 30.
Take a look at our local lodging options in the area so you can make a weekend of it!
This week in ADK news:
Decidedly different Saranac Lake
Short hikes in Hamilton County
6 reasons to bike in Wilmington