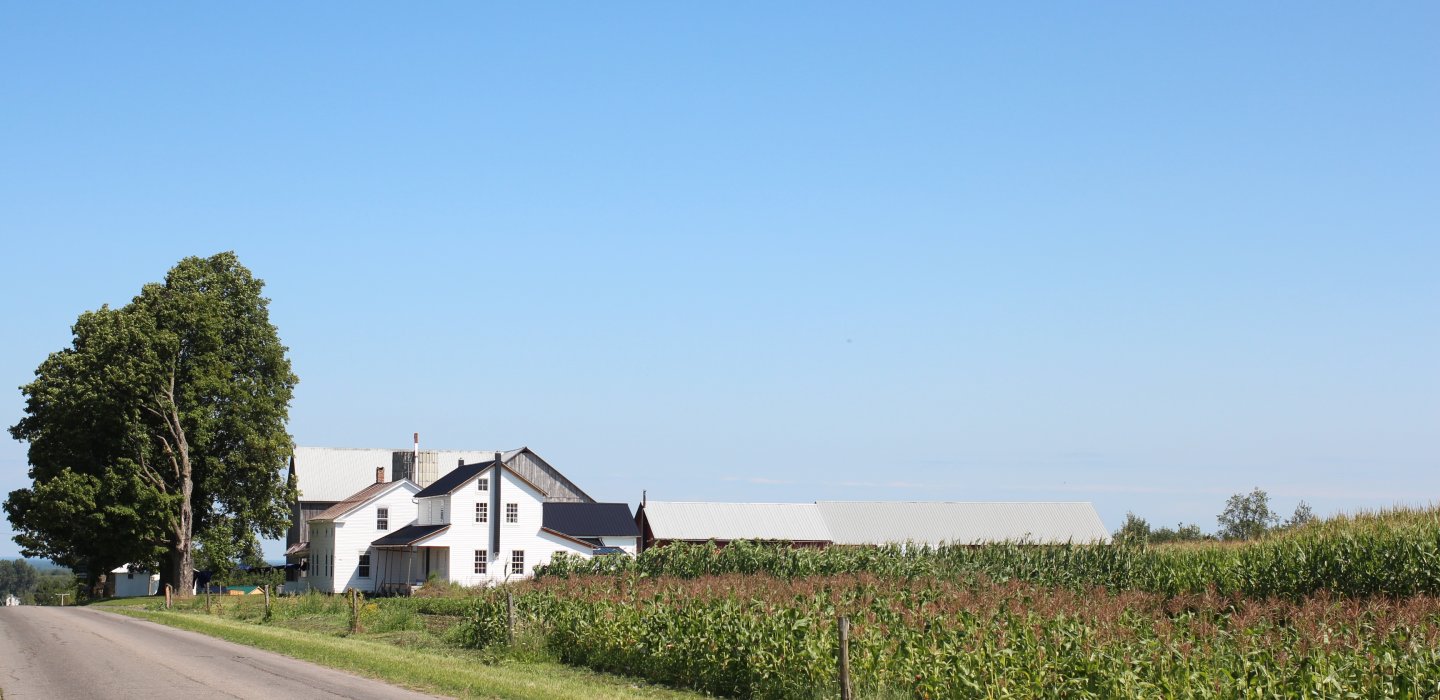 A road trip through the farmland of northern Franklin County is scenic, serene, and delicious. Roads gently curve and stretch onward, and as you drive, you travel past bright green fields deep with corn, tomatoes, potatoes, and the occasional sunflower.
The fertile soils of northern Franklin County have supported farming for centuries, starting with the Iroquois and continuing today with the Amish and descendants of other European immigrants. Farming has always played an important role in the culture and economy here, and still does. My foodie boyfriend and I recently set out for a tour of local farm stands and markets to find veggies, explore, and learn a little bit more about this bountiful region. It was a great way to spend a day and I hope you'll consider trying it, too. After all, part of the fun of vacation is trying local food!
Exploring Route 11B
Although the major east-west route through the area is Route 11, we headed for Route 11B, which is located just south of 11. It's quieter, peaceful, and there are many, many farms on this road, as well as on adjacent side roads. Most of these farms have stands on the roadside for selling fresh produce; each is a little different than the next and if you're like us, you'll find yourself stopping frequently, filling your car with a great variety of tasty treats and special, handcrafted items. You never know what you might find.
The list of products offered by local farms is extensive, including sweet corn, eggs, carrots, garlic, onions, cucumber, beans, potatoes, eggplant, squash, and tomatoes. That may seem like a lot, but there was more! As we drove along 11B and up and down side roads, we bought a little of everything. If you want to eat well, this is a great way to do it at prices that are much better than in any grocery store. Plus, you're buying directly from the producers and it's nice to have the opportunity to meet and chat with them. They take pride in their products and it shows in the quality and freshness of their products.
Many of the farms in the area are owned and operated by Amish families. The Amish first came to New York in the early 1800s, having left Europe due to religious persecution and drawn by the excellent farmland. You'll find their farms throughout northern Franklin County and St. Lawrence County, open Monday through Saturday throughout spring, summer, and fall. There are a number of great Amish farms on Route 11B, Route 5 between Moira and Dickinson, and on Peru Road, which runs between Routes 11 and 11B.
I consider myself very fortunate to have met so many kind, friendly people who have shared a little bit about their lives with us, as well as their talents and the fruits of their hard work. You'll see it in their beautiful homes and barns, destined to last for generations. You'll see their buggies on the road, too, so please drive carefully.
Veggies aren't the only stars at Amish farm stands, for here you're also likely to find an array of fresh baked goods, including bread, pies, cookies, and rolls. Some farmers even sell fresh butter. If you're lucky, as we were, you just might arrive at the right time and find that the bread is still warm from the oven! You'll have a hard time not digging into the fragrant bread right away and honestly, you should go for it.
You'll also find honey and maple syrup at many stands, both of which make great gifts for your friends and family back home.
Amish families do more than farm; they also craft beautiful baskets, quilts, aprons, and other items, for themselves and to sell. My favorite things to shop for are baskets; they make wonderful gifts and many of the basketmakers craft a variety of sizes and shapes. Many of the baskets are made in winter, as summer is too busy with farming. I confess we usually buy several and decide who to give them to later. The Amish believe in a simple life free from an excess of worldly goods, and seeing their carefully made crafts, I can see the appeal of their way of life.
In addition to farm stands, there are also a few larger markets, including Adirondack Growers, located in Malone on the corner of Route 11B and Route 30. While not all of the produce is local, it is still very fresh and comes from other parts of the state or nearby states. At Adirondack Growers we found luscious strawberries and something I had never seen before: doughnut peaches, also known as Saturn peaches, for their short, disc-like shape. They were tasty and adorable, proving we eat with our eyes just as much as we do with our stomachs!

Go north!
The 11B region west of Malone isn't the only place to find a great, farm-fresh snack. From Malone, drive north on Route 30 to make your way to Constable, a town near the Canadian border. There, you'll find Byler's Market, an Amish-owned market bursting with fresh vegetables, crafts, and bulk goods from Amish farms located throughout New York, Ohio, and Pennsylvania. Based on the number of people I saw at the market, this is a popular place for locals to stock up on quality veggies.
About 7.5 miles northwest of Byler's, on Route 37, make sure to visit Meier's Artisan Cheese, where Swiss immigrant Dan Meier and his family produce flavorful cheese that is much in demand at local restaurants and shops. The varieties of of cheese are both named after and inspired by local mountains and other destinations and the cheese curds are divine. I was raised on cheese curds and these are some of the best out there.
Not only can you get awesome, small-batch cheese here, but you can also say hi to some of the cows. They're very sweet and curious.
Whether you are staying at a local cabin or cottage and want to make yourself a farm fresh meal, or plan to take some of the North Country home with you, you'll find everything you need -- and more! -- at a local farm stand. We ended up buying more than we needed, but now we're enjoying juicy tomatoes and plump corn on the cob every day. One of these days the blueberries we bought will go into cheesecake cookies and the strawberries...well, they're so tasty they're already half gone, finding their way into my daily bowl of hot cereal.
Visit the Malone region this fall and enjoy the wonderful products our local farmers have on offer, plus be sure to stop by a harvest festival, and enjoy the gorgeous fall foliage.
---
This week in ADK news: