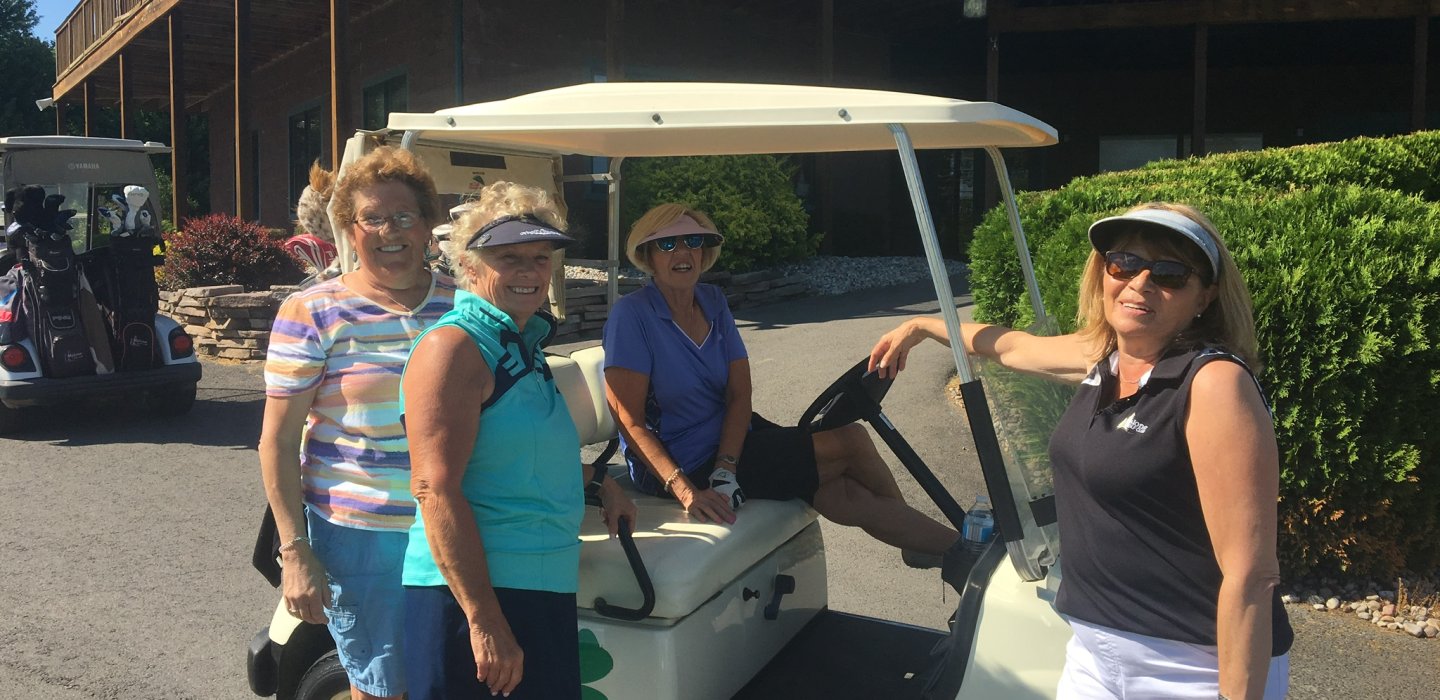 Why Women Should Play Golf at Malone Golf Club (MGC)
By guest blogger Lorraine Cartier
Think golf is for men who have retired? Think golf takes too much time and commitment? Think again! Many ladies start playing golf because their husbands play, but they quickly realize that golf isn't just a delightful and challenging sport, it is also a great way to spend the day with friends and family. Playing golf is great, low-impact exercise, and easy on the body's joints for the young and old. The game allows you to focus on the activity while enjoying the scenic vistas and fresh air our north country offers in abundance.
Malone Golf Club (MGC)
My favorite place to golf with the ladies is Malone Golf Club, just south of Malone, New York. It is a close trip from anywhere in the Adirondacks, but also an easy ride from many of the nearby Canadian towns. It only takes 90 minutes from Montreal's suburbs and is well worth the trip. MGC has many Canadian members who enjoy golfing at reasonable rates. And there is a special Canadian-at-par price on Wednesdays until 2 p.m. 
Memberships at MGC are reasonably priced, and paying your dues in September allows you to get a taste of golf in the fall as an added bonus. After 4 p.m., children or grandchildren play for free, giving members a great chance to introduce their youngsters to a lifelong physical, social, and mental activity.
Course details
MGC has two beautiful 18-hole courses (East and West). The rolling hills, with their scenic vistas, provide challenging fairways for novice and seasoned players alike. My favorite course is the East Course; walking it is great exercise. There are many pretty holes but the view in the autumn from the 12th hole is spectacular! For more challenging golf, the West Course provides three holes with water hazards. Getting the ball over the water is a real rush for me and it keeps me coming back to improve my game.
Women's tees
Women play from the red tees, and seniors have a special "short course" with a distance advantage. One of my favorite holes is 7 East (a par 4); it is possible for me to birdie that hole!
Top quality golf
MGC has a reputation for top quality golf professionals. The existing professional staff members were all hired by the former general manager, who was the recent president of PGA of America. Lessons are available for everyone from beginners to seasoned players. If you have never played, take one lesson or a package of three to learn the basics of the game. 
Restaurant/bar
The golf course offers breakfast, lunch, and dinner, and a varied menu with daily specials at reasonable prices. There are many choices on the menu; one of my favorites is the roast beef dip sandwich. The bar has a number of beers on tap and always has a daily special. I am a hard cider person, so MGC added Angry Orchard to the selection. It is fun to sit outside on the deck and watch the players arriving on the 18th hole while you sip your drink, eat your meal, or socialize with friends. 
The pro shop
The pro shop has a large assortment of ladies' shoes, golf attire, and clubs. Every year, golf club suppliers such as Titleist, Callaway, Ping, and TaylorMade are scheduled at MGC for demonstrations and fittings. Their clubs are available for on-the-range tryouts. I was able to take advantage of this opportunity, and I'm now reaping the benefits with improved drives and fairway shots using my new clubs.
Ladies' leagues
If you are new to the area or are interested in starting to play golf, one particular fun group meets on Thursday night with 94 ladies playing nine holes with different formats, prizes, and dinner afterward. You play together as a team, and even novices can contribute a few good shots. It is a fun league, not for serious golfers. We recently celebrated Christmas in July, and players dressed up and even decorated their carts. There were prizes for the best costume and everyone had a blast.
There are several leagues for ladies who want to improve their game. These leagues require you to establish and maintain a handicap. Although a bit more challenging than the Thursday night league, the Tuesday Twilight (9-hole) players make the games very enjoyable and they are always willing to share helpful tips. 
There are many opportunities to enjoy golf at MGC. For example, to play on Thursday and Saturday mornings, just sign up a few days in advance to play eighteen holes, no partner needed. Many Canadian ladies play when they can without making a weekly commitment.  
So, what are you waiting for, ladies? You will love to play our course whether it is for just a day or to become a member, or join the fun group on Thursday nights. Call the Pro Shop today at (518) 483-2926 and take advantage of what Malone has to offer. 
In addition to great golf, Malone has tasty restaurants, unique shopping, and fun events. Make it a golf vacation!
This week in ADK news:
Find your mountain biking flow