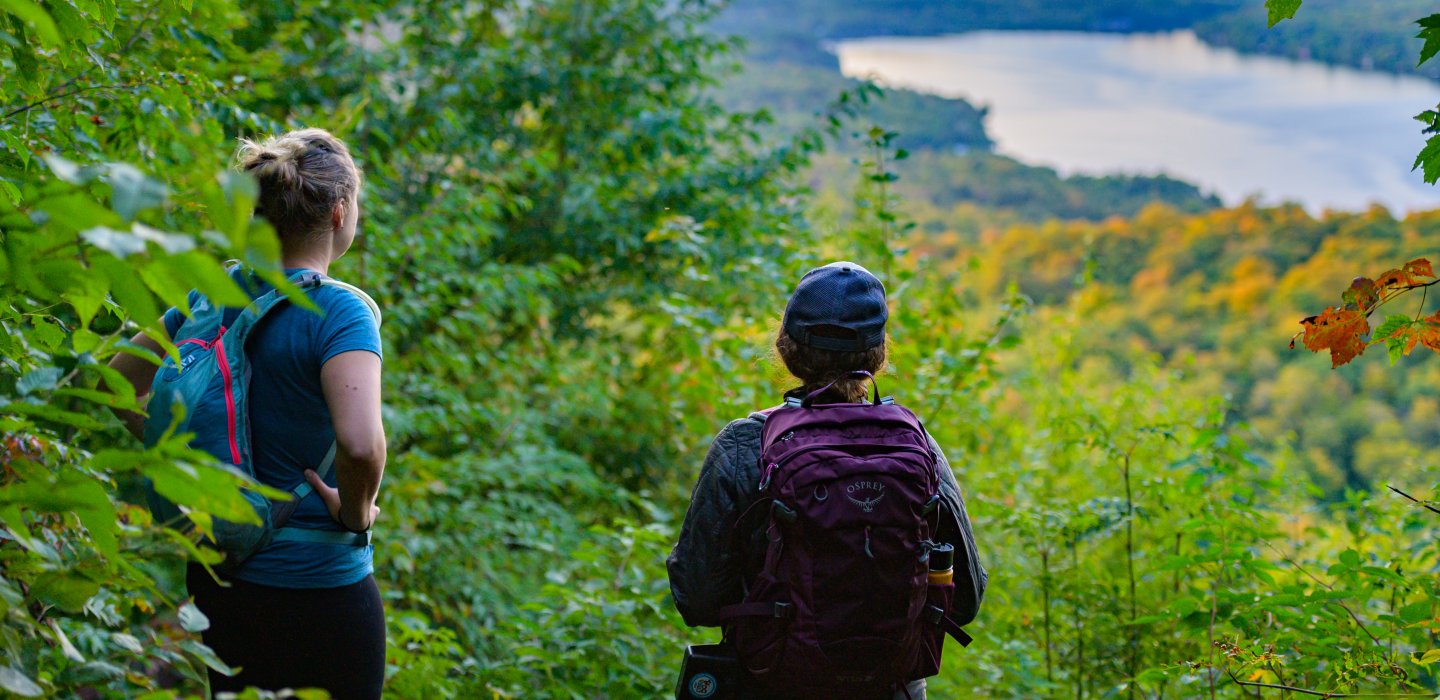 Submitted by guest blogger Kaet Wild
Ready for fall views? We are! Check out our list of great hikes with great views, from easy to challenging, in the Malone Region.
This is an easy one mile round-trip trail. While some spots are muddy and/or overgrown, the majority of the trail is well marked and easy to follow. You'll walk alongside the river through a fairyesque forest filled with ferns and mossy rocks until you reach the rapids section with a few spots to overlook the roaring river. A manmade ladder brings you to the bottom of the impressive High Falls where you can sit upon a couple rock thrones.
Getting there: To get there from Saranac Lake, take Route 86 towards Paul Smiths and make a right onto Route 30.  Drive about 17 miles then make another right onto Route 26. Stay straight onto Route 27 and then you'll see Barnesville on your left.
This is another short hike, about one mile round trip. It's mellow and accessible to all level hikers if you go at your own pace. The toughest part is a ladder near the top because it can be slippery. The reward of this small climb is a beautiful view of Titusville Lake and Mountain.
Getting there: To get there from Saranac Lake, take Route 86 towards Paul Smiths and make a right onto Route 30. Drive for about 22 miles and you'll see the trailhead sign and entrance to a dirt road on the right that will lead to the actual trailhead.
Azure Mountain is about one mile to the summit (1.8 miles round trip), but there is quite a bit of elevation gain. If you're looking for more of a challenge, this is your hike. It will be well worth it when you're standing at the top of the fire tower peering out at a 360 degree view of Adirondack fall foliage.
Getting there: To get to there from Saranac Lake, follow Route 86 towards Paul Smiths, about 11 miles. At the intersection with Route 30 in Paul Smiths, turn right on Route 30 and follow that for 9 miles, then turn left onto Route 458. Follow Rt. 458 for 13 miles and turn left on Blue Mountain Road (this end is paved) and follow it for 7 miles, then turn right at the trailhead sign to get to the parking area.
Need an even bigger challenge than Azure? Then Debar Mountain is calling. Debar has the miles (about seven miles round trip) and the elevation gain to leave your calves burning. While the first couple of miles are relatively flat, once you pass the lean-to, you'll notice the trail getting steeper. Just remember, there will be a nice ledge overlooking your entire route from Meacham Lake offering a stellar view and endless autumnal hues waiting for you at the top.
Getting there: This trailhead is located in the Meacham Lake Campground. To get there from Saranac Lake, take Route 86 towards Paul Smiths and take a right onto Route 30. You'll see the Meacham Lake Campground on the right. Enter the campground and veer left to enter, then follow signs for Debar mountain on the left.
So you're looking to get a little rugged this fall? Well then the Ledges Trail might be for you. This trail is overgrown and poorly marked. I recommend bringing a map and compass... just in case. It's a short hike, a little over a mile round trip, and weaves you through a forest up to some ledges on the side of Titusville Mountain. The view is worth the short climb and there's a good chance you'll find some real wilderness solitude up there.
Getting there: To get to this trail from Saranac Lake, take Route 86 towards Paul Smiths and make a right onto Route 30. In 26 miles, turn right onto Route 26 then turn left on Studley Hill Rd. Lee Road will be on the left after about 5 miles. Lee is a dirt road that I wouldn't recommend driving on. There's a little turnaround at the beginning of the road where you can park a vehicle or two. From there you'll walk Lee road about a mile until you get to the trail on the right.
Now that you've worked up an appetite, make a stop in downtown Malone for a delcious meal. You have
plenty of options
.