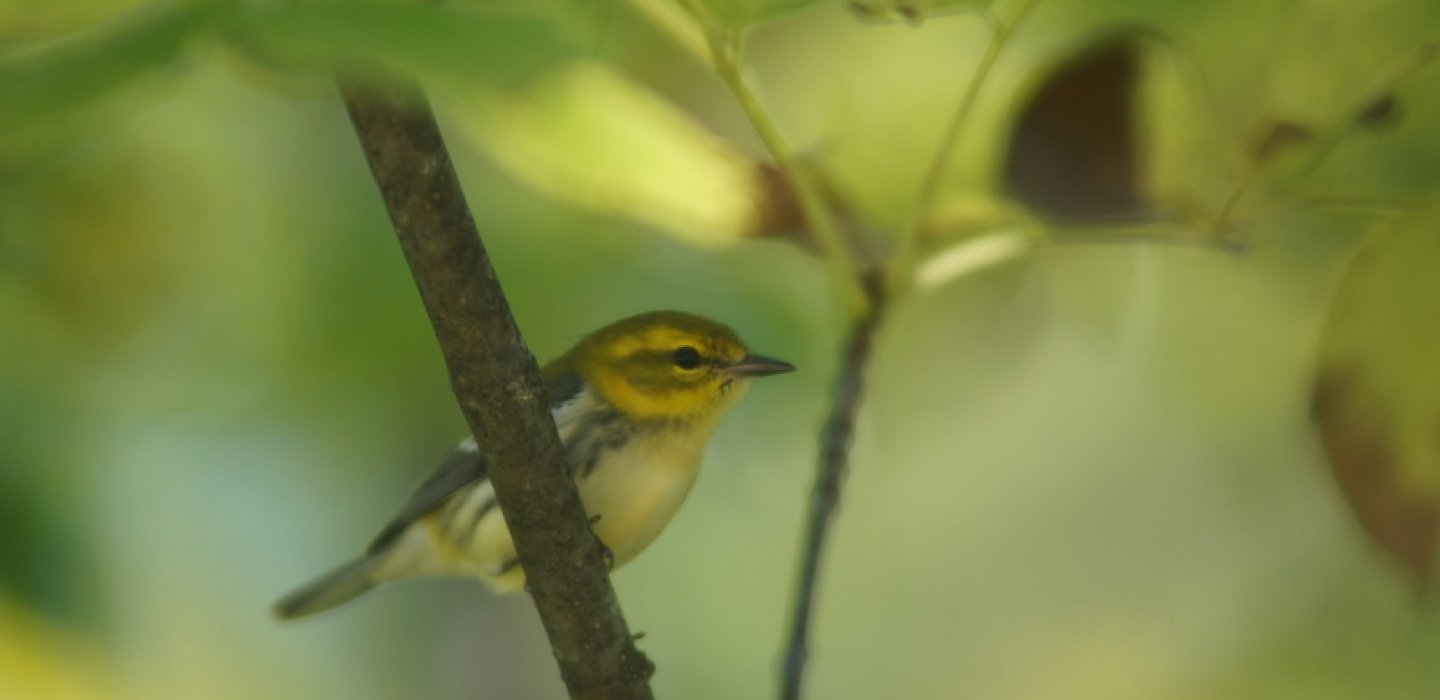 A great diversity
With fall migration in full swing, I've been looking forward to taking some trips into the St. Lawrence Valley. After all, while the valley offers excellent year-round birding, it particularly shines during the fall as birds pour out of the north, passing through the fields, farms, and woodlands which frame the great river, creating a time of ever-shifting diversity.
This diversity includes everything from migrant shorebirds in late summer, to late summer and early fall flocks of songbirds, to the incredible numbers of ducks, geese, and other aquatic species which inundate the region later in the season. And while the peak migration of some of our songbirds - most notably our warblers - has passed, there are still plenty of more songbirds to come - many species are only just starting to move, and there are always dawdlers lingering behind for one reason or another.
And so my daily walks continue to find a nice mix of warblers such as Black-throated Green, Yellow-rumped, Nashville, Wilson's, and Tennessee, while sparrow numbers are starting to grow - forecasting what is to come. For soon a diversity of sparrows will be filling our yards, hedgerows, and fields as fall advances them south.
Fall Birds
And they aren't the only ones. There are already reports of the first American Pipits of the season along the St. Lawrence River and before we know it, late October will bring us our first Snow Buntings mixed with flocks of Horned Larks, some of which will linger with Lapland Longspurs all winter in the fields of the valley.
Early fall has also already delivered us some migrant ducks and other aquatic species, drawn to the pools and waterbodies in places like Wilson Hill Wildlife Management Area and Robert Moses State Park. In fact, over 400 Ring-necked Ducks were found at Wilson Hill the other day - with many more on their way.
There have also been a few Ring-necked Ducks (as well as Common Mergansers and Mallards) at the Malone Rec Park recently - further harbingers of what is to come. For as October progresses, the waters of the Rec Park will begin to fill more and more with both Canada and Snow Geese, a spectacle that is worth the trip alone, not to mention the chance of finding an unusual goose species hidden within the honking throng. A friend of mine has remarked to me that they are planning to take a trip to Malone this fall just for the geese - it seems I'm not the only one anticipating their arrival.
Migration expectations
And maybe that is what I love the most about fall birding and birding in the St. Lawrence Valley. Each day and each fall cold front offer a new suite of species and new opportunities to find birds, building the excitement of expectations. It means I not only get to experience and enjoy the birds which are currently in the region now, but that I also get to look forward to what's coming next.
And so my mind is already seeing myself this fall perusing thousands of ducks at Wilson Hill WMA, or scoping the St. Lawrence River from the campground at Coles Creek State Park. I can see myself searching for raptors and sparrows along the fields surrounding Malone, and picking through the kaleidoscopic multitude of geese at the Rec Park to find the likes of Ross's Goose, Greater White-fronted Goose, and Cackling Goose. There's also the possibility of finding something even rarer - like the Pink-footed Goose we found there a couple years ago.
But that is still a couple months away. After all, I don't want my own anticipation of what is to come to cause me to miss what is currently here. The beauty of birding is that we get to enjoy the changes throughout the year and throughout the season, reveling in the diversity of birds which such changes bring.
I suppose there is some pressure that comes with this - a pressure to get out and experience the world around us and its birds before they leave for places further south. And while that is true, I find that the pressure can be a good thing - it mostly stems from the challenge of extracting myself from computers and work and to-do lists. That is something we all must do or we'll go crazy. Call it another reason why I love birding - it helps me stay a bit more sane.
And so as fall continues to advance, there will be plenty of opportunities for both discovery and stress relief. There will be diverse fall flocks and fantastically colossal congregations composed mostly of one species. And so even as I enjoy the birds we have outside right now, I can't wait to see what arrives next.
Fall birding and outdoor adventure in the St. Lawrence Valley are amazing! Plan your trip today by checking out our lodging and dining pages.
---
---
This week in ADK news:
Lake Champlain Bridge retrospective