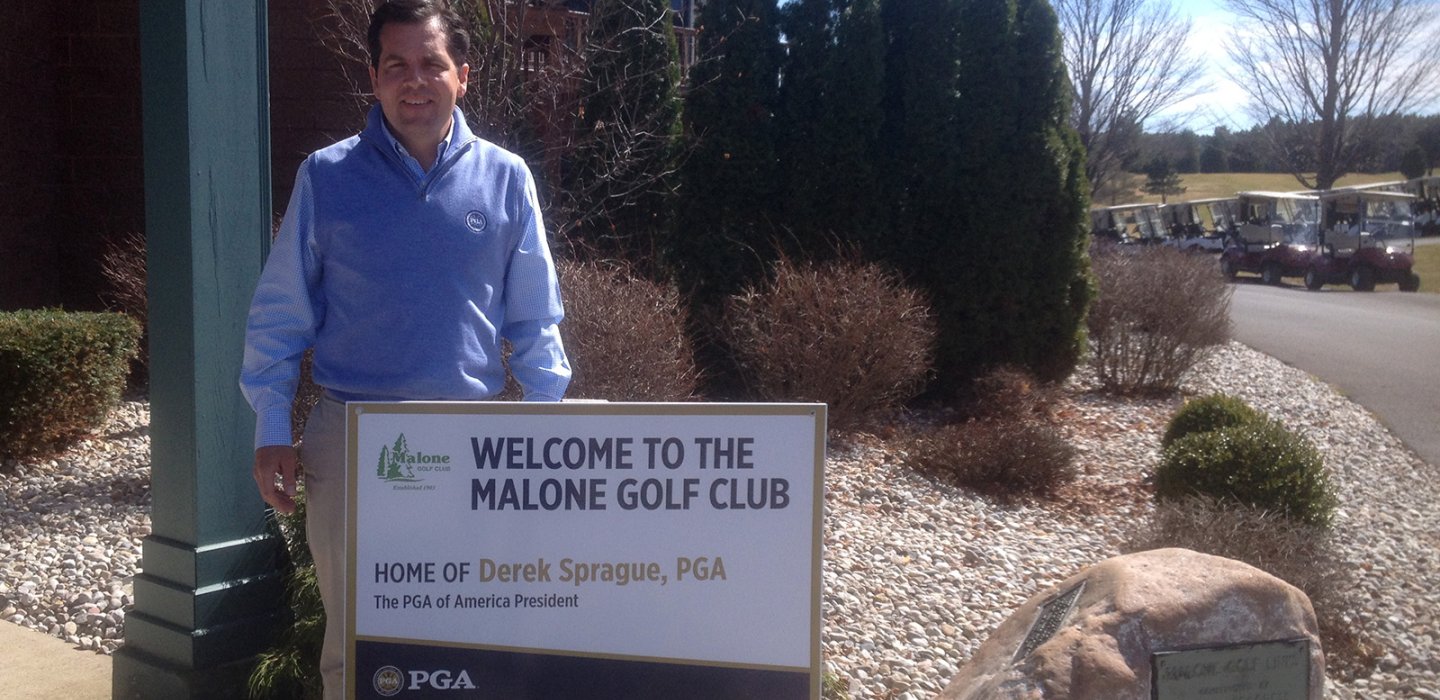 What do Babe Ruth, Arnold Palmer, and the PGA of America have in common?
They are all have direct ties to the Malone Golf Club.
Let me just start by admitting that I have not yet played golf on the famous Malone courses. Not for any good reason, really - I just haven't had a chance. Plus, although they are located a hop and skip from the Canadian border and a convenient drive for many Ontario golfers, it is a tad bit more of a drive from my home on Lake Champlain.
With that disclaimer out of the way, here is the story I wanted to tell. 
Early this season I drove to Malone to meet with Derek Sprague, the longtime General Manager and Director of Golf at the 36-hole Club. I wanted to learn more about his new role as the President of the PGA of America, and get a sneak peek at those courses I've heard so much about.
This wasn't the first time I'd met Derek. Way back in the olden days, I used to attend consumer golf shows in Ottawa, Montreal, and Toronto, Canada to promote the golf courses in the Adirondacks to potential visitors. I first met Derek at those shows, where his booth promoting the Malone Golf Club and their various golf packages was typically adjacent to mine. By virtue of that proximity, I learned a great deal about the Malone courses, and certainly learned how popular they are to golfers from Ottawa, Kingston and other nearby Canadian townships.
Fast forward an undisclosed number of years, and Derek and I are working together, as part of my job is now to promote the great Malone assets to the traveling public, too. 
So I pulled into the fairly empty parking lot (it was only April, after all), and entered what seemed to be a fairly new Club House. A TV screen on the wall attracted my attention, and I walked over to see a video of some fancy stage in front of a large audience - all watching Derek speaking into a microphone. A few seconds later on the video, Derek turned and was shaking hands and chatting with none other than Arnold Palmer!
It was a PGA event, Derek explained to me later, during which he presented World Golf Hall of Fame and PGA member Arnold Palmer with the Deacon Palmer Award. Palmer accepted the award given posthumously to his father and only coach, during the General Session of the 98th PGA Annual Meeting in Indiana in November of 2014. Derek was, at the time, Interim President of the PGA of America. He was elected the 39th President of the PGA of America shortly thereafter.  
Derek was in a meeting when I arrived and told me he'd be a few minutes. This gave me an opportunity to peruse the fun toys in the Pro Shop. Featured front and center (or perhaps it's just where he left it) was a golf bag with Derek's name on it. Friendly staff members were organizing the inventory and boxes were being delivered with goods for the shop while I was looking around. What a busy place - bustling at the beginning of another season! 
Finally, I sat down with Derek to ask him a few questions about the Malone Golf Club and the PGA of America. 
Malone Golf Club
As I mentioned, the clubhouse looks new - and that's because it was opened not long ago - in 2001. It features a restaurant that serves breakfast, lunch, and dinner, and is open from April through December. The facility is also popular for hosting a variety of functions, from meetings and banquets to holiday parties.
The Club has two 18-hole courses, and offers memberships as well as guest access. Derek explained to me that having the two courses allows them to alternate daily, welcoming guests on one course while the other is reserved for Club members, and switching the next day.
I'll report on the courses after I've played, but at the time, Derek said that they were already looking at a strong season based on early bookings. 
Renowned architect Robert Trent Jones added a new course in 1987, taking the best elements of the existing Malone 18-hole course, designed by the legendary Donald Ross and Willard G Wilkinson, and intermingling them with 21 new holes to make 2 world-class golf courses. I got a glimpse of some of the holes on my drive in and out and from the Club House, but I can't wait to try them out.
Speaking of history, I did ask Derek about a picture I had seen near the TV in the lobby while I was touring that nice Club House. Yes, it's true, Babe Ruth dedicated the original 9 holes at the Malone Golf Club in 1939! In 1940 a clubhouse was built, followed in 1956 by the back nine, completing the original 18 holes.
PGA of America
Derek has said that he was driven to become an officer in the PGA shortly after he became a PGA member in 1993. Just as he gives back to his hometown community of Malone with positions such as membership on the school board, he also enjoys giving back to the sport of golf. 
For the brief time that I was chatting with Derek, he was talking to me and simultaneously juggling phone calls and texts and other communiques from a variety of people and places. The role of president of the Professional Golfers Association of America comes with a number of opportunities - and a lot of interviews, public appearances, meetings, a consistent social media presence, and more. 
The Presidential role has him traveling all over the country and the world for a variety of appearances, and he is meeting the challenge of balancing that with his responsibilities at the Golf Club - admitting that he has a great staff and family to support him. 
As it says on their website: "Founded in 1916, The PGA of America is the largest working sports organization in the world, comprised of more than 27,000 dedicated men and women promoting the game of golf to everyone, everywhere."  
Dedicated to promoting golf to everyone? I think they've got the right guy for the job.
At the time we spoke, Derek had just returned from the Masters Tournament, an event which is a sign of spring, apparently, to golfers. At the Masters, because of his PGA status, he worked hole 3 as a rules judge. Basically, this meant that he had the power to give penalties to the players on that hole. He described his stint as a "no hitter" (Babe Ruth would like that) - which means that there were no penalties. This seemed like a kind of stressful job, I thought, and Derek agreed. "The simplest ruling at the Masters is equal to the hardest ruling at your home club," he said. Of course, it probably IS a bit more stressful telling Phil Mickelson he has to take a penalty stroke in front of millions of people watching you on national TV.  
(Speaking of National TV, Derek is somewhat of a star himself now, too. Just like Mick Jagger, I've seen a few folks ask to get their photo taken with him, from visiting golfers to NYS Senators.)
Now, I realize that his PGA role comes with the serious and important mission to promote the sport of golf to the masses, but it also has what I'd certainly consider some cool perks. He also gets to mix and mingle with with the stars of golf, and the stars of other industries, too. For instance, he had the privilege of being in the PGA box at the Superbowl, and is on a task force to work on the Ryder Cup team with the likes of Tiger Woods, Phil Mickelson and Davis Love III, to drop names that even I know.
But it's not all star-studded fun. In addition to mingling with stars, Derek is also lending his energy and marketing skills to spur ongoing collaboration and to support the PGA's mission to grow the sport of golf in general. And he has also been able to leverage his elevated PGA role to benefit not only his golf course, but to support the entire tourism industry in the local region."Golf is a 5.3 billion dollar industry, and employs 57,000 people in New York State," he said. "Golf is just one component of tourism; we have birding, canoeing, fishing and hiking, but golf puts heads in beds." 
And what a great golf product Malone has to offer, if you believe all those avid golfers I heard talking about it back in the olden days. Given the activity at the clubhouse, even in the month of April, I think they might be on to something.
Learn more about golf at the Malone Golf Club, and check out the many lodging and package options available so you can stay and play all 36 holes!
-Kim Rielly is the director of communications for the Regional Office of Sustainable Tourism and a mediocre golfer.
---
This week in related "Did You Know" ADK news:
10 fun facts - #9 is pretty psychedelic! 
4 funky facts you may not know!
1 author, 1 cottage, 1 cool town
50 degrees and dropping... what lies below?
9 bits of trivia you'll never guess!