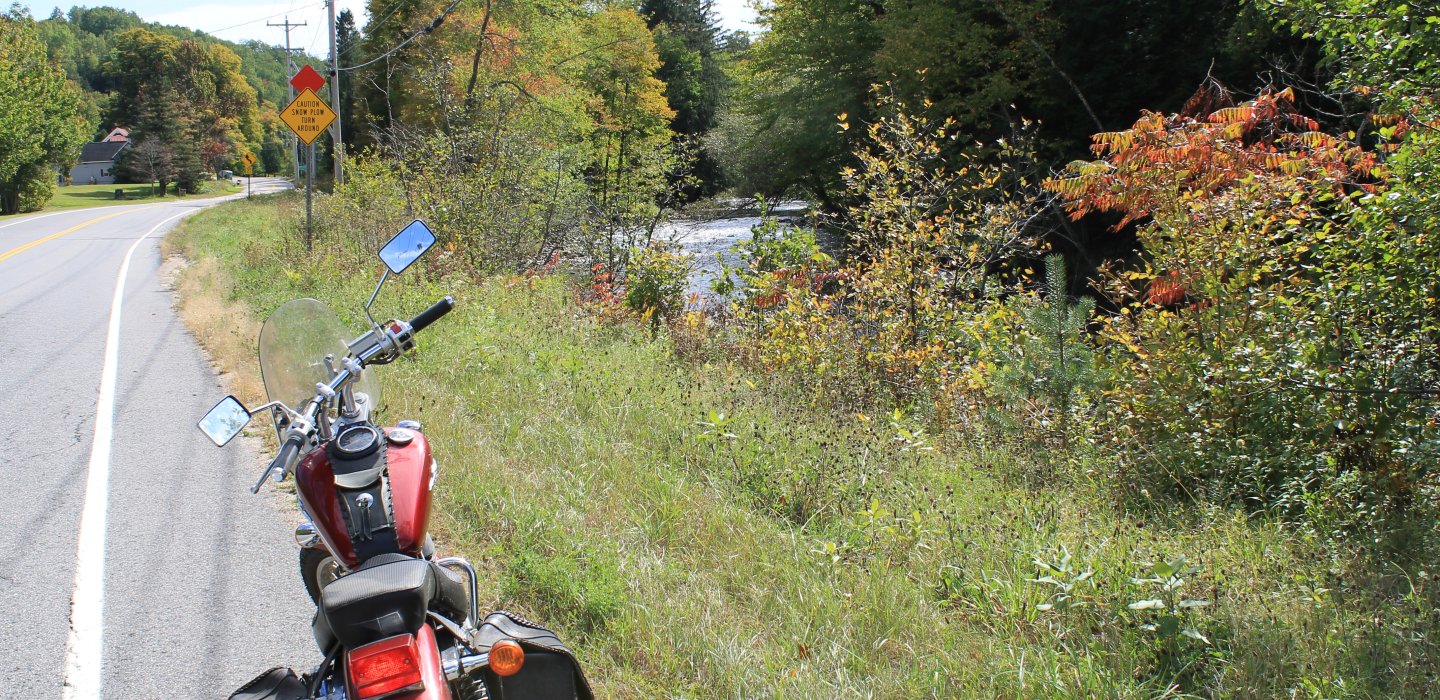 I didn't have much interest in my motorcycle this spring and summer, but now that fall is here, all I want to do is jump on it and go. And go I did, to tour around the Malone area and find some cool rides. I tried two loops on my most recent ride through Malone, and both were pretty great. 
Mountainous twists and turns 
The first takes you by Titus Mountain Family Ski Center. I rode out south from the center of town on Route 30, then watched for the signs for Titus. When I saw the sign, I turned left onto Fayette Road, which is also Route 41. 
I rode down and up the hilly road, and there were plenty of great views of the fall colors splashed amongst the trees that were layered over the side of the mountain. When the road intersected with Route 25, Duane Road, I turned left onto it. Soon after that, there was a beautiful little pond on the right, so I pulled over to take some photos. 
Leafy vines had crawled up a post and out across wires connected to the post, framing the view of the little pond that was circled with lush vegetation. Across a side street, people working on a house stopped to watch as I put my camera up to my motorcycle helmet. 
I almost took off after that, but something caught my eye across from the pond on 25. I scampered across the road -- there weren't many other vehicles on it, but some of the ones that were seemed to be in a hurry -- and I saw that behind the dam, its huge connected pipe and quite a few "Private property; no trespassing" signs, there was a huge, beautiful waterfall. With all of the various accouterment around it, Chasm Falls is clearly not meant to be a sightseeing attraction. I think they help create the power gathered by a big hydroelectric plant at the bottom of the falls and around the corner. So there's no real viewing platform and you have to go right up to the edge of the tiny pull-off to see the falls. But they sure are huge and impressive to look at, if you can get a glimpse. 
The road continues on after that and intertwines with the Salmon River at quite a few points. Very scenic and beautiful. There is a cute little picnic area right on the river and several other grassy spots and pavilions, as well as the large Malone Memorial Recreation Park, also known as the Rec Park, which features swimming, playgrounds, tennis courts, softball diamonds, volleyball, picnic areas, a walking path and an ice rink.
I also made another fun discovery along this road: Rotary Lake, which was nearly covered in geese, who were probably stopping in on their way south for the season. When I first rode by, it looked like there had to be a bird every few inches for the whole span of the lake, but I think my bike may have spooked them a bit and a few swam away from the road. Still, as I watched them and took a few photos, the sound of all the honking was so loud, I just had to take a video.

Then I continued on down Route 25. The road itself is a fun one, with a few straightaways that allow you to pick up speed and plenty of twisty turns to please your adventurous side. I continued past the famed Malone Golf Club and some lovely houses before the road dumped me onto Malone's main drag. I gassed up at one of the many gas stations along the Route 11 corridor, then headed east on 11. 
Taking a pit stop
I saw Bokie's Drive-In and just had to stop for lunch. It's basically the most fun ever. The restaurant is a '50s throwback and has all kinds of fun touches, like Elvis, Betty Boop and Marilyn Monroe figures with the faces cut out so you can get your photo taken through them, model cars from the '50s and '60s, vinyl booths and diner stools, newspaper clippings from back in the day shellacked into the tables, and of course plenty of tunes from the '50s and '60s playing on the jukebox. 
I had a yummy burger and delicious poutine, a Canadian favorite that the woman at the register said is very popular at Bokie's. They even use fresh cheese curd from a local cheesemaker in Chateaugay called MacCadam Cheese. As i write about it now, my mouth is watering for more.  
Flatland riding
With both my bike and me freshly fueled, I headed east on 11 again, then turned right onto Route 23. Before long, I passed Stacy Road, where the Almanzo Wilder Farm lies. I continued on through some lush, beautiful farmland, mooing at cows and honking at horses along the way, and I passed through the tiny village of Burke.
The road is largely straight and allows for plenty of viewing the scenery. Just before the road was about to meet back up with Route 11, I turned right onto Cemetery Road, then left onto Jardon Road. There I saw the Noble Chateaugay Wind Park, which consists of a series of wind turbines situated to collect as much wind energy as possible to power surrounding areas. It was an impressive site, with the already tall trees towered over by these slowly turning turbines. 
After stopping to marvel at that, I continued on to High Falls Park. I had heard about it and wanted to check it out. The 120-foot falls were formed more than 12,000 years ago from a retreating continental glacier. The park also includes a campground for both overnight and seasonal campers, plus many activities including a pool, mini golf course, game room, nature trails, areas for a ton of different sports, a big playground, plus seasonal activities like hay rides and Halloween movies. 
It costs $3 to go check out the falls, and the trip takes about a half hour, according to the woman at the desk. Unfortunately I was getting cold, and I was worried about riding home too late, so I didn't think I could spare an extra half hour before I started the return journey home. I hope to visit again sometime soon and get the full experience, though! 
I had a wonderful time riding in Malone, and I hope to do it again before the fall colors finish and white covers the land. 
---
What's your ADK ride? 
Take your top off - or roll down the windows!
Perfect first family-friendly flight.
Biking the Blueberry Hill trails: best make a day of it.
Pedaling: the long (or short) way to serenity.