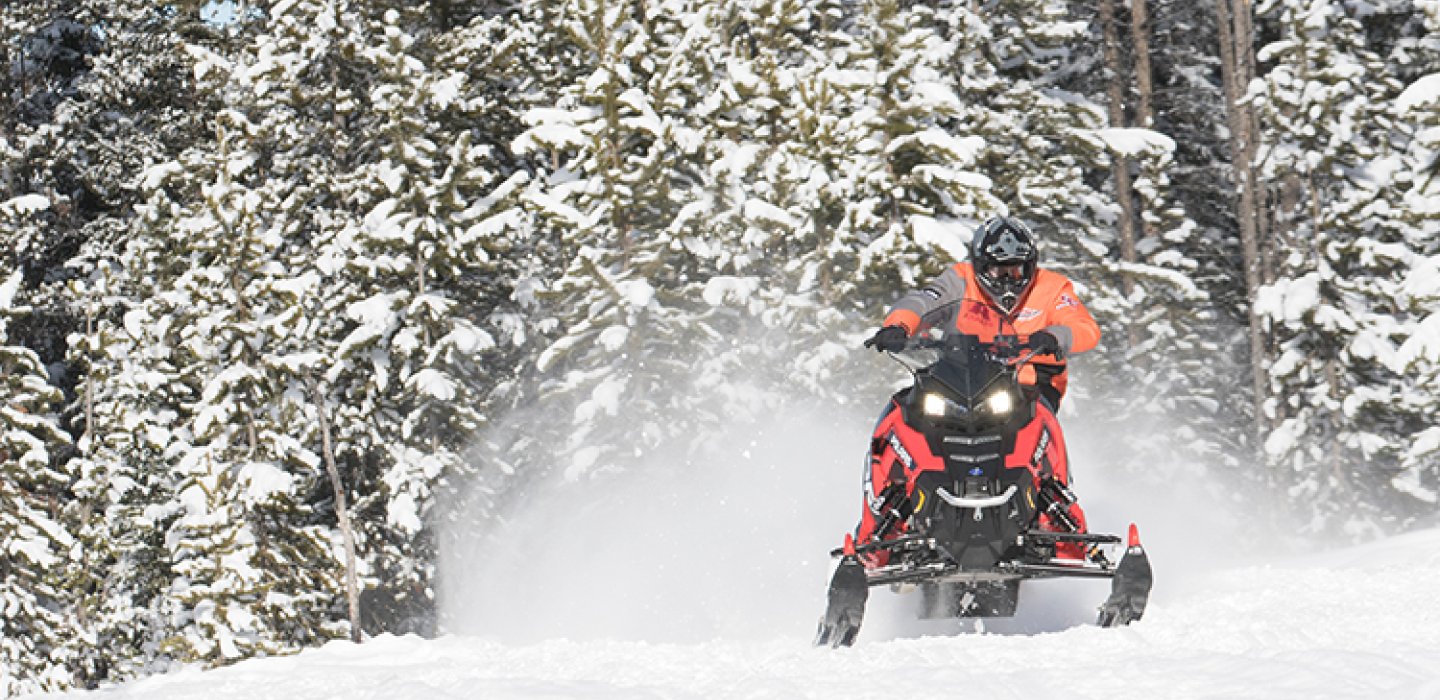 The thing about snowmobiling is how there's no middle ground. It's about going fast; and then stopping to enjoy the incredible scenery and group camaraderie our snowmobile lets us reach.
What summer is to motorcycling, winter is to snowmobiling. While Malone didn't invent snowmobiling, we hit the ground with our engine revving, holding snowmobile races and making lots of trails. We declared ourselves the Snowmobile Capital of the World.
If we've ever wanted to go really fast in snow, while sitting down, here's more about how much fun we can have.
where to begin
A great way to try out snowmobiling for ourselves is to take a guided tour with knowledgeable people. Farmhouse Snowmobiling, a little over half an hour south of downtown Malone, is such a place.
This is the kind of terrain we want for snowmobiling -- lots of plateaus and hills that are only rolling; no jagged cliffs in sight. While professional riders can climb a 45-degree angle, this is not something a newbie should come close to attempting. So the acres of trails we are taken out on have gentle turns and not much in the way of elevation changes.
There's heated handlebars and a windshield, so we can be quite warm while enjoying ourselves, too. The key to winter recreation is to dress properly. Our nervous system doesn't just respond to the outside temperature, it signals us about the rate of change. If we moderate any temperature change, we don't feel the cold.
Honest. By wearing proper gear, like warm layers, knit cuffs, and a scarf and gloves, we will stay toasty, even at thirty miles (or more!) an hour.
This was my first time riding, and that's when I found out that there is such a thing as too slow. The snowmobile engine will stall out if we don't keep our speed up. But since keeping up is part of the fun, I quickly gained confidence and starting doing quite well. That's where having a guide makes for a quick learning curve. At our frequent stops, we were given tips on our riding, what to look out for, and how to handle turns, which is easily the trickiest part.
There's such a thing as too fast on the turns, of course. This is when we go off the trail and have to bring everything to a stop while we get the machine back on. Lean into turns, and we'll get the hang in no time.
expanding our reach
What if we enjoyed it? Maybe we're ready to get our own snow machine and start exploring the trails in our North Country.
There's the Gabriels Powerline trail, which runs across flat farming country (yes, in the Adirondacks) which is ringed with lovely mountains. There's plenty of outstanding scenery and the powerlines add a visual along the route. This is a connector trail between Corridor Seven and Corridor Seven B through the Gabriels Tract. These two main corridors, east of Malone, run south, in parallel, down to Saranac Lake.
The Constable Bridge Run takes us from near the Canadian Border to Corridor Eight which runs to Meacham Lake. This spectacular area, so popular for camping in the summer, becomes equally attractive when the scenery has a layer of pristine snow. It's a level up in difficulty, too, with plenty of turns and hills to keep the ride thrilling.
Corridor Eight, to the west, branches off below Owls Head, running through the Debar Mountain Wilderness and the lovely Santa Clara tract. Regional Trail S82 Branches off the junction of Corridors Seven and Eight, for further exploration.
These western trails lead into the expansive St Lawrence County complex, known as the The Adirondack Seaway. This has more than 500 miles of snowmobile trails to enjoy the sights at Cranberry Lake, South Colton, and the Brasher State Forest. This leads to the reliable snow and easy terrain of the Adirondacks Tughill Plateau.
But we can also keep heading south, into the Pharaoh Mountain wilderness, where a similar plateau holds dozens of trails in some of the most gorgeous forests in the whole of the Adirondacks.
We will need to ramp up our skills as we venture further out. Always carry a compass and map, because wind and ungroomed snow can alter the look of the trails, turning navigation tricky.
Ride in groups with people who know the area, and learn and use the hand signals. This lets those riding behind us know what to expect. A good following distance is three or four sled lengths; this goes for ahead and behind.
Be aware of all signage. There are Snowmobiling Permitted signs along routes and roads throughout the Adirondacks, which remind us we are on designated routes, and that we are not trespassing or lost. Obey Stop and No Snowmobiling signs and heed warnings like Caution and Bridge Ahead. Safety first.
Know and apply "Trail Etiquette." Some of the trails, especially connectors along the main routes, are multi-use. We should be alert for the cross-country skiing trails which link to sled trails. This is a signal to be extra cautious, and reduce speed. Don't forget the abundant wildlife which may appear, distracting us, or even crossing the trail ahead of us. Being aware of our surroundings is part of the fun, and the responsibility, of snowmobiling.
Reaching out to a local group can get us on the next group outing.
enjoying the stops
Places like Deer Valley Trails, Belly's Mountain View Inn, Trailside Inn, and Charlie's Inn at Lake Clear are all fantastic places to stop. Have a meal, enoy a beverage, and then a place to sleep. An index of snowmobiling's popularity is how many great places turn into snowmobile magnets in the winter.
Deer Valley Trails, along Corridor Eight, has a 24-hour gas pump and a parking spot for trailers. Belly's is famous for their chili and is a popular stop along Corridor Seven, once serving 350 snowmobilers in the course of one day. Trailside Inn is also in Mountain View.
Down south, Charlie's Inn is another popular destination, which started life as a stagecoach inn and hasn't stopped since. This gathering point on Corridor Seven is connected to a whole system of Adirondack snowmobile trail systems, with grooming. On site 24-hour premium gasoline service is available, with free parking and free maps available.
Here in the North Country, we don't see any reason to stop our outdoor fun just because it's winter. In fact, we see winter as part of the fun.
Find favorite snowmobile lodging. Which is also snowmobile dining. Find out more about our snowmobiling.
---
ADK winter bucket list items: