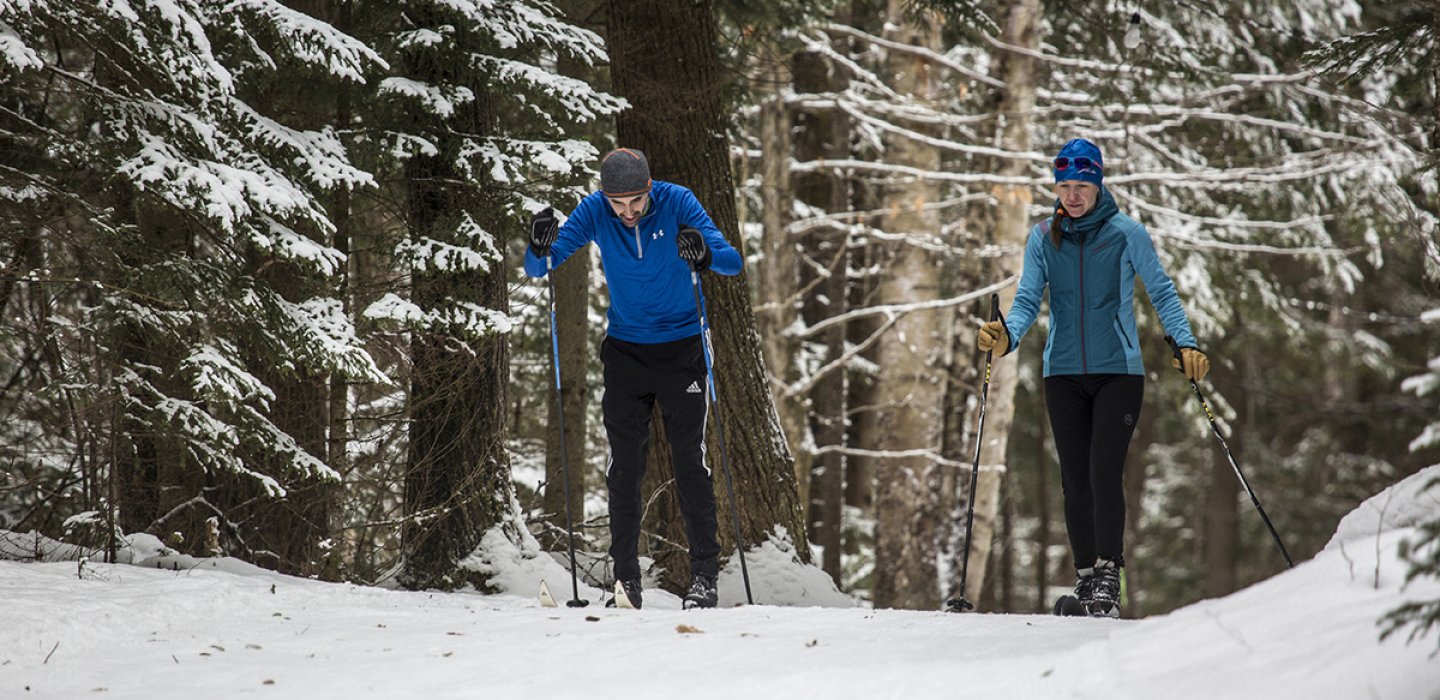 WHY CHOOSING MALONE IS A GREAT IDEA FOR YOUR NEXT CROSS-COUNTRY SKIING TRIP
Malone has some of the best downhill skiing in northern New York -- and trust us, we love that fact! However, what a lot of people don't know about our corner of the Adirondacks, is that our cross-country ski trails are some of the very best as well.
Are you looking for the nice, smooth, and easily-navigated trails where you can glide along with a smile? We have that.
Are you looking for that trail that challenges your inner athlete with terrain that you swear must be an Olympic course? We have that too.
Or, are you thinking that maybe a mixture of the two might be the best idea for you and your party? We can accommodate that wish as well. 
Some of the "hot" spots
Some of us -- don't worry, I won't mention any names -- are not the biggest fans of heights. If you're one of those people, don't feel like you have to cut out of the action when everyone heads to Titus Mountain Family Ski Center. Titus has added on some new cross-country skiing trails that the locals can't get enough of. The trails will take you to places on the mountain specifically designed to give you some views of Lake Titus along your way. You can even wave to your downhill skiing friends as you glide by them before they take off on their downward adventures.
The Malone Fish and Game Club offers great trails that will bring you to where the wildlife roams. It is actually very rare to be out on these trails and not spot a deer or a group of snow rabbits hanging out along the way. So, if you want to say you live on the "wild" side when you head out on your skis, you can always go visit our friends at the Fish and Game Club.
Like to take the trail less traveled? Choose to go off the beaten path during your next cross-country trek. Places like Meacham Lake Campground are great for the easy, wide paths. Even though the campground may be closed, the roads are open. Being that they are naturally snow-covered, you can take them right to the shores of Meacham Lake and take in the breathtaking views that this beautiful state campground is known for.
We have the awesome topography to make your cross-country adventure as unique as you wish. From the rolling foothills of the Adirondacks, to advanced terrain in our higher mountains, with a short drive and a sense of adventure, you can pretty much find the ideal spot for your trip!
Alone, as a couple, with a group - ideas for all!
It truly doesn't matter how big your party is when you take advantage of cross-country skiing in Malone.
Are you the type that likes to ski alone? We understand, there's something special about being out there on your own. It gives you the opportunity to go at your own pace and decide when it's the right time to stop and smell the icicles or when it's the right time to hurry up and feed your inner bear by heading to the Titus Mountain favorite, Mo's Moon Valley Grill for some Kickin' Chicken Fries and a glass of locally brewed craft beer.
Hoping to impress your significant other? Take them out on a secluded date. You can glide along our trails while talking about life and your dreams of winning millions of dollars at the Akwesasne Mohawk Casino. 
Make it a party! Bring your friends, bring your family, bring them all -- the more the merrier in our opinion. Set up your own mini-olympics with time trials and events to see who the fastest cross-country skier is, and then treat the winner to drinks at Donovan's Steak and Ale when you get back to town.
Family time! Teach your children everything you know about the sport before visiting the House of History in downtown Malone -- you know, so you can tell their teacher that their trip was for educational purposes! 
It doesn't matter how talented you are, how many people you want to bring, or which paths you want to explore, we have a complete menu of tasty trails for you to enjoy. Make your way to the Malone region this winter!
---
This week in related ADK winter stay 'n' play news:
5k snowshoe training - mimosa optional