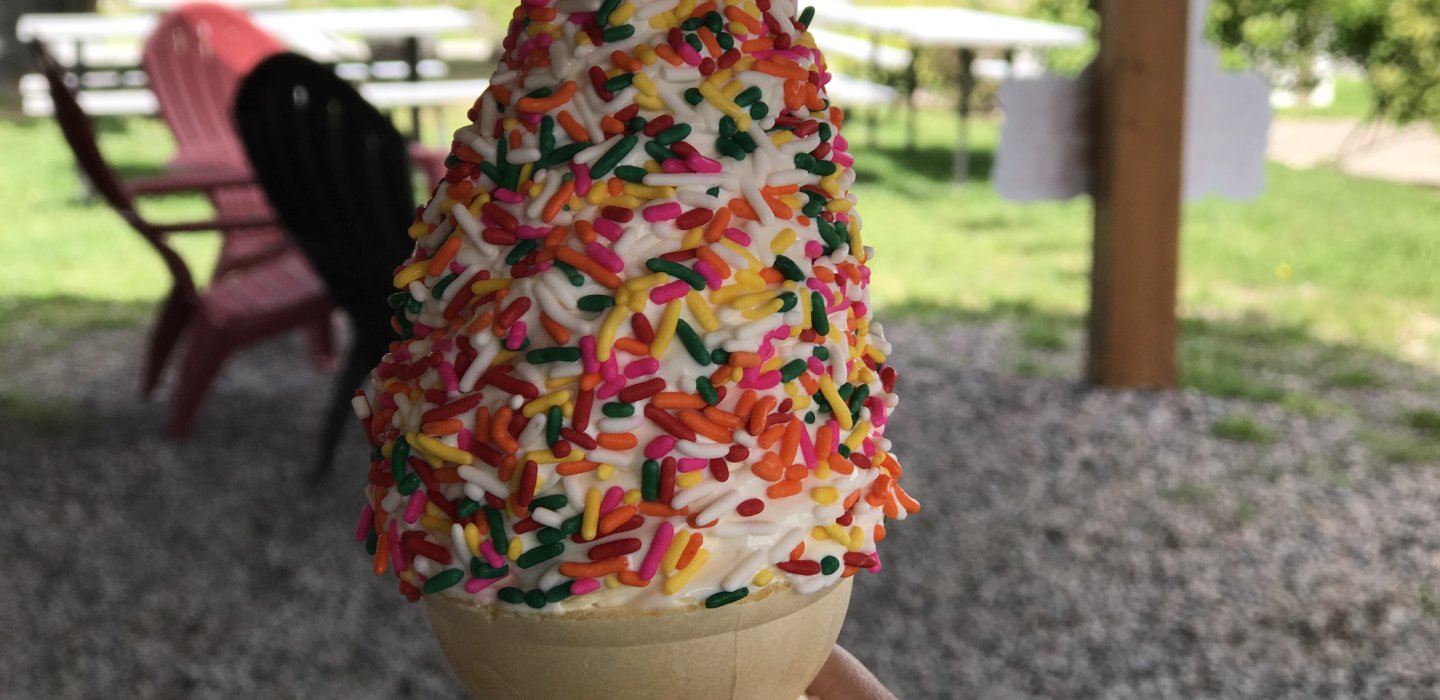 Different Flavors for Different Folks:
5 Places to Grab an Ice Cream Treat in Malone
Let's face it: Ice cream is a wonderful invention. But we have come a long way since its availability to the public sometime around 1660 and since its manufactured start in 1851 (according to the International Dairy Foods Association).
What was once a quick decision--vanilla or chocolate--soon became even more eventful with the invention of the twist. And what was once a simple outing to get ice cream soon became a family affair with all different types of flavors for different types of folks.
Ice cream fans rejoice! This past National Ice Cream Day (yes, there is one and you should participate!) we went to some of our favorite ice cream places and got what we think is their specialty at each one. While there are many options at each of these stops, if you were to try and hit all five in one day, these are our suggestions:
1. Homemade Hard Ice Cream From Bokie's
Real talk: Homemade ice cream is awesome. And lucky for us, our local 50s style diner serves up delicious homemade hard ice cream flavors daily during the summer, alongside many fan favorites such as cotton candy, mint chip, and vanilla. Their flavors change weekly, and sometimes even daily, depending on how fast that particular flavor is eaten!
The last time we went to Bokie's they were serving the homemade flavors Raspberry Cheesecake, Mud Pie, Dessert Bar, and Adirondack Breakfast. Of course, we had to try the Adirondack Breakfast, which was maple ice cream with swirls of maple syrup and chocolate covered bacon. Can you say DELICIOUS? I'm a fan of most things maple, and the old adage is that bacon makes everything better. So how could we have gone wrong with this?
If homemade hard ice cream isn't your thing, they also have soft serve, new ice cream sandwiches, delicious floats, and lots of scrumptious diner food like poutine, burgers, and grilled sandwiches.
2. Flavorbust Soft Serve From Linda and Mike's
Apparently flavorburst isn't as well known as I once believed, because I still meet people who don't know what it is! Linda and Mike's Ice Cream Stand is a small mom-and-pop parlor on the edge of the Salmon River in downtown Malone. Don't let their one ice cream machine fool you--not only do they serve vanilla, chocolate, and twist, but they offer my favorite ice cream of all time--Flavorburst!
Flavorburst is a vanilla soft-serve with a creamy and sweet flavor dispensed on the edges of the ice cream. The colors swirl around the soft serve and make it just as pretty as it is delicious. Mike has been on register every single time we go and he knows our orders by heart: I always get a small black raspberry and my partner always gets a medium butterscotch. The sizes are perfect, and the service is wonderful, and the atmosphere is just as refreshing as the ice cream.
If flavorburst isn't your thing, they also have plain soft serve, sprinkles, and basic food stand fare such as fried dough and burgers. They also have a cute little Adirondack style gift shop!
3. A Blizzard From Our Local Dairy Queen, Grill & Chill
Oh goodness, the flavors that can come in a Blizzard! Dairy Queen is a national brand that's famous for their Blizzards--a mixed soft serve ice cream with your choice of toppings, from Butterfinger candies and Oreo cookies to fruits such as bananas and strawberries. And they don't skimp on the ice cream or flavors when they make it. They are so confident in the thickness of their ice cream, they serve it to you upside down or it's free!
Personally, my favorite Blizzard flavor is always their monthly special, with the Ultimate Reese's Blizzard being my favorite. It includes peanut butter sauce, chocolate sauce, Reese's Peanut Butter Cups, and Reese's Pieces mixed together! Yum. Although my personal favorite is gone, the August special is the Triple Truffle, which literally has three different types of truffles blended into the ice cream -- fudge, peanut butter, and caramel. It's bound to be heaven.
If Blizzards aren't your thing, they also serve classic soft serve sundaes, and your typical burger or chicken and fries. They also have ice cream cakes made in house!
4. Old Fashioned Vanilla Soft Serve With Sprinkles From Uncle Sankie's
Sometimes a classic is just what you need -- but there's nothing wrong with dressing it up a little bit! Uncle Sankie's is another mom-and-pop shop just on the outside of Malone. We pick here when we are in the mood for portions fit for a king. I would describe their specialty as smalls that seem like larges so make sure you are prepared to house some ice cream if you head to Uncle Sankie's!
My go-to here is a classic (small) vanilla ice cream cone that I dress up with a little bit of rainbow sprinkles. I always feel like a kid again, when the ice cream seemed too big for my tiny hands and I had to try and eat it fast or it would melt off the cone before I finished. The rainbow sprinkles add to that nostalgia and add a little pep to the classic in my opinion.
If the classic soft serve isn't your thing, you can also find flavorburst, Perry's hard ice cream, and yummy food stand fare. Plus, sometimes it's just worth it to take a peek at their cheeky roadside board.
5. A Refreshing Sherbert Cooler From The Local Stewart's Shops
Ice cream purists might not feel this flavor belongs on the list, but I would be remiss if I didn't include it. Stewart's Shops is a New York based store that makes their own ice cream using locally sourced dairy. They are famous for many of their flavors such as Black Cherry and Mint Chocolate Chip, but one of my favorite things to order here during the summer technically isn't "ice cream" in the traditional sense.
On a hot summer day, there is literally nothing better than a Sherbet Cooler. This concoction is rainbow sherbet ice cream (milk, sugar, fruit juices, and geletins) mixed with your choice of lemonade, fruit punch, or blue raspberry juice and a touch of half and half for creaminess. It's like a milkshake... but not. I opt for the lemonade, which basically tastes like summer in a cup, while my partner gets the fruit punch and swears it tastes like a Flinstones push pop from our childhood.
If Sherbert Coolers aren't your thing, you have to try any of their hard ice cream flavors, any of which they can make into a milkshake, sundae, banana split, or even just plain on a waffle cone. It would take you over a month to try all their flavors if you tried one a day!
So, we might consider ourselves ice cream aficionados in our house, but we're not ashamed. Generally we delight in the treat in summer months only. I tell myself that it's what helps me make it through the warm sunny days in order to make it to ski season -- but that might not be the full truth.
Lucky for me, whatever my reason, there are many places to get my fix depending on what kind of mood I'm in and what kind of flavor I'm on the hunt for. And I still haven't hit all the ice cream places in the area... but we still have a lot of summer left!
Don't just fill up on ice cream! Get dinner in Malone and work it off with some outdoor adventure!
This week in related ADK news: