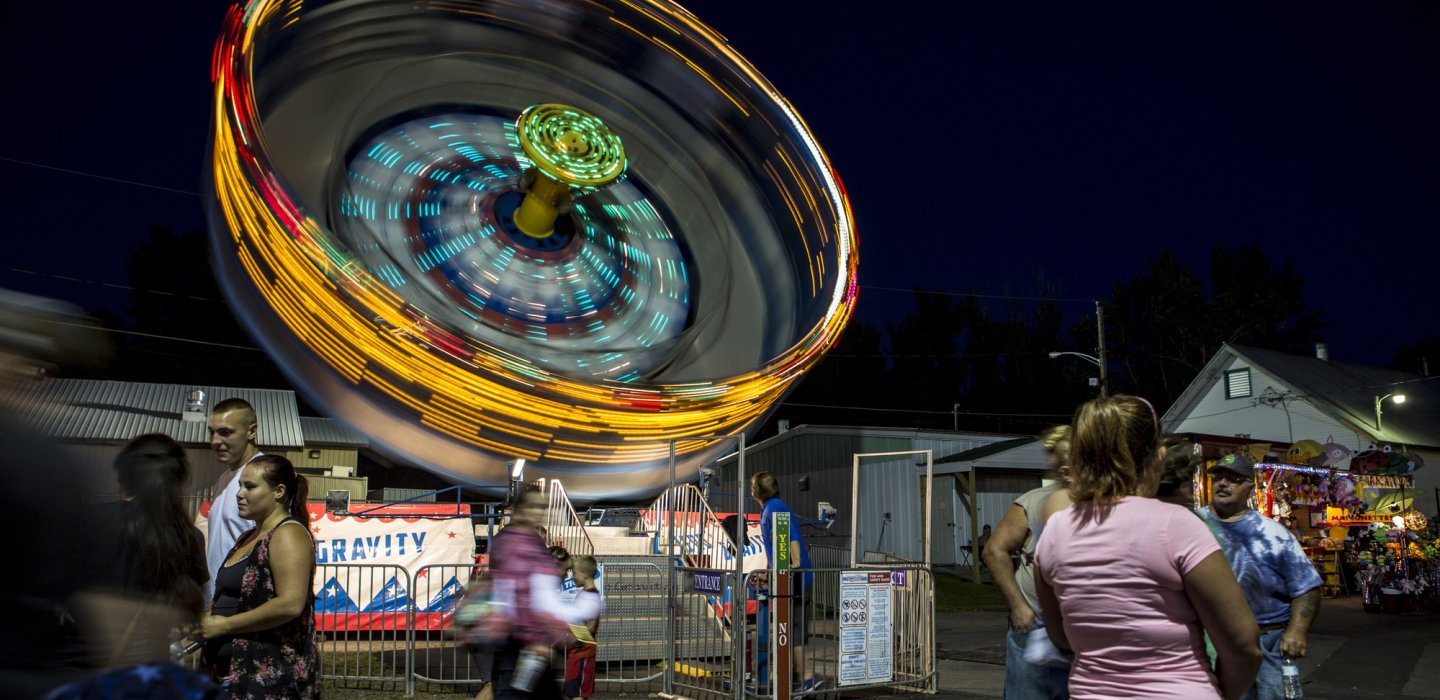 Mark your calendars because one of New York state's most exciting fairs is coming to town. Beginning on Friday, August 3, Malone will host the 168th annual Franklin County Fair, a regional celebration of farming and all things fun. This will be a ten day affair jam packed with competitions, live performances, farm animals, delicious and farm fresh food, rides, a tractor pull, lawnmower drag races, and two separate days of demolition derby (just in case you miss the first, or want more). No matter your taste, there is something to appeal to the whole family at this fair, which is a favorite among locals and visitors alike. After all, this is the New York state county fair.
You can expect a lot of fun and all-you-can-eat fair food, but Dave St. Mary -- the fair's director -- put the event nicely in perspective. When I spoke to him about this year's fair, he reminded me that it's about summertime fun with the family, but it's also about celebrating agriculture, especially this region's rich history of dairy farming. So have fun, let loose, and support your local farmers!
Old favorites
Poultry competitions aren't just for chickens. Well, they are, but who doesn't want to witness a diverse lineup of about 800 chickens of all varieties (and colors) compete for the top poultry prize? There will also be cattle shows, harness racing, and horse shows just to name a few of the other competitions. You can't have a fair without farm animals!
Other mainstays and local favorites include the Painted Pony Rodeo, the tractor pull, and demolition derby, which will be rowdy fun for all ages. On Thursday, the Miss Franklin County Fair pageant and talent show might be less rowdy, but no less fun.
New additions
Lawnmower drag races will be a new addition to this year's lineup of competitions. Mowing the lawn will never be the same after you experience this race.
Agriculture Day will be Tuesday, August 7, which means free admission for members of the Farm Bureau. On this day there will be a lineup of old and new farm machinery that will parade from the Grandstand to the Barn before the evening concerts begin.

Music
Franklin County Fair is known to attract some big acts. This year it welcomes REO Speedwagon, the iconic band that's been rocking since 1967. Sing along to the old hits and expect some new ones too. Other acts include The Garth Guy and Shades of Shania -- yes, it's a clever cover band -- that will play your favorites. And, Devin Dawson will deliver "high-country voltage" with a crooner's soul.

Roughhousing
Aside from music, you can expect some rowdy fun with a demolition derby and a tractor pull race. These are always close and fierce competitions among the heavyweights of vehicles. The demolition derby is a raucous competition among cars vying (by crashing into each other) to be the last one standing, or in this case running. Do I need to say more?
For the kids
There's plenty of fun for the kids including rides, games with prizes, 4-H competitions, cotton candy, and lots of farm animals. You can also expect the fair's annual Painted Pony Rodeo to be a blast. Don't forget about the Miss Franklin County Fair Pageant followed by the Hometown Parade and talent show.
Food
It's hard to beat a day of food at the fair. This fair is a little different because not only do you get to nosh on typical delights, like funnel cakes, but there are also unique treats because Malone sits right at the border with Canada, so expect some interesting combinations that celebrate a mash up of both culture's culinary traditions. Brooke, ROOST's Content Manager, highly recommends the Buffalo Chicken Poutine.
In celebration of the region's dairy farms, there will be plenty of farmers selling their delicious dairy products, including cheese and ice cream! And look for the Dairy Princess stand that will feature different dairy products throughout the week. There will also be other local New York foods available, like fresh maple products.
Tips
Drink lots of water to stay hydrated. It can get hot in the sunshine.
Senior Day will be Thursday, August 9. There will be tents set up and plenty of places to sit. Accommodations for people with disabilities will also be provided August 9.
Children under 12 get in free.
Wear sunscreen.
Wear comfortable shoes because there's plenty to do all day long.
Expect lots of vendors!
Try the buffalo poutine and don't miss the demo derby!
The Franklin County Fair is a family affair filled with lively fun for all ages. It's a unique celebration of farming and all the best parts of New York's North Country. You can't have summer without a day at the fair!
Plan to stay a week, dine in our restaurants, and enjoy Malone's other attractions.
---
This week in Adk related news:
World class golf

What's in a name?

By land and by lake

Plunge into Placid

So much camping

Why dine inside?

The birds of Cheney Pond