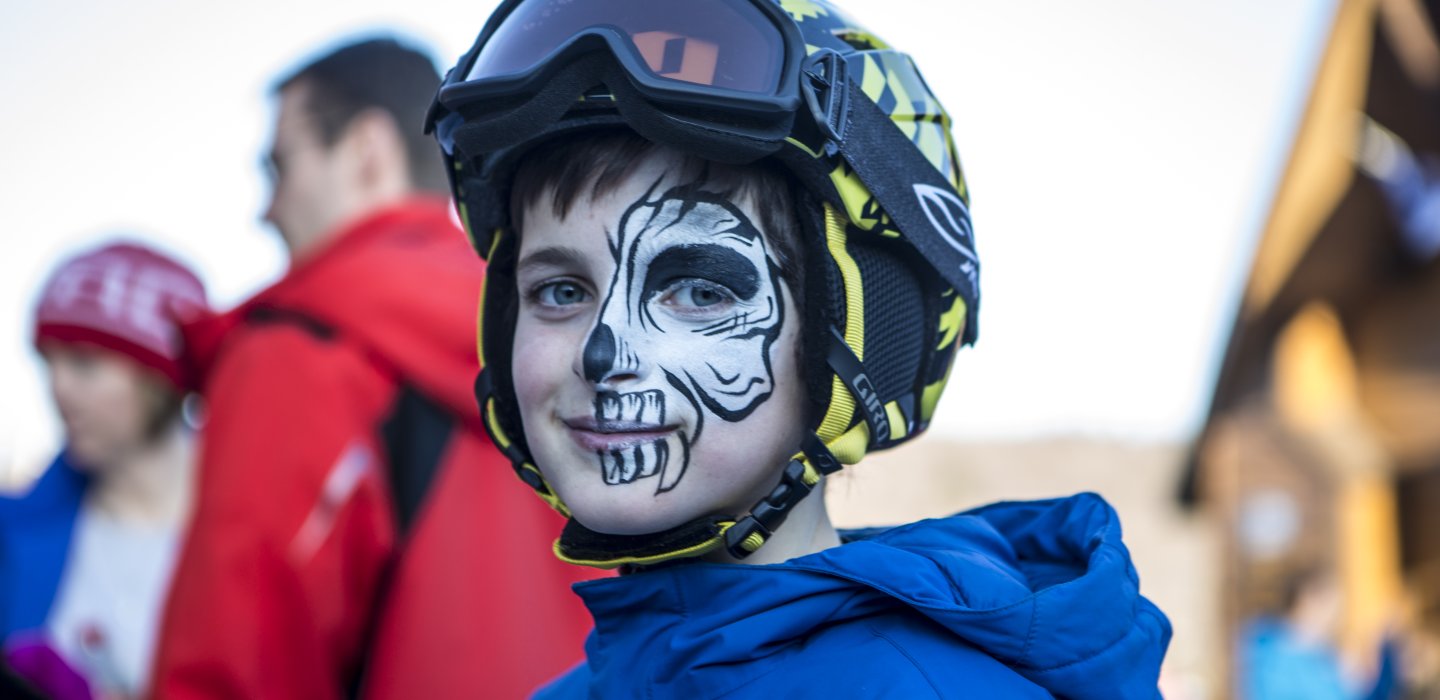 Powder Day Ahead!
The forecast rolls in, I notice the neighbor is getting her snowblower ready, in my gut I know it's true -- a big one is coming our way. I turn in for the night with the same anticipation as being a kid on Christmas Eve. Though for me, it is the mountains that are calling my name. Nothing beats a powder day!
That said, powder days do not hold the same meaning that they once did. For us, we are are skiing with kids so it is less about cutting epic lines and more about the little moments of pure joy. It's watching the excitement in their eyes as they pull back the curtains and see the blessings of freshly fallen snow. It's listening to their stories from past seasons and plans for the day ahead as we travel together to the mountain. But the best part is hearing that deep belly laugh when they find themselves tackling the fresh mountain powder. I know in my heart that when they grow up, these are the moments they will remember more than any present we have ever wrapped for them.   
#1 Family Friendly Ski Area
When it comes to a day on the slopes with the kids, Titus Mountain Family Ski Center in Malone is our go-to place. In 2018, Titus Mountain was ranked #1 Family-Friendly Ski Area in North America by Liftopia. Yes, you heard me right -- out of the over eight hundred ski areas in North America, Titus Mountain Family Ski Center was ranked #1. But what does it really mean to be a "family-friendly" ski center? 
Let's break it down.
The ABC's of family-friendly skiing 
Atmosphere
From stuffy and over-extravagant lodges where you are afraid to let your kids touch anything, to stark and even boring buidlings that lack atmosphere, we've all seen ski lodges that just don't work for families. At Titus Mountain, the lodges and general atmosphere have the perfect balance for setting the mood for an awesome ski day, starting with the music that hits you when you open your car doors to unload your equipment onto the quaint patio area outside the base lodge. Once inside, both the Lower Lodge and Upper Lodge provide a variety of different areas ready for you to create your family's basecamp for the day. Add to the mix all of the friendly faces from waitstaff and lift attendants to mountain mascots Teddy and Betty, and you have the perfect atmosphere for a family ski day.
Best bang for your buck
Adding kids to the mix makes everything seem to be more expensive. The price points at Titus are a great alternative to the sticker shock you often face when looking to book a ski weekend for your family. From discounted ski and stay packages at area lodging options to affordable lift tickets, food, rentals, and more, Titus Mountain allows you to stretch your dollar and get the best value for your family ski trip. Additionally, my kids have even been known to forget an item or two and picking up gear at the the mountain's ski store has provided us with good prices on brand name items.
Insider's tip: when you are booking your room, call the lodging property and ask about ski packages to get the best rates and discounted lift tickets. 
Confidence
As a parent, building confidence in my kids is important to me. The terrain and conditions at Titus Mountain are a real confidence builder. My kids started on the magic carpet and beginner lift of the learning hill and then graduated to the Lower Mountain. From there they were able to grow their skills on the Middle and then Upper mountains. In short, the three peaks and 50-plus trails at Titus have provided them the room to grow into skiers who now have the confidence to hit any trail on the mountain. The bonus that I wasn't expecting is that they now carry this confidence off of the mountain as well.
Delicious
A friend recently said, "At least if you want to hang out in the lodge and grab a bite to eat, you are not stuck eating $15 chicken tenders...the food is really great." I couldn't agree more with this statement. The food at Titus Mountain is a tasty and well-priced alternative to traditional overpriced cafateria food. Our favorite place to grab a bite is in the Lower Lodge at Mo's Moon Valley Grill where their signature Moon Valley Maple Chipotle BBQ Sauce is to die for and our children dig the kid's menu. The additional perk to this location is that the tables are large and provide plenty of room for you and your tribe to strip a few layers and spread out.
Insider's tip: If you are looking to dine off-mountain, there are plenty of great eateries to choose from in Malone. When your troops are too tired to dine out there are also a varity of options that offer both take-out and delivery right to your hotel.
Easy to get to 
No matter where you are traveling from, don't worry about being stuck in traffic while you wait to hit the slopes. Titus' location is ideal for avoiding the traffic, winding mountain roads with no shoulders, and other driving headaches. Additionally, being located less then 30 minutes from the Canadian border it is one of the easist ski centers to get to. As a result, you get to spend more time on the mountain with your family and less time hearing "are we there yet?" 
Fun goes beyond skiing and riding
Boasting 13-hour ski days (9 a.m. - 10 p.m. on Thursday - Sunday), night skiing and riding helps extend the fun into the evening. Additionally, the adjacent tubing hill provides a great alternative to skiing and riding. The mountain also features a calendar packed full of fun activites, live music, and other events such as "Family Fun Days" that are developed with the whole family in mind.
Great snow 
So Titus may have ranked #1 for families, but it's also important to mention that Liftopia also ranked them #3 for "Snow Consistency and Quality in North East." Being located at the northern foothills of the Adirondacks, the mountain sees an ample amount of natural snow every season. Add to that the sophisticated and growing snowmaking and grooming operation and the result is great conditions at Titus that are reliable. One thing that keeps us coming back with our kids is the lack of crusty, icy surfaces that tend to plague many eastern ski areas at different points throughout the season.
Hassle free
Earlier we talked about the mountain being easy to get to, but that doesn't end with the drive. Parking is easy. Unloading your gear is easy. Lift lines are always short, even on the busiest of days the three mountains provide the opportunity to spread out and avoid the crowds. When it gets to avoiding the stress of waiting with kids, Titus Mountain definitely prevails. In short, there is simply less pressure and more fun.
Determine for yourself
Titus Mountain has won my heart. It has been a place of so many amazing memories for our family. As a result, it continues to be my top recommendation for friends and colleagues who are looking to get their kids on skis or a board. But don't just take my word for it, or Liftopia's for that matter, instead come judge for yourself. Plan a trip to Malone and make your own family memories that will last a lifetime.
See you on the slopes!
This week in ADK news:
A look back at the 1980 Winter Olympics