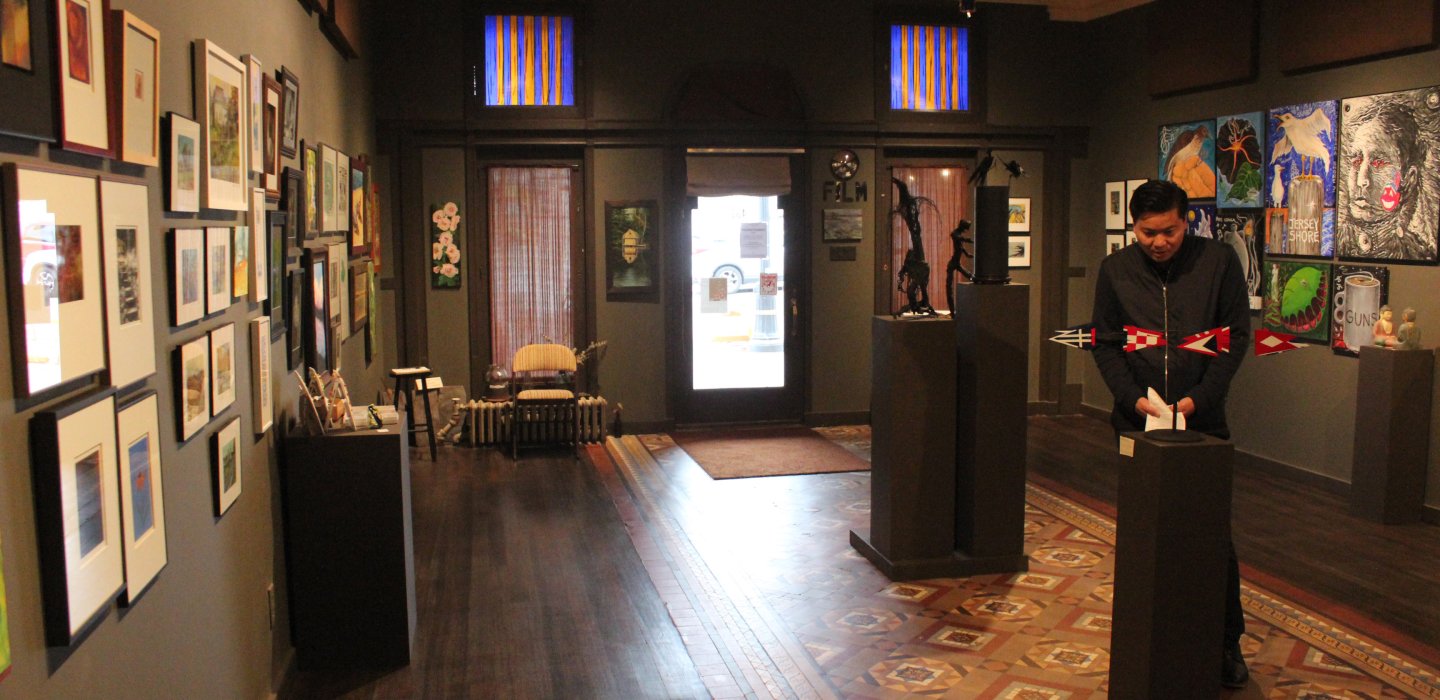 As I approached Pouring Light Studio in downtown Malone, my eyes were drawn to the steam-punk looking sculpture behind the front window, which greeted visitors with its rusty skin and strangely lifelike, apocalyptic features. Inside I found a diverse array of work -- edgy, socially aware paintings, gorgeous photographs, and more uniquely twisted-looking sculptures. 
Pouring Light Studio's owner Michael Hart explained that this was a community art show, something atypical of the gallery's normal offerings. The show was more of an open call for artists, but he usually handpicks the work that graces the walls. There are certain qualities he looks for when deciding whose work to display, but the main thing he seeks is artists who take an introspective approach to their work. In that way, Michael said he is filling a niche in Malone.
"My initial motivation was to try to fill a gap," Michael said. "I didn't see much covering artists that are more introspective and expressing more of what's inside them instead of mirroring what's outside of them."
Visitors won't find an abundance of Adirondack-themed art at Pouring Light Studios, but they will find contemporary art that makes a statement and speaks with emotion. Michael's own work is in the same vein -- his paintings, photographs, and band Figure From Ground all take a refreshingly exploratory, experimental approach. That isn't to say there's never any nature-inspired work at the gallery -- the show I saw included some nice, outdoorsy pieces including a large, bright sunflower painting and some gorgeous nature photography. 
The gallery space itself is simple and elegant. The gray walls make the artwork pop, and the square soundboard panels mounted just below the ceiling hint at the room's alter ego as a live performance space. Michael shows films here, many of them in line with the socially-aware themes he looks for in paintings and sculptures. Bands from around the region also perform here, and there's an open mic night the third Tuesday of every month that often packs the place.
A host of regular musicians frequent the open mics, and new collaborations are formed in real time during the event. Every week the event is closed out by local favorites Amber In Green, an original rock band that has only missed one Pouring Light open mic in three years.
"A lot of the stuff I offer is a very small genre, but a lot of these guys and girls are at the top of their game," Michael said. "They're world class, but they're unknown."
Michael said he wanted to build something from the ground up when he opened Pouring Light Studios in Malone almost ten years ago, and that's exactly what he's done. He brings in artists and musicians from around the region, and keeps things lively by hosting a variety of classes, screenings, and performances.
"I always wanted to have this pure studio and performance center," Michael said. "I kind of characterize it as a glorious struggle."
---
Don't let your day in Malone end with a visit to Pouring Light Studios. Head out for dinner and check out our events!
---
This week in ADK news:
Winter hiking in the Whiteface region