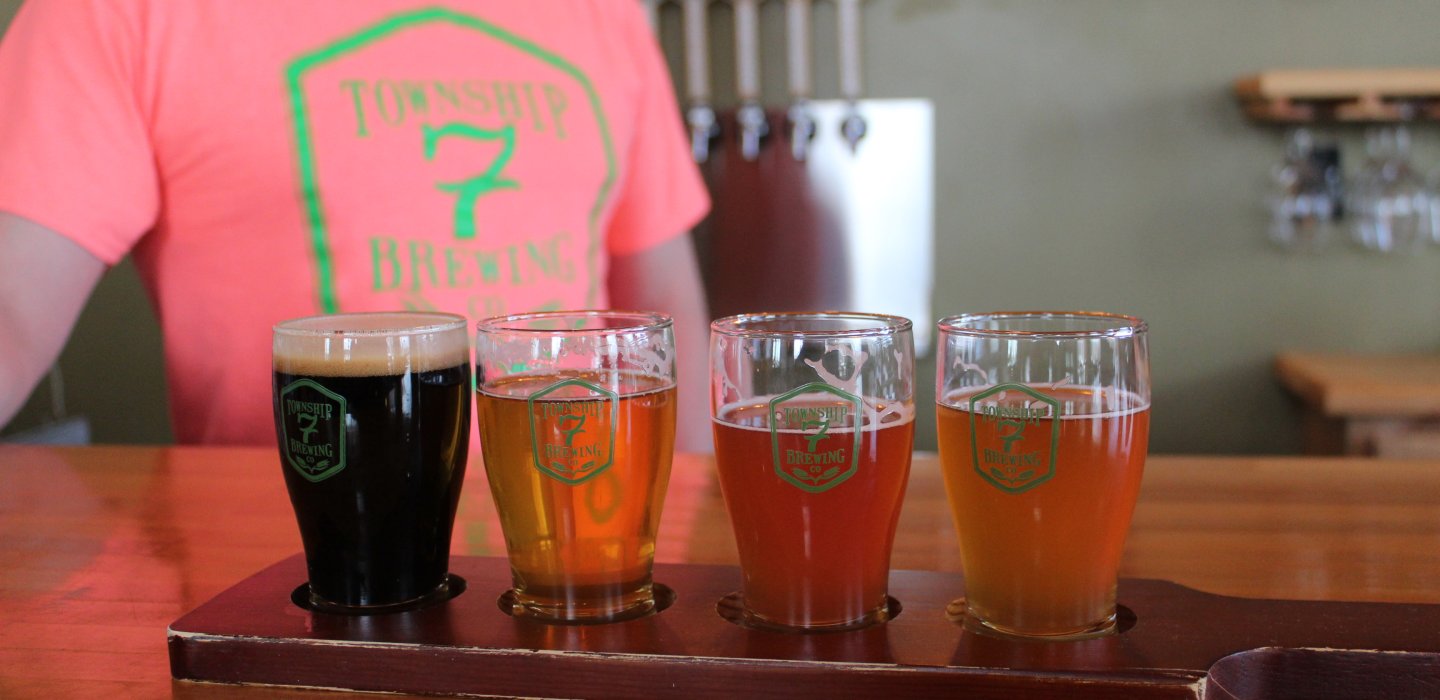 The beer went down smooth, and at the end there was a distinct hint of orange. It was clean and crisp, so I went in for another sip.
"I don't like the flavor to be overpowering," said Nate Drake, owner of Township 7 Brewing Company. "I do my dark beers the same way. The idea is to make them flavorful and not heavy. I don't like to chew on my beer."
I visited the small brewery on a bright Friday afternoon. It's located just west of Malone on Route 11B. There are farms in every direction, so it feels like the middle of nowhere. I commented on that, and Nate corrected me: he likes to think of it as the middle of everywhere. Fair enough. I put the glass to my lips and tipped it up in agreement.
Tasting time
The brew I was enjoying was called Spanish Haze. It's a wheat-based beer that's made with sweet Spanish orange peels. As I went down the line of the six-beer sampler I'd ordered, I considered Nate's comment about flavor. It was true. The Raspberry Haze was a crisp beer with a note of raspberry flavor, not a raspberry-flavored slap in the mouth with a hint of beer behind it. The same went with the darker V.I.P. (Vanilla Infused Porter) and Night Train, which had the interesting distinction of smelling more like coffee than tasting like it. And to my delight, Nate confirmed that Night Train was indeed named after the Guns 'N Roses song.
Even the Deerfly IPA, a bitter style of beer that's typically not my favorite, had a nice flavor behind the predominant hops. I understood why it's one of Township's top sellers.
"This IPA probably goes back six or eight years," Nate said. "It's what we call a West Coast style IPA. It finishes dry; it's very hoppy but not stupid-bitter. We focus more on the flavor and the aroma of the hops rather than it being a bitter bomb."
The road to Township 7
Nate first began brewing beer when he was living in Alaska a couple of decades ago. He said his first batch was a simple American stout recipe, and it came out good enough to encourage him to make more. Eventually, he began experimenting with other styles.
On August 17, 2016, Nate started his first professional brewing operation, Township 7 Brewing Company, which he built on his family's 110-acre property. Inside there are five 275-gallon brew tanks -- including the new tank that arrived while I was visiting -- and a handful of 53-gallon whiskey barrels. Those are special. Once used to age bourbon, they were purchased by a maple producer for making bourbon maple syrup. Now Nate uses them to make beer that has hints of both of those flavors, and I really want to get my hands on it.
Township 7's beer is on tap around the region, including bars in Malone, Plattsburgh, and Lake Placid. But there's something about getting it right from the brewery that's special.
"I suppose I could have done this elsewhere, but I love country living," Nate said. "I just get to hang out here and talk to people."
There's also something special about having a brew master give you a tour of his facility. There are a lot of terms that go along with making beer, and even though I've heard most of them before I didn't know exactly what they meant. Check out some of my favorites below, then stop by Township 7 and chat with Nate. He's the laid back guy who wears a lot of rings, takes a lot of pride in his work, and truly enjoys the company good beer attracts. Cheers!
Barrel aging: After the beer is made, it's put into barrels to soak up the flavors there. The names don't just lend themselves to the style of barrel --bourbon has actually been aged in bourbon barrels. The type of wood can also lend various flavors, like vanilla and smokey, to the beer.
Boil: The part of the brewing process when hops are added. Nate generally does a one-hour boil. As it gets close to flame out, the end of the boil, flavors begin to pull from the hops.
Hops: These provide flavor and balance out the sweetness malts lend to the beer.
Malt: Malted barley. Seeds of the barley plant are put in warm water until they sprout. Once rootlets are formed the kernels are put into a kiln, which activates the enzymes in the seeds that the yeast feed on. Malted barely's flavor can range from roasted to sweet.
Malt profile: Basically, the malt profile is the beer minus the hop flavor. Some beers contain several malts -- Township's Backwoods Brown uses four -- which adds complexity to the overall flavor. The hop-to-malt ratio is balanced, wheres an IPA generally uses less malt, giving it a strong, bitter hops flavor.
Wert: Unfermented beer. More sugar in the wert means there's more for the yeast to feed on. The byproduct of that process is alcohol. "The yeast produce alcohol, we produce wert," Nate said.
Wheat: This can be used with barley to flavor a beer. Township 7's wheat beers contain 30-50% wheat.
---
Make sure you're full before throwing a couple back at Township 7 Brewing Company, then work it all off with some hiking.
---