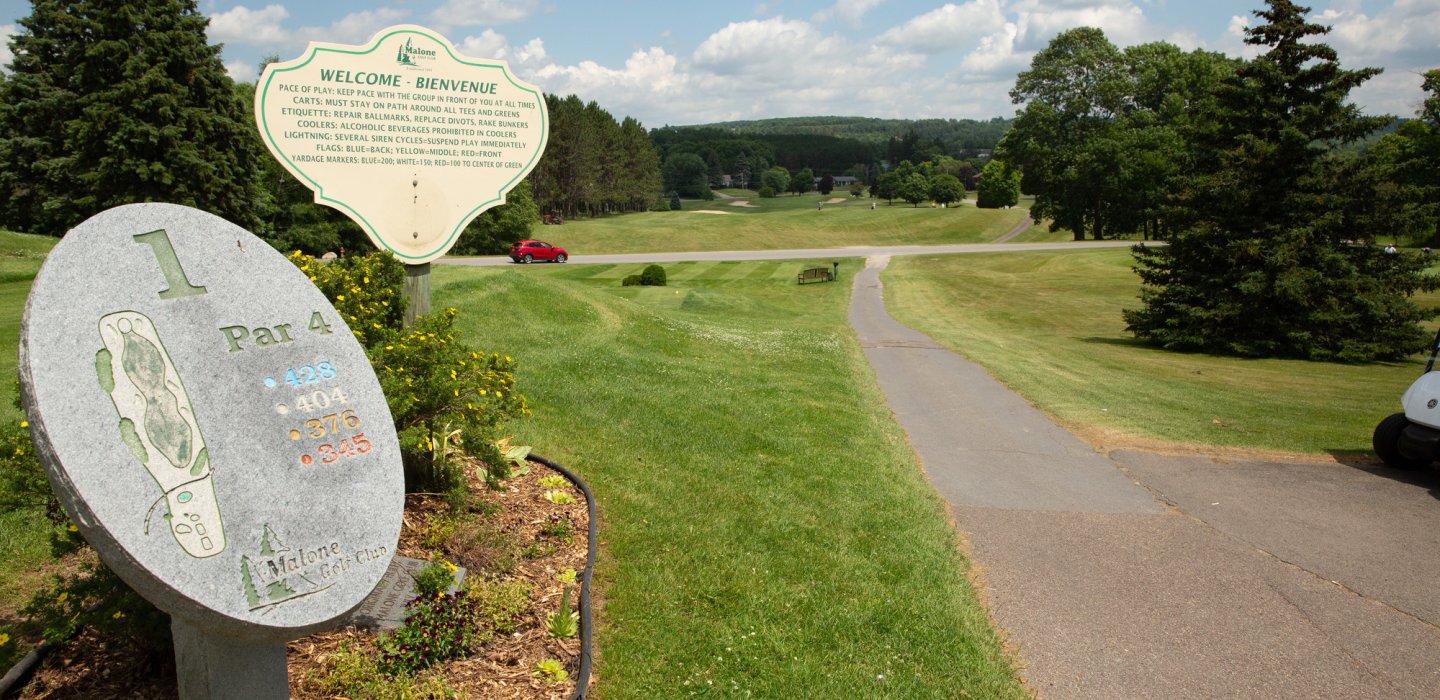 I have a crummy golf swing. In gym class, when we were forced to play golf, if I ever hit the ball it was purely by accident. Although I adore miniature golf and my putting skills are pretty awesome, I don't think that really counts, nor does my prowess behind the wheel of a golf cart. That said, I have a lot of admiration for people who do golf, because they make it look elegant and a lot of fun.
If I ever feel like I'm ready for a golf lesson, I know where I'll go: to the Malone Golf Club, where the courses are historic, gorgeous, and the pros are experienced, helpful, and a lot of fun. Pro Tom Siddon kindly shared some tips and useful info about the club, which is a fantastic place for beginners and long-time golfers to stretch their legs and take on some challenges. And did I mention that Babe Ruth played here?
How long have you been a golf pro?
Tom: I started my career in 1994 here at Malone Golf Club, turning professional in April of that year.
Do you have to be a member to play at the MGC?
Tom: The great thing is we have members and guests that enjoy our two beautiful courses all year long.
Are the courses suited for all levels of skill?
Tom: We have several sets of tees for everyone's golfing enjoyment and last year we created a short course for families, juniors, and individuals who want to play at a leisurely yardage that's fun for all. So any skill level can play and be challenged.
What is your favorite feature of the MGC?
Tom: All of the above!
What is your top tip for golfers?
Tom: Enjoy the whole golfing experience by practicing, playing, eating and taking in the breathtaking views.
Is there anything else you'd like our readers to know about the MGC?
Tom: Tee times can be made a week in advance and we offer lessons; we have 2 PGA Professionals on staff, along with a fully stocked Pro Shop for all of your needs. The restaurant is open daily and open to the public as well as golfers.
The courses at the Malone Golf Club are gorgeous, with diverse terrain surrounded by trees, and views of nearby mountains. The club was thoughtfully laid out, and was ranked as a "Best Place to Play" by Golf Digest in 1994.
The par 72 East course was designed in the 1930s by Donald Ross and Willard Wilkinson and is notable for its links-style bunkers and roller-coaster fifth hole. The par 71 West Course features challenges that require great concentration -- think tight fairways and plenty of water -- but provide for great fun when mastered. The course was designed by Robert Trent Jones, who also designed courses and holes for President Dwight Eisenhower, the Rockefeller family, and the king of Morocco. This is the only Trent Jones course in upstate New York, so if golfing in Malone and experiencing the excellent courses at the Malone Golf Club sound like a fun adventure for a long weekend or just a day out in the sunshine, explore our dining hotspots, options for overnight stays, and special events. Summer in the Malone area is full of fun! Come find out for yourself!
The Malone Golf Course is located at 79 Golf Course Road and is open late spring to early fall. Fees and information on membership is located on the club's website.