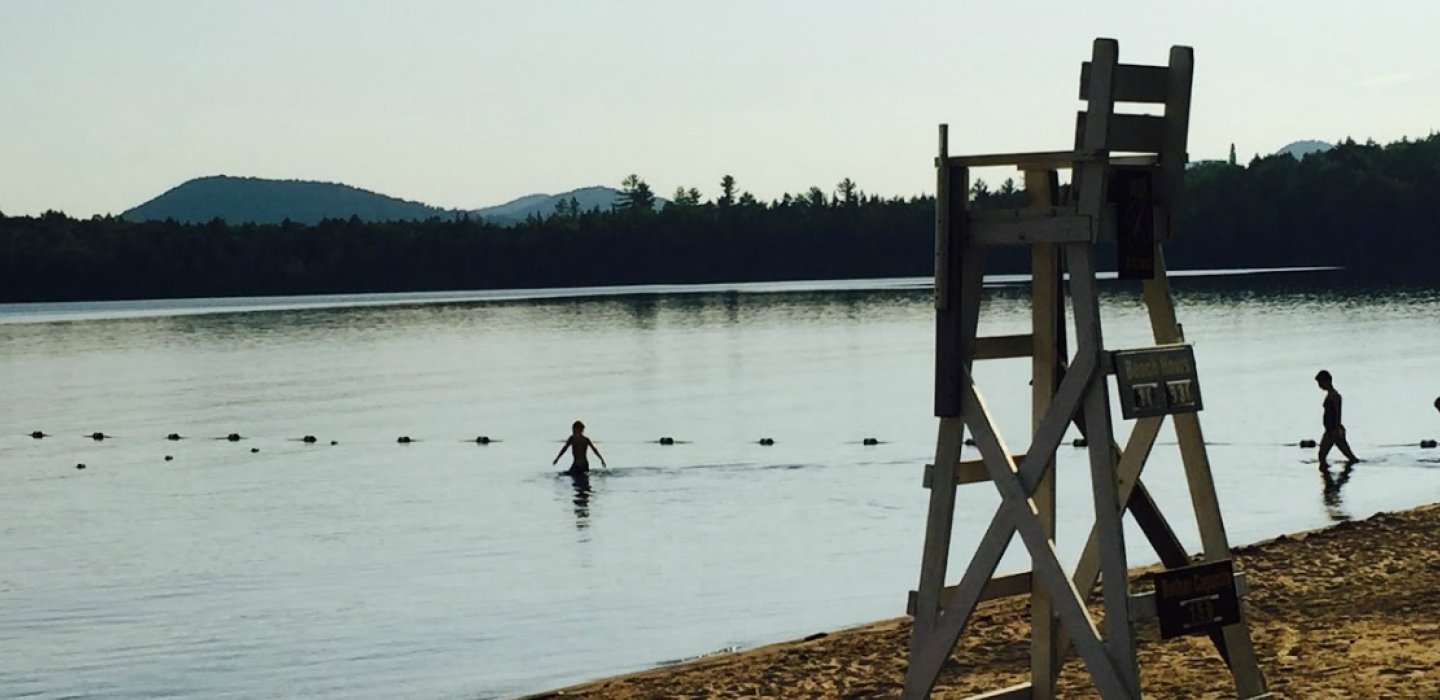 From sandy beaches to hidden mountain swimming holes, the Malone area has many beautiful places to enjoy a swim. This essential part of summer is all the more enjoyable when we find natural settings for it, which makes the picnicking and sunbathing better, too.
Our swimming spots are located in places where we can also discover the best in camping, biking, scenic drives, fishing, paddling, and hiking. 
Malone Recreational Park
Just south of downtown is the Malone Recreational Park, with a swimming area on the shores of Rotary Lake. This body of water has many scenic overlooks and is covered with snow geese at the end, and beginning, of their traditional migration periods.
An extensive playground is near the shore, while two trails (one paved, one not) provide almost 2 miles of walking through the park. There are picnic tables and benches, with a pretty little bridge over a narrow part of the lake.
The Rec Park is also the site of interesting events, such as July's Krebashia Kingdom, a two day Medieval Fantasy Faire, and craft classes on making an Adirondack packbasket or outdoor yoga. There's also the new pickleball court.
Meacham Lake Campground
Meacham Lake Campground is a state campground which is also an extraordinary outdoor recreation complex. The 1,200-plus-acre lake has a large area marked for swimming and a sandy beach. There is a playground and large picnic area.
The campsites cluster at the northwest end of the lake, but this is the only development anywhere near the campground. This highly scenic spot has mountains in the northern distance and is surrounded by the lush Debar Mountain Wild Forest. There are several miles of roads (speed limit 10 mph) which are great for cycling, especially for children. 
The beauty of Meacham Lake is available even to those who are not camping there. By using the day pass program anyone can gain access to the grounds, and many trails and facilities, for a small fee.
There is hiking, boat and canoe rentals, volleyball, and horseshoes. New playground equipment, just for the 12-and-under set, is set up adjacent to the swimming beach and pavilion.
Meacham Lake is also known as a "fisherman's paradise." The lake is fed from the Osgood River. These connected bodies of water offer abundant shoreline and a completely wild environment. That is why it is common to hear loons calling their distinctive cry near dawn and dusk.
St. Regis Falls Beach
The town of St. Regis Falls is a beautiful destination along Route 458. It makes for a lovely bike ride or scenic drive.
This state highway has river and hiking access points as it winds through the Santa Clara tract of wild forest. This 72,000-acre conservation easement includes the 1,871-acre Deer River Primitive Area, and 16,543 acres of the Debar Mountain Wild Forest, which is west of Route 30.
Once in town, the beach is a glorious destination. There's a large, shaded pavilion with picnic tables, a big playground, and lots and lots of broad, sandy beach. This is a sand castle destination!
The beach's placement along the St Regis River is upstream from their much-photographed dam and pump house. This lets it take advantage of the dam's action in slowing and broadening the river, making for a tranquil swimming experience.
St. Regis Falls is part of the North Country's Amish area, and taking Route 11b back to Malone will offer access to their farm stands, including items like local honey and fresh pie. As I was leaving, I was passed by a buggy headed for the river, which is also a popular fishing spot.
Split Rock Falls
Just minutes from the town of St Regis Falls is the glory of Split Rock Falls. What it lacks in height it makes up for in both expanse and scenic accessiblity.
After a drive down a paved road that turns unpaved, we come to a parking spot with many hiking trails, including the one that winds around this stunning collection of tumbled rocks. Each step creates new angles on this classic river scenery, and the rushing sound of the water is very relaxing.
A few minutes of hiking brings us to a spot that has the split rock in question, part of an area which is deep and quiet, a delightful swimming hole in every sense. The hiking path continues through the deep forest for a beautiful back-and-forth trek, or a loop if we take the road for the hike back.
These are dramatic collections of smooth boulders with interesting features and lots of photographic opportunities. It is a great learning laboratory for children if we show them the difference between smooth edges, which indicate a long time of being rubbed by water and debris, and the sharper edges, which indicate a relatively recent incident of plant roots or freeze/thaw cycles.
It comes as a surprise since the surrounding lands are broad and flat, but that is the charm of the St. Regis Falls area. There are gently rolling hills, easily-climbed mountains, and abundant glacial features. It has quickly changing landscapes and many wetlands with three major river drainages.
There are also a couple of primitive campsites available along Conservation Road.
Burke Rocks
Burke Rocks is an extraordinary spot. It is made of shelves of rock that has seemingly risen to the top of Little Trout River, the way slabs of ice cream float to the top of a soda. Much of the trail is over these slabs.
The rock slabs are all the more dramatic because there is so much towering plant growth along the sides. Here and there are isolated rocks the size of a child's play house.
As we approach the river, we can see tiny trickles cutting different streams among them. Everything is flat, and the falls are less than a foot high. This indicates Burke Rocks is much younger than the 120 stories of Chateaugay Chasm.
Upstream, at the longest hiking path, there is a deeper area that makes for a great spot for wearing floaties, lounging on an inner tube or inflatable mattress, and other low-key water fun.
It can make for a few hours of enjoyable exploration for even smaller children, or even people with mobility difficulties. The paths are short, and access can be had with a bit of help. In certain places, it can mean not minding using one's behind as a stabilizing force on the way down some crude stairs, carved from the roots and rocks.
With a lovely forest hike, fascinating rock formations, and the charming swimming hole, Burke Rocks really... rocks!
Choose the right lodging. Explore fun summer dining. Find more family activities.
---
This week we're talking awesome ADK swim holes: