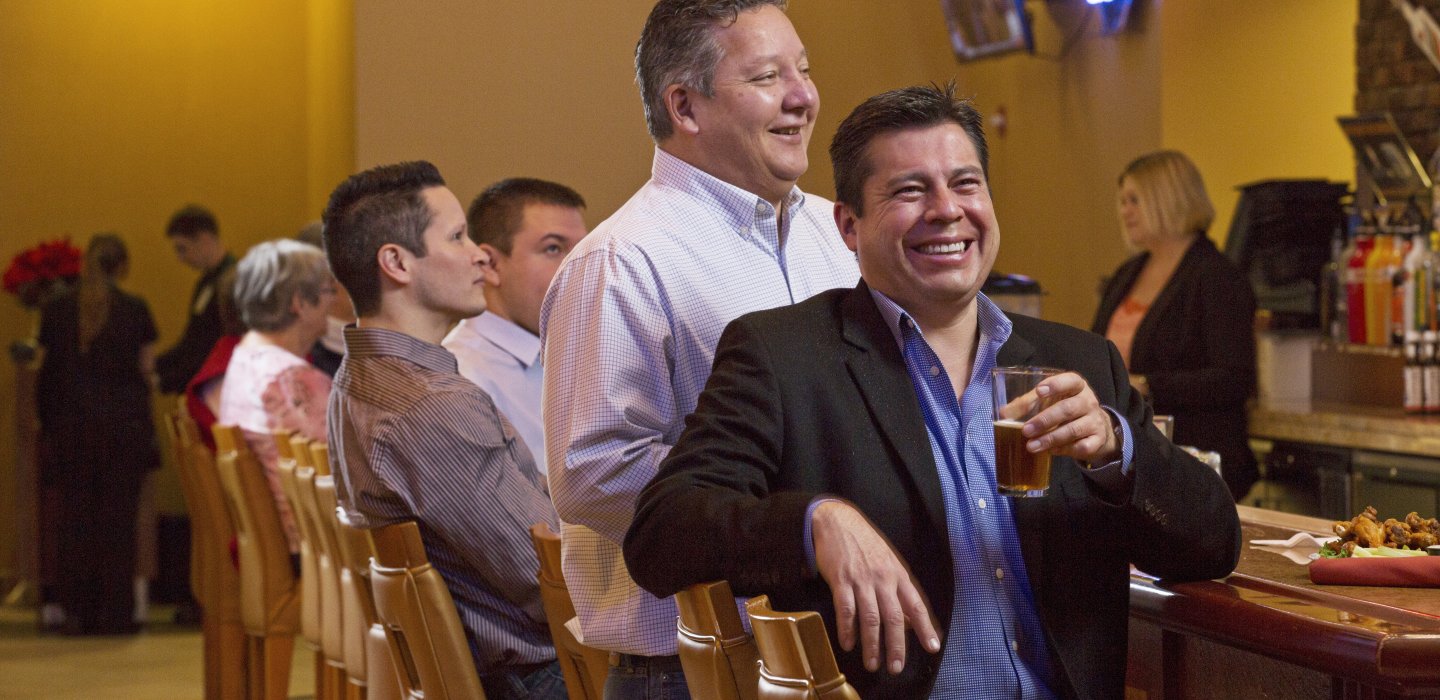 While I love autumn because it brings me some of the more refined pleasures in life--reading a book on the porch draped in an oversized sweater or tastefully sipping the delightful seasonal ales that local breweries are starting to put on shelves--there is something that I count down to every February that some might find sits on the other end of the "refined" scale.
Football.
You have three days of every week to enjoy it. So you better do it right. You might be asking "How?" This is my rundown on how to enjoy football in the area: the environment, the food, and the drink.
Monday
Monday Night Football has been a main-stay in the American living room since 1970. For those who don't know, Monday Night Football came even before the NFL started airing games religiously on Sundays. Monday nights are put into the football watching rotation in Week 2 (September 19).
The Environment
Taking into consideration Monday is a school and work night for many people, the best way to watch the game on Mondays is in your very own living room. Invite your friends over and enjoy it together or sink into the couch with your favorite pair of sweats. You've made it one day into the work week without any issues--don't you think you deserve it?
The Food
Pizza and wings are the way to go. If you're feeling a bit starved (and/or lazy) I opt for ordering delivery from local pizzerias La Pizza (now Italian Delight) or Owl's Nest. Don't forget the wings! Owl's Nest usually offers specials such as a large 3-topping pizza, twenty wings, and a 2-liter soda for decent price. Italian Delight has an extra-large pizza and 24 wings deal as well.
A second option is to go pick up your pizza and wings. Mo's Pub and Grill has scrumptious wings and Sugarloaf Cabins now offer delicious freshly made pizzas--just make sure to call ahead! Sugarloaf Cabins cooks every weekend and the schedule varies on weekdays.
If you're feeling like a chef yourself, try making your own pizza (and don't forget chicken wing dip). I try to pick up local cheese from McCadam's and local sausage from Glazier's when I have the chance. It adds that extra bit of "yumm" to the dish.
The Drink
Being at home doesn't necessarily mean you have to opt for bargain drinks from the grocery store. Brand new local brewery, Township 7 Brewing Company, offers growlers for take home of their delicious beverages. If you're not a big drinker, Township 7 also offers ginger ale! For other options you can find delicious cane sugar Jones Soda at Glazier's Packing Company or pick up some freshly squeezed lemonade at Bokie's Drive-In (get it before they close for the season!).
Thursday
Thursday Night Football is still relatively new in terms of football viewership, premiering in November of 2006. This year the first night of football during the regular season started on a Thursday so you know that Thursday is the real deal.
The Environment
While there is still only one game per night on Thursdays, the fact that Thursday is basically the start to the weekend, football is best watched at a sports bar to really feel the ambiance of the sport. My suggestion is Sticks Sports Bar and Grill at the Akwesasne Mohawk Casino.
Sticks is a sports bar with homage to another great sport--lacrosse. Outfitted with 17 HDTVs and an additional big screen you're sure not to miss any action (whatever sport you choose to watch). There is plenty of room to sit or stand near the bar, a half dozen high-top tables in the bar area, and additional seating behind a half wall in the restaurant area. Wherever you sit, however, you will have a great view towards a television. If you want to take a walk around during halftime, the casino floor is also outfitted with TVs near the table games and their lounge, Cascades.
The Food
The menu at Sticks is fittingly sports-themed with appetizers deemed "Pre-Game Warmups" and their selection of juicy burgers are "Pro Bowl Burgers." As is fitting with football, appetizers are a sure thing and I usually stick with their "pick 3 option" that allows me to switch up the fried foods that come on a platter to share with friends. Personally I love their take on Mozzarella sticks--they actually have Mozzarella Triangles with a more flavorful coating than your freezer-to-fryer variety.
The Drink
The sky is your limit when it comes to drink choices at Sticks. They offer 16 beers on tap and a variety of bottled beverages as well. They always have some local options as well; the last time I went they were serving Ubu from Lake Placid Brewery. Other craft beers from New York are also available alongside the more local options.
Sunday
In 1987, the NFL started broadcasting regular season games on Sundays. What started as ESPN Sunday Night Football has grown to what we now know as the best day of the week during football season. You can catch a myriad of matchups from both the NFC and AFC across a multitude of channels. It's a football fanatics dream come true.
The Environment
You have to do Sunday right by catching all the action at Mo's Pub & Grill. Mo's is a hometown favorite and usually my go-to spot any time I want to grab a bite to eat. Their bar is separated from the sit-in restaurant area by a wall -- this comes in handy by helping to block noise pollution if you want a quieter meal. There is also an array of interesting etched glass, in homage to local high school sports, so you can still see through to the TVs.
The bar area has eight flat screens to catch all the games. Three of the TVs are located in their newly renovated lounge area with comfy leather chairs or 8 person tables if you're out with friends. Mo's also has a beautiful outdoor patio (with amazing sunsets in the autumn--bonus!) with an additional flat screen TV just in case you want to grab some fresh air without having to miss a play.
One of my favorite parts of Sundays at Mo's is that they have giveaways throughout the season that starts with their annual Tailgate party. Every Sunday you can earn entries for grand prize drawings the last Sunday of each month. This year they are giving away football tickets, an authorized jersey, and a tailgate cooler to name a few things.
The Food
Mo's Pub and Grill has a variety of foods to choose from--you can go with classic appetizers, award-winning poutine, tangy wings, or juicy steaks. Depending on my mood I either choose a build-your-own burger (cheddar, bacon, roasted red peppers, and BBQ please) or their Butcher Block special which is always satisfying.
The Drink
Mo's is home to their feature "Polar Ice Tap." Eight beers are on tap in this system that you can literally see how cold it is with the ice that surrounds the tap. You have to see it to believe it. Two additional beers are on tap as well as an assortment of bottled beers, local wines, and great mixed drinks. This season Bud Light is on special every Sunday as well--whichever way you drink, Mo's has something for you.
No matter what day of the week you're catching the game (I hope it's all three), make sure that you do it right.
---
Touchdown! ADK gameday roundup: