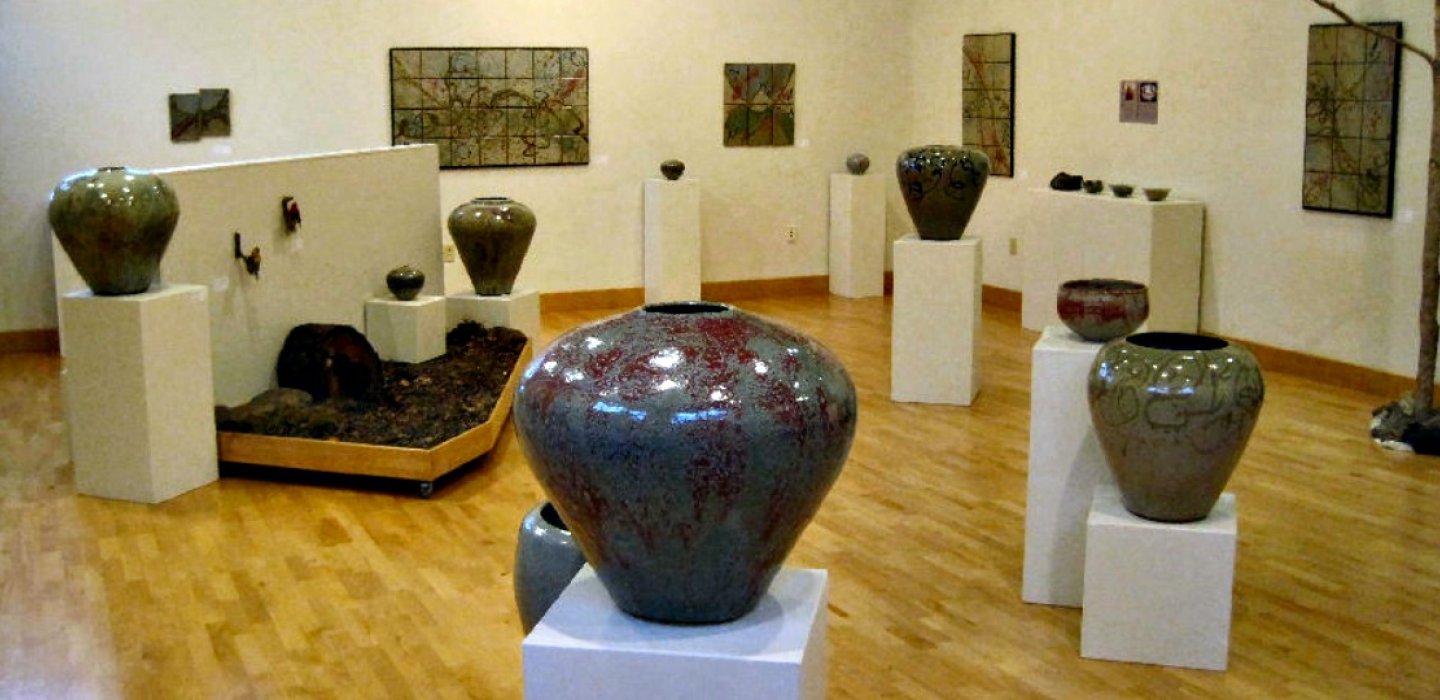 A lot of art can be made from rocks. Sculpture is the first thing that probably springs to our minds. But pottery should, too.
All pottery is based on clay, which is rock minerals broken down into fine particles. Once shaped and heated, the water, carbon, and sulfur burns off, and the clay undergoes "quartz inversion." The particles fuse together, almost as though they have become rocks again.
Peter Shrope, of Adirondack Rockware, takes this concept even further. He creates his own glazes made with 100% pure crushed Adirondack rock. As he says, "created in the mountains and made from the mountains."
classic material
Peter has always been interested in working with the materials close at hand. His "Baltimore Redware" series used red clay from his own backyard in Maryland. Prior to that, in New Hampshire, he built a wood-fired kiln that ran on waste wood from local sawmills.
Here in the Adirondacks, he researched the geology of the northern sections of the mountains. This helped him figure out which rock samples to test for pigment qualities, and he formulated his unique glazes from those experiments.
I was surprised by the range of colors which can be made from the rocks, but then, minerals are a lively and fascinating combination of elements. The ultimate in colored rocks are precious gems, after all, and they have a rainbow of pure hues at their disposal. Peter's idea is turning out to be not only an authentic way of using the local resources, but also a versatile source as well.
Peter's artwork ranges from the purely decorative, like his tile "paintings," to the extremely useful: plates and cups which are microwave and dishwasher safe. He can also combine the two, as in decorative, functional backsplashes for kitchens.
Pottery is one of the oldest arts, dating back to almost 30,000 B.C. It has its practical side, for cooking and storage, but it didn't take long for people to use these everyday objects as canvases for decoration. Even now, in the age of nonstick pans and a huge variety of food storage, we still love to have beautiful pottery in our kitchens and living rooms.
CREATIVE LICENSE
Clay can form almost any shape that can handle the high temperatures of a kiln. Peter's studio is in Rainbow Lake, where he tends two kilns. The gas fired kiln is nicknamed "My Fire Breathing Dragon," and the electric is known as "My Easy Bake Oven." He quickly adds that these nicknames are used "lovingly, of course."
After all, the kiln is where the magic happens. These very high temperatures (up to 2455 degrees Fahrenheit) melds all the disparate elements into a unified whole.
Peter has contacts at various rock quarries. The equipment that cuts rocks accumulates rock dust, and needs periodic cleaning. When the dust is washed out of the machinery, Peter collects it, as the first step in his custom glaze process.
This is where both the art and the science comes in, as glaze making requires some delicate measuring and careful procedures so the item comes out of the kiln as desired. It is more like the precision required to bake a cake, compared to how a chef can "wing it" when putting together a stew.
A glaze can have as few as three ingredients, known as a flux, a stabilizer, and a glass former. Fluxes control the texture, which controls how the glaze will flow when heated. Stabilizers stiffen the glaze so it will stick to the clay body, and can also influence how the glaze will react to heat. Glass formers are silica, and the proportions of this ingredient will vary the light reflectivity of the finished product, from matte to glossy.
These ingredients combine in different ways to influence the heat required to fire the work. While many artists make their own glazes by adding colorant, Peter's use of actual rock dust means more chemistry comes into play, as this is far from a neutral ingredient. Different rocks will have different qualities of their own. All of this will influence the look of the finished work.
To continue the analogy of baking compared to cooking, a stew can be tasted and corrected at any point in the process, much like an oil painting. But our chef must have the cake ingredients correctly assembled before the cake goes into the hot oven as it's not possible to change anything once the baking process begins. Just as a clay piece goes into the kiln, and won't come out until the entire firing process is completed. 
To make the rock glaze process more complicated, the magic of the kiln causes chemical reactions which change the way the colors will reflect light. Peter showed me how a green glaze becomes red once it is heated, as seen below. I had wondered why a glaze marked "rose" was so very green!
A photographer who develops their own film becomes used to "translating" photo negatives into what the resulting picture will look like once it is printed on photo paper. This same process takes place in Peter's imagination when he glazes a pot for the firing process.
The surprises should come from the experiments, not the final product.
artist at work
I was able to visit Peter's studio during the annual Artist at Work Open Studio Tour. This is two fall weekends where local artists open their studios and let fans see the process, from ideas, to works in progress, to finished pieces that might even be available for sale.
All these studios are along scenic roads which offer stunning vistas of our gorgeous fall foliage.
This is how I got a lovely covered dish for storing my earrings, and a friend got a tea set, with pot and cups, as a wedding gift. We don't have to choose between pretty and practical. Sometimes, we can have both.
Can't get enough art? I feel the same way. There are galleries in downtown Malone, with art on display in both the Pouring Light Studios and Gallery and the North of Adirondack Art Gallery. The Akwesasne Library and Cultural Center offers the work of local Mohawk artists. In nearby Chateaugay, there's Adirondack Baskets & Heritage Designs.
We love to offer many wonderful ways to surround ourselves with beauty.
Find a place to stay. Enjoy some well-crafted meals. Choose from our many attractions.
---
This week the ADKs rock on: