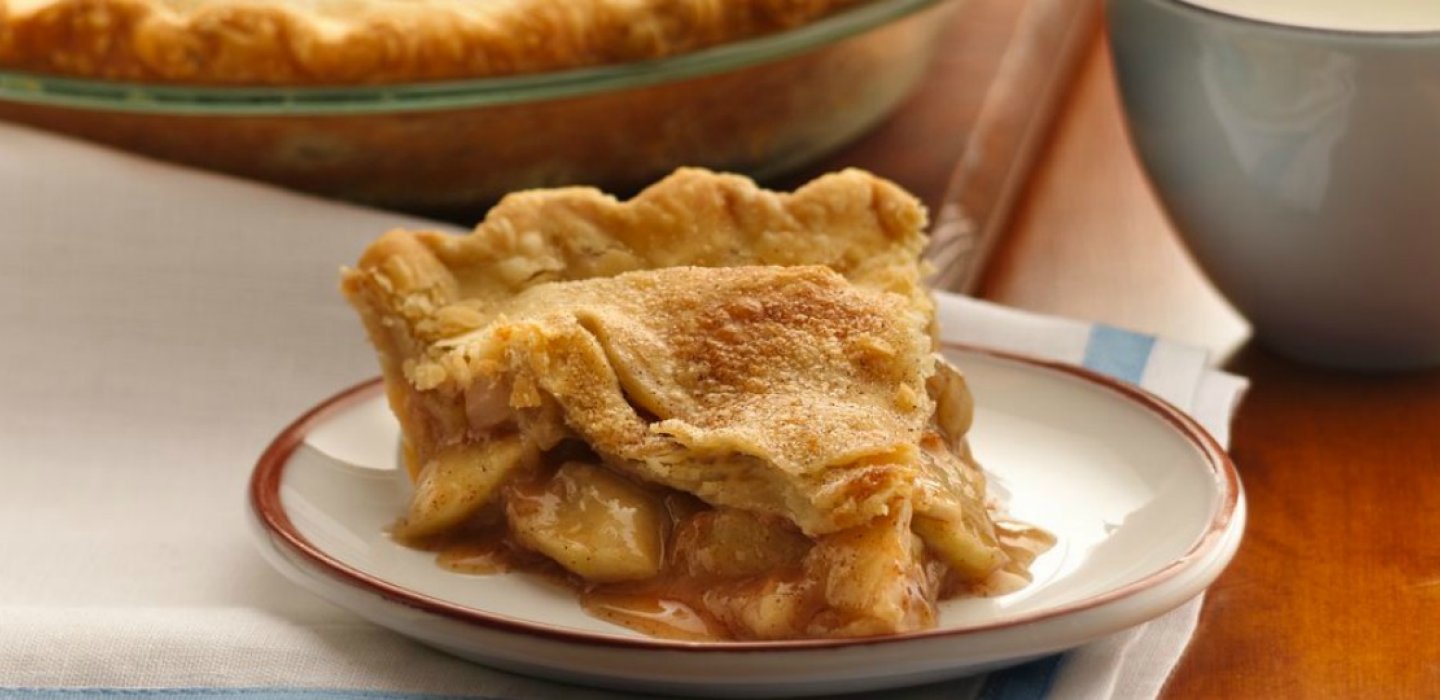 Adirondacks and pie have always gone together beautifully.
The foothills of the Adirondacks are the perfect climate for apples, and berries are abundant in the woods. These classic pie ingredients have led to different forms of pie which might be thought of as totally Adirondack.
Then there is that special form of pie that we both invented... and perfected.
brought to full flower
Pie started as as far back as 9,500 BC, in the Neolithic period. By our standards, it wasn't very good, being roughly-ground grain, with a filling of meager amounts of honey. Things got a bit more elaborate with 1st-century Romans, who made meat pies where the crust was meant to act as a cooking pot. The flour and water paste let the sweet or savory fillings cook, and then became a serving dish to be discarded.
During the European Middle Ages, pies had evolved into far more edible crusts, and this was the style used by the first settlers of the Post-Colonial America period, when the towns here were started. Chateaugay was settled in 1796, and the local fruit orchards and berrying fields were soon supplying fillings for distinctive pies of the North Country.
Pie is very dear to the hearts of Americans along the Canadian border.
Today, the Malone area upholds this fine tradition with many places to find pie, from the daily offerings at the Malone Golf Club restaurant, to downtown favorite Nancy's Village Cafe, to the little roadside stands in Dickinson.
Malone's autumn Fall For History Event at the House of History featured a Pie Baking Contest. Our blog, Heartwarming Holiday Traditions, has a family recipe for Apple Cheddar pie. Now that's a beautiful, and very local, combination!
Want to really taste the history? How about a 1917 recipe for Marlborough pie? Surprise folks at your Happy Heritage Thanksgiving with these classic recipes from the good ladies of the Malone First Congregational Church.
We take pie very seriously. Here's how to further enjoy our Harvest Country.
adirondack pie irons
When we first hear the words "pie iron," we wonder what it means. A device for getting the wrinkles out of pies? Aren't the wrinkles important?
Turns out, it is a device for toasting all kinds of goodies over a campfire. It is a flat metal press at the end of two long sticks with handles, the food is placed inside, doubled over, and left to cook in the campfire.
We do love our campfires in the Adirondacks.
It looks like a waffle iron, only with a long handle, and designed for the heat source to be an open flame. The basic idea dates back to the Low Countries (Netherlands and Belgium) in the 14th century. These were forged with grooves and patterns to hold a thick batter. Some pie irons came with this as an insert, for extra versatility.
In the 1950s and '60s, the device underwent a revival of interest along with the increased popularity of camping around that era. Typically, pre-made pie crust, or even slices of bread, were spread with various fillings, clamped in the device and baked until toasty. All the makings could be packed and kept without needing refrigeration. I've seen lemon meringue pie with lemon curd, fruit pies as simple as a layer of jam or jelly, or even peanut butter pie with layers of peanut butter cups.
It's an invitation to our imagination.
We now celebrate toasted sandwiches with a panini press. Still, it's a wonderful experience to sit around the fire and gauge our crust doneness by its aroma. It's bringing the bistro to our tent.
Make plans to go camping with that pie iron.
adirondack pie
Then there is that most Adirondack of all pies: the famous Adirondack Pie. This was a favorite of Marjorie Merriweather Post, a famous hostess who loved to serve it at her Camp Topridge. A picnic break during a canoe trip would always feature Adirondack Pie.
From the review of the book, "Marjorie Merriweather Post: The Woman Who Served Jell-O to the A-List" on WSJ.com:
As a hostess,... [Marjorie Merriweather Post] knew how to create a winningly diverse guest list... Dinner always began on time... Guests rarely ate the same thing at her houses twice... She made a notable exception for her signature dish: Adirondack Pie--layers of pancakes served with butter, maple syrup and crunchy maple sugar--which was always served at Camp Topridge and was, by all accounts, feverishly anticipated.
The tall stack of pancakes were sliced into cake-like triangles and served with whipped cream. It sounds like something that would have been invented by festive lumberjacks. Though possibly without the whipped cream.
On February 1, 1951, the magazine Southeast Missourian ran the article "Pancakes Make Adirondack Pie." It describes the old-fashioned Adirondack treat thusly:
Adirondack Pie combines out-sized pancakes with maple sugar and whipped cream... How does this sound to you, particularly on a cold day after a brisk walk or skating on the pond? Five big pancakes in a stack -- melted butter and shaved maple sugar over each and whipped cream over all.

That's Adirondack Pie as served at many famous ski resorts in the Adirondack Mountains... The pancakes are baked larger than average and then as each pancake stacks atop the next one, a generous portion of butter and maple sugar is added. The whipped cream on top is the crowning touch.
Of course, to really experience the true treat, we need real Adirondack maple syrup and maple sugar. Here's some great places to get the genuine article, and in the spring, smell the warm sweetness of the sugar house.
Moon Valley Maple: interactive tour of the sugar house! Waffle breakfast! Great Syrup & atmosphere!
Titus Mountain Family Ski Center, 215 Johnson Road, Malone, NY 12953 - (800) 848-8766 - (518) 483-3740
3 miles from Malone
Winters Harvest Sugar Shack: Making maple syrup the way our grandparents did!
409 Wagner Rd, North Bangor, NY 12966 - (518) 353-8728 - (518) 483-4584
14 miles from Malone
Woods Maple Products: Maple tours with a taste of heaven: From Tree to Jug! Demo in the Sugar bush.
1470 County Route 23, Chateaugay, NY 12920-2822 - (518) 497-6387
15 miles from Malone
Paul Smith's College: Student led walks at the VIC sugarbush! Organic, commercial operations, Sap to Sugaring.
7777 State Route 30, Paul Smiths, NY 12970 - (518) 327-6241
20 miles from Malone
It comes down to a simple fact: we are pie country!
Find a snug spot to stay. See how many of our dining spots offer pie. Work up that appetite with some fantastic skiing.
Indebted to the community blog, "Essex on Lake Champlain," for their several fascinating articles on Adirondack Pie.
---
This week in related How to ADK news: