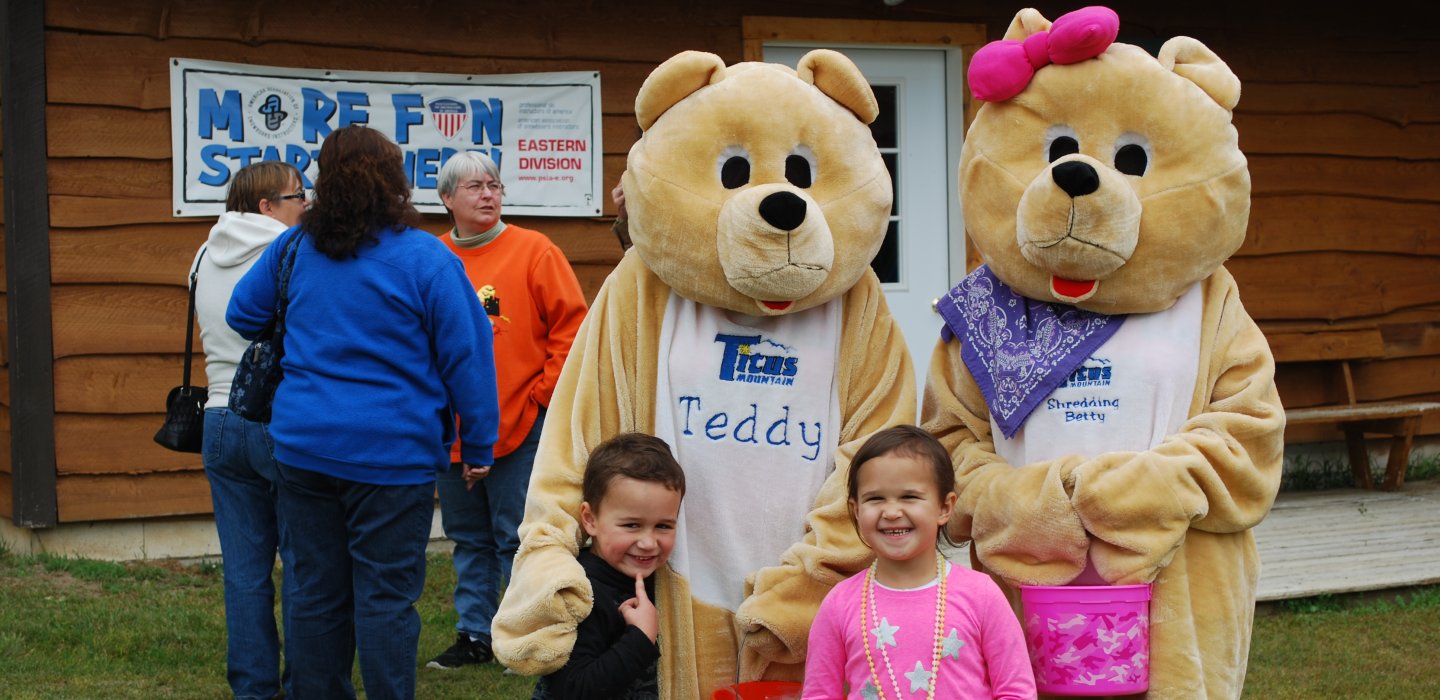 For 36 years, Titus Mountain Family Ski Center has brought the German event, Oktoberfest, home to Malone. The event happens annually at the Lower Mountain. The fun has endured through the ages; people came to the Titus Mountain Oktoberfest with big hair and neon back in the '80s, and with acid washed jeans and a grunge attitude in the '90s, all to have a little fun on the mountain.
And as their name implies, Titus Mountain Family Ski Center is all about family. But, it doesn't matter what kind of family you have -- a family just starting out, grandparents bringing multiple generations, a family yet-to-be, or your friends as your family -- there is a lot to love at Oktoberfest. Let's go over a few suggestions, shall we?
Children 0 - 5
The first thing you can do with your young kids is bring them to the Franklin County Sheriff vendor table, usually found right inside the Main Lodge, to get a free child I.D. card. Safety is important, and this is a great program for children of all ages. While you are inside, check out the free face painting and glitter tattoos! Young kids love being Wonder Woman or a Teenage Mutant Ninja Turtle for a day!
Younger kids will also enjoy the hay ride through the foliage, and checking out the big tractors and heavy equipment that Titus has on display. And there are tons of other vendors ready to give you great holiday shopping ideas. Yes, there are less than 90 days until Christmas once Oktoberfest is here!
Children 6 - 12
The Titus Teddy Kids' Zone is a no-brainer for this age group. E&J Party Rentals comes through with slides, bounce houses, and more. Plus, kids under the age of 12 get into Oktoberfest free, so it's a lot of family-friendly fun at an amazingly affordable rate! Plus, for the daredevils, E&J brings the mechanical bull for kids (and adults) to try out -- the price is usually $5. Face painting and fried dough are another go-to for this age group.
Teens 13 - 17
Chances are your teens' friends are going to be at the mountain, and this is a great time to let them enjoy each other's company after almost a month in school. They can jump on the free chairlift ride to the top of the mountain, do their own shopping with our vendors, or grab food such as sausages and fried dough from our ski patrol food tent.
Young Adults 18 - 27
Live music from Glass Onion, Josee Allard, and Backdraft from 2 p.m. into the night is a great way to kick-off autumn with friends. Dance the day and night away on the outdoor patio, and then bring it inside as the night starts to fall. For those 21 and over, lots of seasonal beers will be on tap, and there will be four beer vendors giving out samples in a quasi-beer garden. Hayrides, chairlift rides, and the vendors are another great place to kick back and relax with friends and family.
Adults 28 and over
I stated earlier that fun has no age limits or restrictions, so adults can partake in all of the aforementioned activities if they want to. Planning for the winter season and the holidays, however, is a great idea for adults. Whether you shop at our many vendors for your holiday presents, visit them to plan your holiday parties, or check in with Titus Mountain for your discounted season passes for the family or do race program sign-ups for the kids, the winter season comes a bit easier when you're prepared at Oktoberfest!
Fun for all ages
I have gone to Oktoberfest without fail since moving here, and I've found fun with my friends, with my family, and even with my nephew. There is so much that doesn't have an age limit or restriction that I would be remiss without mentioning them as well.
Fireworks is an obvious all-ages activity. Each year there is a spectacular show at dusk, right from the learning hill. For 20 to 30 minutes, the sky lights up with fireworks. Adults and kids alike always scramble outside when the first rocket goes off and the air is filled with "oohs" and "ahhs" from everyone.
Although many times the adult does the paying, but the Titus lineup of vendors is another activity fit for all ages. During Oktoberfest, vendors line the learning hill, filling the mountain with information, food, and wares for people to purchase or sample. Chainsaw carvings, smoked jerky, chocolate covered apples, holiday wreaths, homemade crafts, whirly-gigs, and more are something to behold, and there is always something to see and do.
So mark your calendars. Live music, fireworks, beer and brat, bounce houses, face painting, vendors, chairlift rides, hayrides, and more awaits you at the 38th annual Oktoberfest! It's a tradition that lasts through the ages, and no matter your age, you will find fun. See you there!
Don't forget -- after Oktoberfest fun, Malone is nearby! You'll find lodging, dining, and shopping waiting for you there!
---
This week in ADK news: