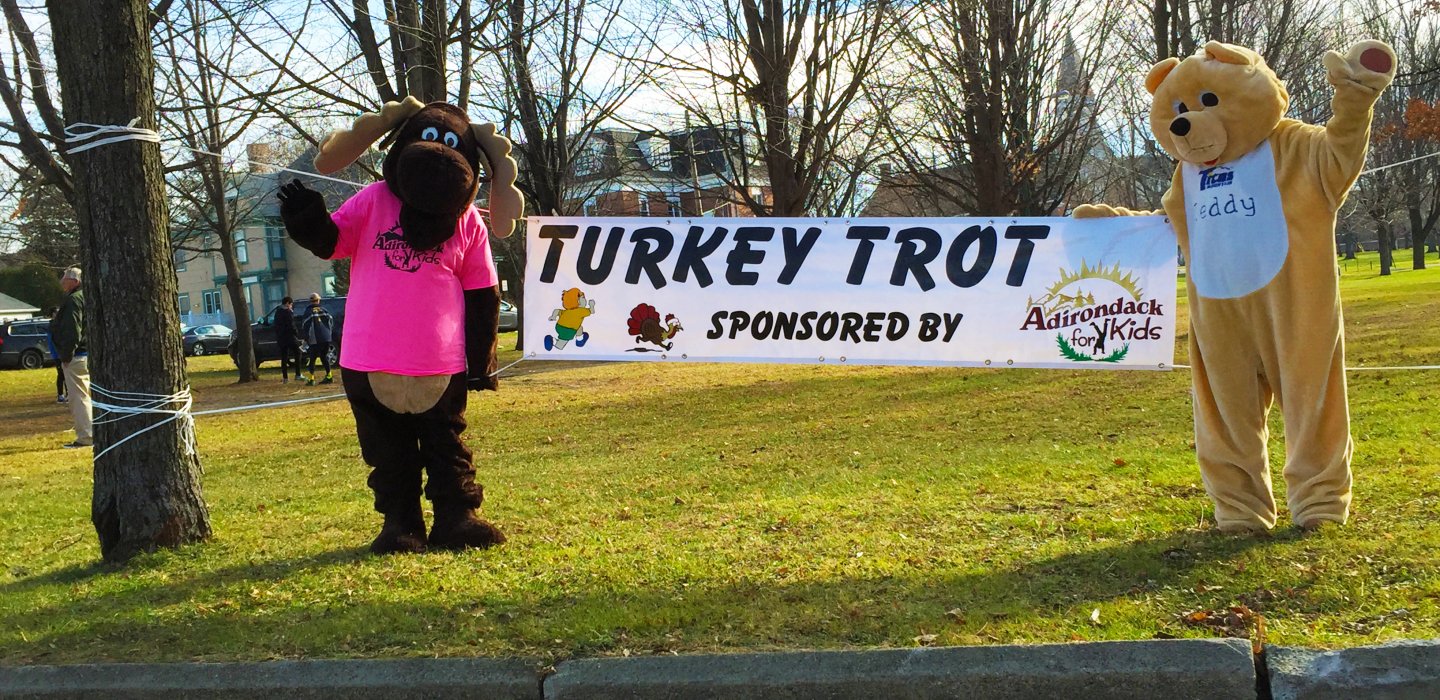 As the cooler weather finally begins to set in and the trees have almost shed the last of their beautiful, vibrant leaves, the holidays are right around the corner. My favorite time of year is November 1 to the end of January, and not just because I love to ski at Titus!
With my family spread across eastern New York, Maine, and Connecticut, the holidays are an important time when everyone can come together and share memories, create new ones, and just have a great time seeing each other and catching up on each other's lives.
This year I plan on inviting some of my family over during Thanksgiving week for the first Thanksgiving at my house! Since I won't be doing the full spread, I thought it would be fun to take part in another Malone ritual: The Turkey Trot.
I must admit I didn't know much about the Turkey Trot, so I thought I would take some time to sit down with Monica the Moose, the official spokes-mascot of Adirondack for Kids, the organization that puts on the event, to get the inside scoop.
Sitting Down with Monica the Moose
It's great being here with you Monica. For those who don't know you, can I get your basics?
Thanks for inviting me! I love being out in the public. For starters, my name is Monica the Moose and I am the official Adirondack for Kids mascot. I've been around for a few years now and I plan on sticking around the Adirondacks for a while.
You are the official spokes-mascot of Adirondack for Kids. Can you tell me a little about the organization?
Adirondack for Kids is a component of The Adirondack Foundation of Lake Placid. We are a non-profit organization who focuses on the kids of our community, offering support for youth organizations throughout Franklin, Essex, and St. Lawrence counties. We work on some of our own kids' projects as well as offer grants to other youth organizations.
That's awesome and you are a great spokes-mascot. So let's get down to business. What is your one-liner explanation of the Turkey Trot?
The Turkey Trot is just a small event to get the community together and to get people out and moving before they have their big turkey feast.
If that doesn't hook people, I don't know what will! But, let's give everyone some more information.
The event is a 5k walk or run, although many times you can see me out there waddling as well. We start in the village at the beautiful Arsenal Green and head toward Junction Road, and then head back. Along the way there are people blaring music from their cars and cheering us on. It's one of my favorite events--it helps that it's usually on a cold, snowy morning, which is my kind of weather! There are fun prizes too, like apple pies and brownies!
Why is the Turkey Trot part of Adk for Kids?
We do a lot of community events and saw this kind of thing elsewhere, and just thought to ourselves, "Why don't we do one in Malone?" So we decided to bring another activity to the area. We have a lot of families that do it and think it is great family time for the kids. While it is a small fundraiser, it's more just for fun. And part of our organization's motto, Kids Matter Most, depends on more than just the financial aspect. Family time, fun, games, and prizes are what it's about as well.
What have been your favorite memories of the Turkey Trot?
I have two, actually! Of course, my favorite was when there was a snowball fight in Arsenal Green with the kids. I just love that kind of stuff. But my second memory was when there was a wife who told her husband to run the trot because she didn't have time to bake a pie for Thanksgiving, and she wanted him to win one!
Okay, so this sounds like an amazing event. Do you have any tips for people who want to join?
First, since you don't have fur like I do, I suggest you dress warm, usually in layers. You can never have too many layers is what I always say. Don't eat before the event or you might just take a nap on the side of the road. The event starts at 10 a.m. and is usually over by 11 a.m. so you will have plenty of time to feast afterward!
Anything else you want to share?
We always want to thank Dunkin' Donuts because they supply the families with coffee and hot cocoa. We suggest you register before because it makes it easier for my hooves--I don't have to write a bunch and get cramps in my hooves before I even start the trot!
Thanks so much for your time, Monica.
It was my pleasure. I love talking about things going on in Malone and the surrounding area. There are a lot of great things here. And the Turkey Trot is really a great time, and I hope to see a lot of new people there as well as our familiar faces. See you soon!
If you want to do a little of your own research, you can find more information at www.adirondackenergy.com/afk.
You're sure to work up an appetite at the Turney Trot. Grab lunch, then go for a hike to work that off!
---
This week in other ADK related news:

From the Hole to Fiddlehead
Blades of Glory
Thrill of the hunt
Ski more, pay less
It ended with an owl
Noblewood treasures
Historic Newcomb