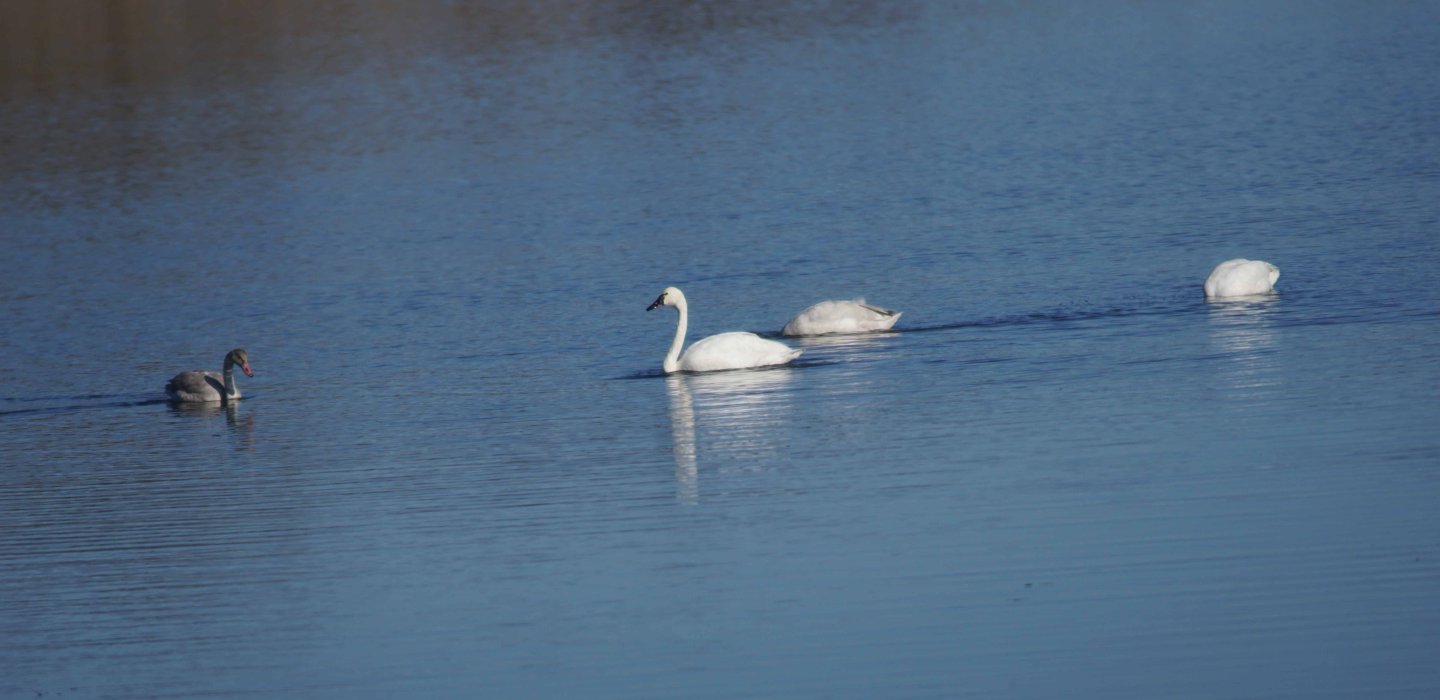 Searching for Waterfowl
With waterfowl migration in full swing, it is always a good idea to head to the St. Lawrence River to see what's moving along the water. And so, Wren and I did just that on a chilly but clear, late-November day. 
We began at Wilson Hill Wildlife Management Area where recent weeks have been filled with ducks on the impoundments. As I arrived I could see that our cold nights had frozen much of East Pool over, but there was still a small opening of water along the west side of the causeway and it held a variety of duck species as a result - including American Wigeon, Mallard, Northern Pintail, Green-winged Teal, and Hooded Merganser. A flock of Canada Geese dominated much of the ice and the shoreline, but I was unable to pull any unusual goose species from the flock.
In contrast, the water on the east side of the causeway was wide open, and along with ducks like Common Mergansers, it held a family group of 5 Tundra Swans - not an easy species to find along much of the river. I snapped several shots of the swans, and a couple American Pipits flew overhead calling as I headed back to the car.
I then briefly checked over the birds on the ice from the viewing tower along Route 131 before continuing west to Wilson Hill Road. The marsh and the small patch of open water below the overlook along the road was crammed with ducks - but mostly the same species I had already found. I picked through them hoping to find the Eurasian Wigeon which had been found a week or so earlier, but I came up empty on that quest.
I then checked out the river at the parking area for the Nichols Trail - it is a good spot to look for migrating loons, grebes, and ducks. But despite the seemingly favorable weather conditions, there were no birds moving along the water, and I contented myself with a few Common Loons and Bonaparte's Gulls.
Scanning the River
The same was true of Coles Creek State Park - a short distance further west. Coles Creek offers a great vantage point from which to scan the water, and even without many birds actively migrating along the river, I began to put together a list which included Common Merganser, Hooded Merganser, Red-breasted Merganser, Long-tailed Duck, White-winged Scoter, Common Goldeneye, Bufflehead, Horned Grebe, Common Loon, and Red-throated Loon. The most exciting bird at the park was my first Iceland Gull of the fall which flew directly over me - soon enough they will begin to congregate in Robert Moses State Park.
I began to work my way back east, stopping off again at the various points at Wilson Hill - but more briefly this time as the birds had not appeared to turn over a great deal since my first visit. I continued on along the river - spotting Bufflehead and a few other things - until I reached Robert Moses State Park.
Robert Moses State Park
I didn't have much time before sunset, so I headed for the marina on Barnhart Island which overlooks the river, spooking a beautiful Red Fox which Wren and I seemed to catch by surprise. Wren seemed largely unaware of it, only smelling the air after it had left.
Thousands of gulls were congregated in the distance and on the small islands offshore, and while I ignored the most distant birds, I could see at least 8 Lesser Black-backed Gulls in the near flocks. It was a nice find for an uncommon species, and I may well have seen more had I worked through the more far-flung clusters of gulls. But failing light meant that doing so was likely not worth the effort.
Hooded, Common, and Red-breasted Mergansers also fished in the shallows and on the river, and after giving them a look, I headed to Hawkins Point to see what I could find before it became too dark. I found another Lesser Black-backed Gull there as well as the common Herring, Ring-billed, and Great Black-backed Gulls.
With evening upon me, I headed back along the park road, hoping to get lucky with a Great-horned Owl or perhaps a migrating Short-eared Owl. But I was unsuccessful in my attempt. I did, however, end the day with a chorus of coyotes and I watch a striped skunk nose its way through the grasses as it searched for food. And with darkness falling, it was time for me and Wren to find our own food. So we left the skunk to its nighttime endeavors and headed toward home and dinner.
Late-fall and early winter are exciting times of year for outdoor recreation and birding in the St. Lawrence Valley. Plan your trip today and check out our lodging and dining pages to learn more. 
---
This week in related ADK news: