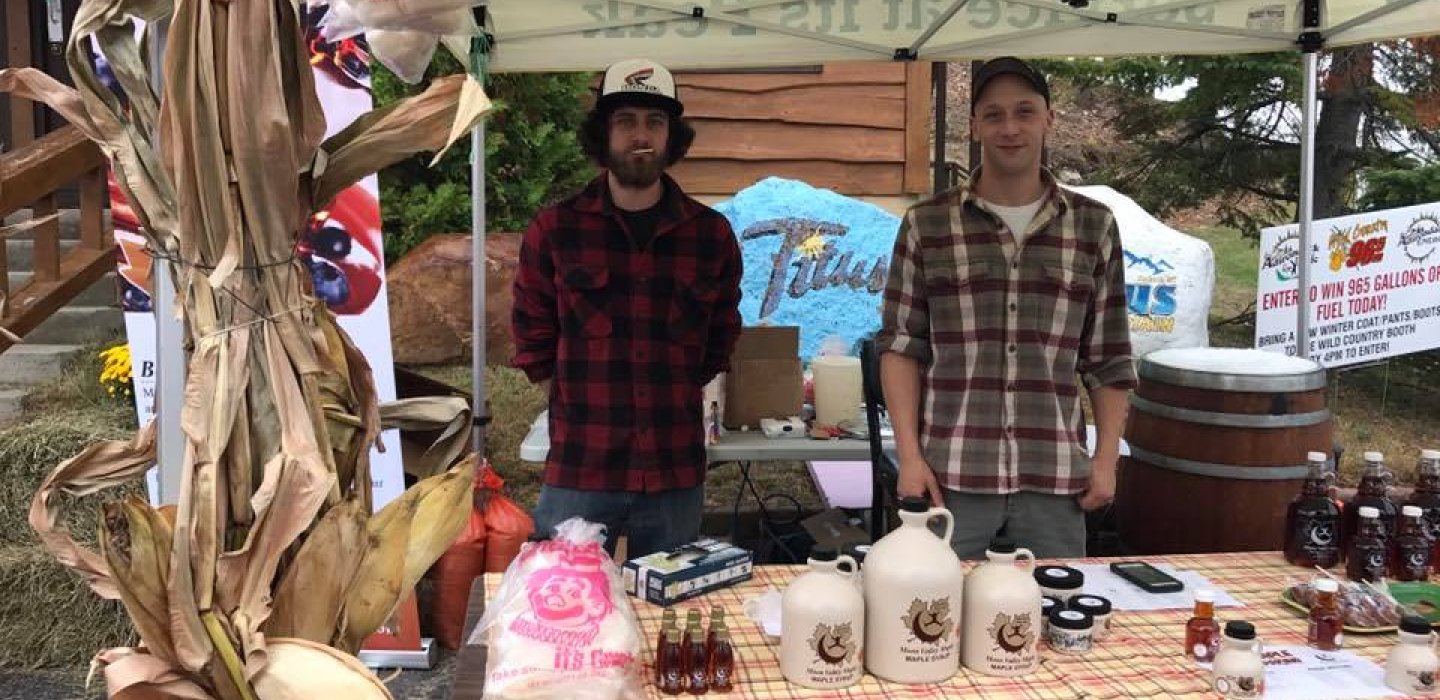 Across the region, there are maple operations complete with gift shops and viewing galleries as well as small farms run by moms, dads, and kids. The sugaring experience is truly something that can show how different businesses and farms can run, all using the same basic process that is the boiling of maple sap!
Watching these operations, big and small, is not only an experience but a great learning activity as well. Because of this, every year during late March, the New York State Maple Producer's Association puts on "Maple Weekend," a tradition where maple producers from across New York welcome families to their farms and sugar operations.
In Northern Franklin County, there are at least 6 sugarhouses participating in Maple Weekend, including Moon Valley Maple, Cedar Brook Maple Confections, Winters Harvest Sugar Shack, Friend's Maple Products, Lakeside Maple, and Woods Maple Products. These operations, from small to large, will be opening their doors so that you can taste their product and watch them make their syrup, plus a lot more... and for free!
If you venture out on Maple Weekend(s), which you most definitely should, here is a list of 6 things you need to make sure you do.
1. Taste their product (obviously!)
Alright, so this first thing is kind of a no-brainer. Of course, you should sample the product of every farm you go to! While the process of making maple syrup is pretty standard across all farms, don't tell the farm that you are on that it tastes just like everyone else's! Maple farmers hold true (and I believe it), that the tiny little things that they do different make a huge difference in the taste of their product. Anything from how old their taps are to the pitch of their Sugarbush and the system of boiling that they use all lends a hand in the flavoring of the product. So do a taste test and see if you can tell the difference!
Plus, warm maple syrup straight from boiling is just delicious and you really shouldn't need a reason other than that.
2. Take a tour through the sugarbush
Do you know what a thousand tree taps look like? At the end of Maple Weekend, you probably won't either (it's a lot!). The amount of time that Maple farmers spend in the woods tapping trees and checking their lines just goes to show how sugaring is more than a business for them, it's a true passion. Some of the maple producers in Franklin County will be touring their Sugarbush as well as giving wagon rides around it--and I bet you will be flabbergasted at the number of lines and taps that are strung throughout. Some of these farms have over 10,000 taps! It's a sight to see, and truly gives appreciation to the hard work that goes into making such a delicious product.
3. Watch the process of "Tree to Table"
Probably the most celebrated part of Maple Weekend is watching the process of making Maple Syrup. Depending on the weather leading up to the weekend, many producers will hold off on boiling their sap so that you can see the process first-hand. Making maple syrup, as you read it, is a pretty straightforward process... sap comes from the trees, goes to the Sugar House where the sap boils down to maple syrup, and then the syrup gets bottled. Simple, right?
You will be amazed that these 3 simple steps actually have a lot more to them. Collecting sap could be from a simple bucket on a tree to a high tech system of lines and tubes that hook to a computer to ensure the proper pressure. Boiling could be boiling sap on a stove to going through a system of evaporators and high-tech boilers. You get the picture... but to see it in person is something else.
4. Enjoy a pancake breakfast
Another way of sampling the product, a pancake breakfast just brings the tasting of pure maple syrup to another level. While many of the pancake breakfasts are an additional cost, there are many reasons to spend a little bit of money for this experience. Some sugar houses even donate some of the pancake proceeds to a non-profit.
But more than the aspect of eating pancakes, the best part of the pancake breakfast can be the fun of sitting around a table with people enjoying the experience as well--and sometimes even with the maple producers themselves. A pancake breakfast really gets to the roots of this industry-- a community coming together and enjoying the sweetness that nature offers.
5. Ask About their History
Many operations are family-run businesses and have been passed through generations. Some are new operations, and some are operations that have been revamped from previous times. When you ask about the history, chances are you will get a lot more than the typical "who we are" speech. You will not just learn, but feel like you know their grandparents, or feel like you were there for their kids' first steps in the sugarbush, or take part in the sense of pride that these farmers have in what they do. History is so much more than the where and when, and asking the maple producers will give you a sense of the who and what as well.
6. Take Some Product Home
Last, but certainly not least, is the fact that at the end of your tour you must take some product home. This isn't required, of course, but you would be silly if you didn't take some Maple Cotton Candy, or Maple Cream, or Maple Lollipops, or Maple Coffee, or Maple Cupcakes home. Did you know there were so many delicious things you could make with maple?
Many of these products will be recipes passed down from generation to generation and you will be able to taste the love in them. But, even if you take home a gallon of just the pure NYS Maple Syrup, chances are they will give you some recipes to use for yourself as well. And maple is not only delicious, but a healthy and natural substitute for some of the processed sugar your recipes might call for.
How Sweet it is...
Maple Weekend is pretty sweet. Literally and figuratively. It's something that is pretty unique to the New England area (our abundance of maple trees allows this to be an East Coast endeavor) and something that every New Yorker and beyond should experience. I hope you get a chance to visit all of the sugar houses in the area so you can support our small businesses, but even if you only visit one, you'll be welcomed with open arms. I guarantee it.
---
Want to figure out which maple is right for you? Read on for more fun facts! Need a place to stay after a long day of tastings? Check out these great lodging options! 
 
---
This week in related ADK stories:
Extreme winter sports - 1900s style
Winter camping? No tents required!