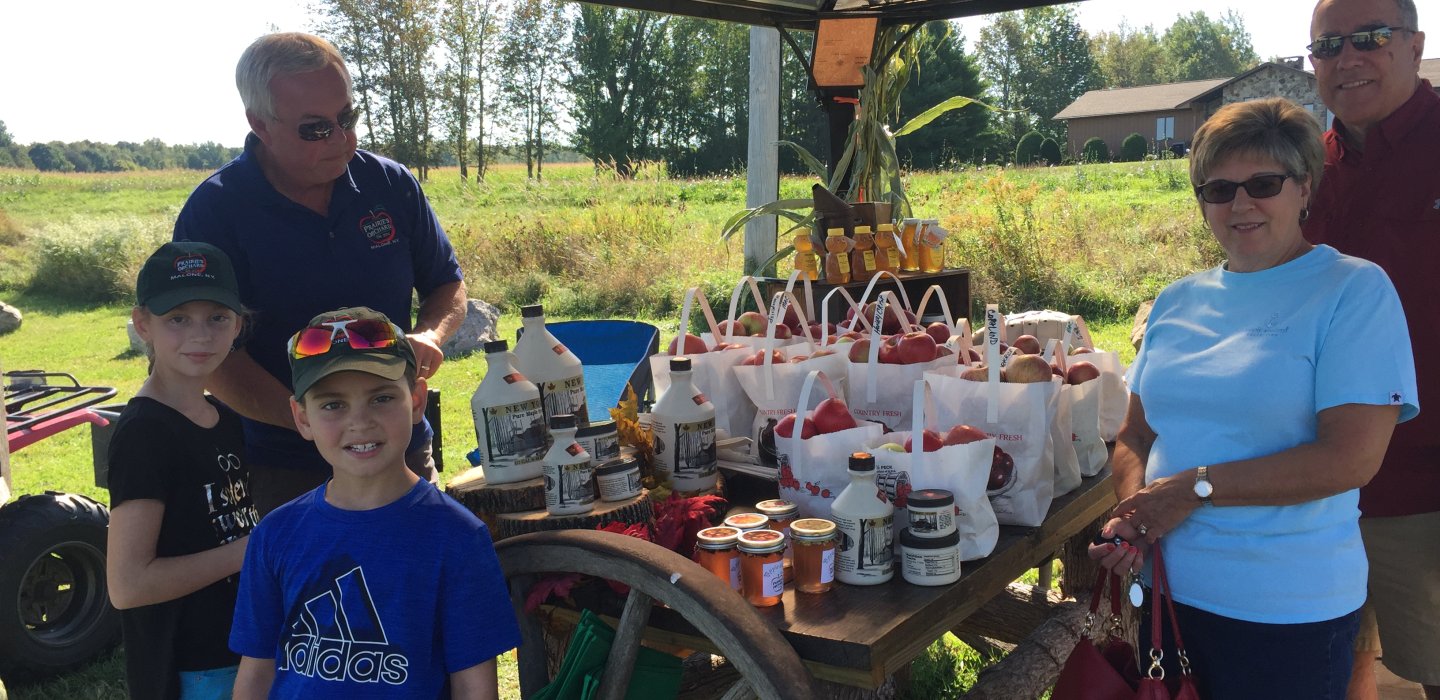 Something big is growing right off County Route 24 (Brainardsville Road), just outside of Malone. An oasis of nearly seven acres and five varieties of delicious, juicy apples, soon to be ten varieties, is right on the side of a quiet, meandering highway. Prairie's Orchard -- family owned and operated -- opened its you-pick apple orchard and farm stand doors in 2014.
Apples have long been an Adirondack tradition, and Daniel Prairie, owner of Prairie's Orchard along with his wife, two kids, and their parents, take this tradition seriously. He showed me around the fairly new, but thriving orchard on a warm Saturday in late September, when families were picking apples at the seven-acre orchard.
The orchard is a short drive from Bokies Drive-In and the Franklin County Fairgrounds, making it a perfect stop on a day trip. Daniel gave me an educational tour, showing me how they train the trees to grow out rather than up, the differences between commercial orchard planting and you-pick orchards, and the different varieties of apples, which was the most fun because I got to try them. Honeycrisp is bright red and perfectly round with a crisp, sweet taste, while Jonathans are crimson with a more tart taste, perfect for cider and jams.
A visit to Prairie's means you can delight in a favorite fall tradition of picking apples and purchase apple based products along with other produce from local farmers at the farm stand. You can get pumpkins grown by West Farm. Split Ridge maple syrup. Squeak Creek honey. Beeswax and coconut oil based candles. In the next year Prairie's will build a barn for storage and a building that will have a kitchen and store, where not just apples will be featured. They are also interested in selling products from local artisans. Warm cider donuts, fresh apple cider, and freshly baked pies will be available from the kitchen.
The apple orchard is continuing to expand and Daniel said they have intentions of only being a you-pick orchard and not a commercial operation. He loves the educational aspect of it all and delights in giving tours. I highly recommend a tour. Apples are a dynamic fruit and this is clearly on display with the different colors, sizes, and tastes that can be found among the rows of trees and varieties at Prairie's. The good ol' Macintosh can be found near the Galas (my personal favorite, also known as the lunch box apple). You have a cornucopia of choices.
So, where did all this zeal for apples in Malone come from? Daniel picked up his passion for apples in the early 2000s, turned them into a family operation, and has since been learning from the experts and joining their efforts. Malone has a strong agricultural history so adding an apple orchard to the mix is bringing back an Adirondack tradition in a place ripe for growth.
By the end of my tour, I learned why apple trees need nitrogen to grow and more about the year-round duties of an apple farmer. It's no small potatoes -- or apples. Apple season is prime in the late fall months but can start as early as September 1, when the sun is still blazing on a verdant landscape. Winter is a time when the Prairies continue to tend to the trees, making sure nothing is overgrown, etc. Daniel also taught me that apples are about more than just taste -- although that is certainly very important. The trees in the orchard provide an aesthetic centerpiece, with the different shades of reds peeking through branches covered in deep green leaves. It's straight out of a Norman Rockwell painting. Trees for picking tend to be lower to the ground because they're easier to reach, and you want the skins of the apple to be smooth and not bruised. Someone has to maintain all that natural beauty and taste!
Ready for some fall fun? Start planning your trip to Malone today. Find the perfect place to stay and explore the Malone Region's family fun activities.
This week in ADK news:
Biking Fish Creek and Rollins Pond