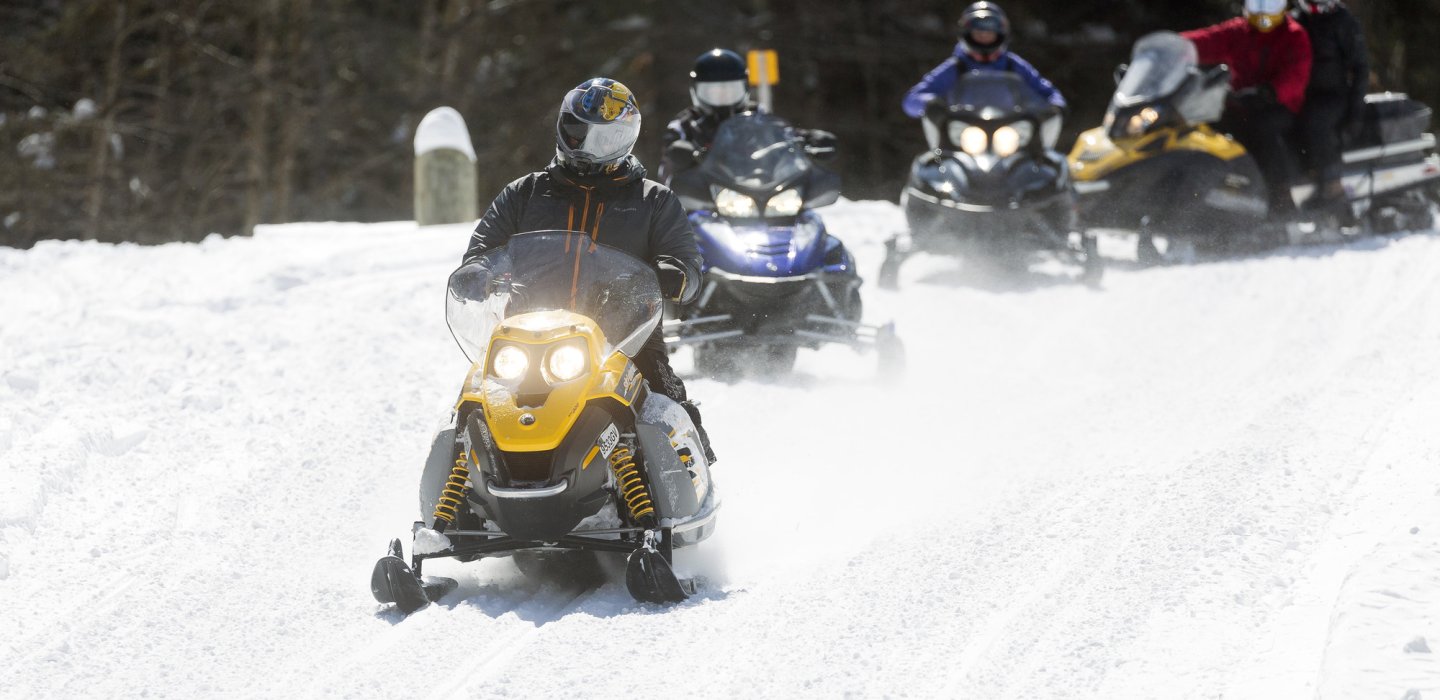 The Malone region is home to a wide range of events and activities that are sure to keep families happy year-round. Even in the colder months there's plenty going on, from tubing to snowmobiling to indoor golf to shopping. Malone's winter activities offer something for everyone - whether you're looking to explore or spend a leisurely day in town.
Tubing, skiing, and riding at Titus
Titus Mountain is consistently ranked as one of the top family-friendly ski destinations in the east, but there's more to do than just hit the slopes. Those are great too, though!
With 50 trails, including glade skiing and terrain parks, and multiple lifts, no one waits in line long at Titus, which means more time on the slopes! There's night skiing and riding, lessons, and adjacent cross-country ski trails for skiers looking for a slower pace.
And for those who prefer not to partake in skiing and riding, there are tubing lanes and a couple of restaurants right at the mountain so the kids can have a little fun while mom and dad enjoy a great meal and apres ski.
Snowmobiling
Whether you're looking to head down the trail a little way for a plate of wings or spend the day visiting several towns, the Malone region has a type of snowmobiling for whatever your taste may be.
From remote wilderness rides to frequent pit stops, Malone is at the heart of North Country and Adirondack riding. From Malone, most of the northern Adirondacks is reachable via sled, and with restaurants, bars, and services along the way, your ride can be as long as you want it to be. 
Our local lodging options love to cater to snowmobilers, and once you're back in Malone after a fun day of riding, be sure to have dinner and a drink at one of our local eateries.
Snowshoeing
Interested in a family hike? The peaceful woods and scenic vistas don't go away when the leaves fall, so strap on a pair of snowshoes and head out for a hike the whole family will remember.
From taking in the view of Lake Titus from Elephant Head to climbing a century-old fire tower on Azure Mountain, there are peaks and trails that are suitable for all levels of hikers. If you'd like to enjoy the winter woods in a little more of a controlled environment, head to the Paul Smith's College Visitor Interpretive Center for a stroll on their groomed trails or pick up a brochure and follow the interpretive trails for lessons on Adirondack wildlife! 
The VIC, along with a number of our local outfitters, offer rental snowshoes and skis, so save some space in the car and get the gear you need once you're here.
Eating, riding, and indoor golf
After a day on the slopes or trails, you'll want to kick back and relax with a warm meal and a cold drink. Malone has a wide range of eateries, from a 50s diner to steak and seafood to a table with a view of whitetail deer grazing right outside the window. Family-friendly options abound, while beer aficionados will want to be sure to check out Township 7 Brewery.
Even with all of the winter fun to be had, sometimes it's nice to think back on the warm days of summer, and Highland Greens Golf Course can scratch your itch for the links with its indoor golf simulator, complete with a number of PGA Championship courses on it!
Want to spend time outside while not doing a lot of work? If so, the family should make a trip to Mayville's Relax and Ride Stables, where you can take a horseback-riding lesson or just let the horses take you around one of the seven trails onsite.
Whatever your idea of a perfect winter vacation is, the Malone region has plenty of activities to keep everyone in the family happy all winter long. Explore our lodging options and special events to help you plan your adventure today!
---
This week in ADK news:
Tupper Lake learning activities
Sweet indulgences in Saranac Lake
Winter activities in the Whiteface Region