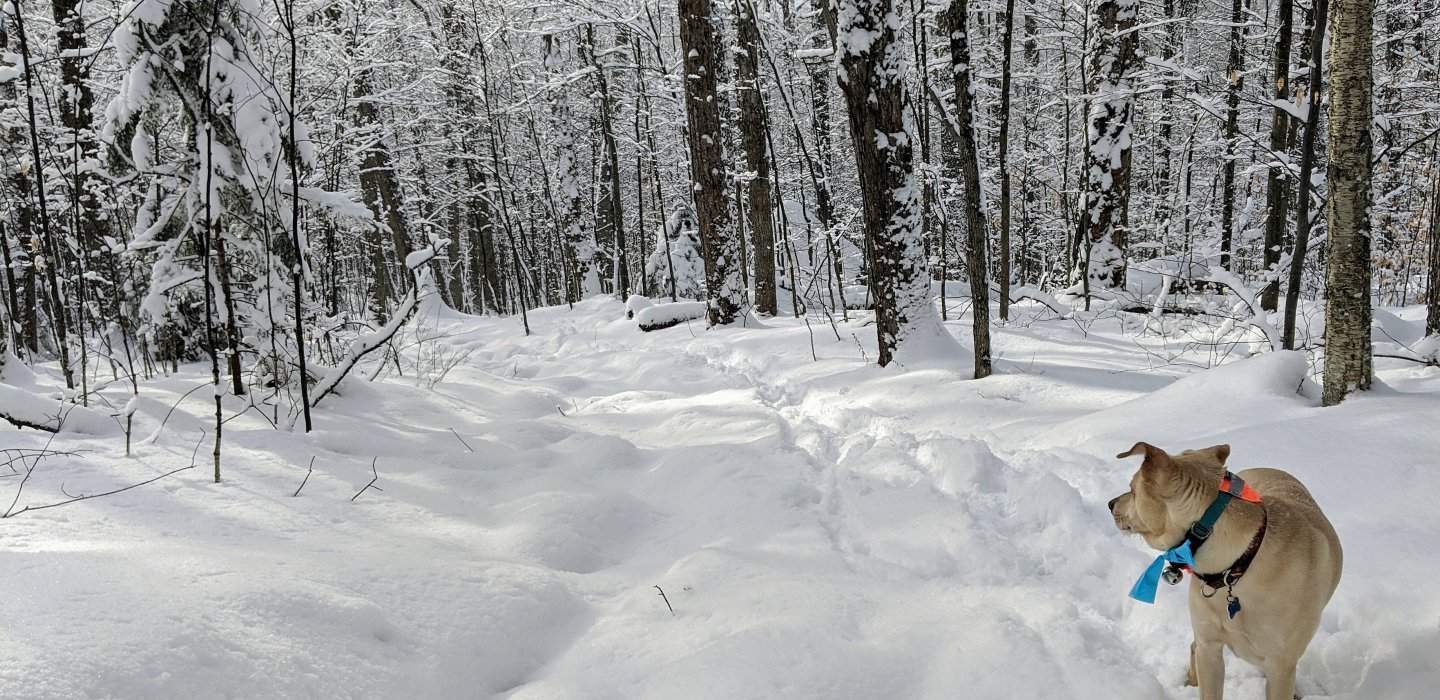 Submitted by guest blogger Chris Morris 
Confession: I've been skiing in the Adirondacks since I could stand, and until a few years ago, I completely ignored the early-season gems offered in northern Franklin County. 
The trails in this part of the Adirondacks are phenomenal all winter long. And if you're like me and need to stretch the season out as long as possible, winter here lasts longest, because everything from Paul Smiths north tends to collect more snow. 
Before we look at some recommended trips, here are a few things to keep in mind about early-season skiing. Some of this may be obvious, but it's never a bad idea to freshen up. 
Maybe don't bring your top-shelf gear. I'm a thrifty person, so I like to get as many years out of my skis as possible. Early in the year, even when the snow cover looks good, there's a pretty good chance you're going to hit a rock or a root. If you have beater skis, this is the time to break them out. 
There's probably runoff under that snow, too. Most bodies of water -- whether lakes, rivers or stream beds -- aren't frozen over in the early season. Be prepared to get your feet wet. Carrying an extra pair of socks in your pack, or at least waiting for you in the car, is a good idea. 
You're probably, definitely going to have to break a lot of trail. One of the great things about early-season skiing is the solitude; typically, you'll encounter only diehards trying to get a jump on the season. The downside, of course, is that the trails are less likely to be broken. You'll be sacrificing your legs for the greater good. 
Be prepared for blow down. Early in the season, and especially on the less-traveled trails, you're likely to encounter downed trees and limbs. Generally speaking, you should be able to duck underneath or climb over. 
My final rule is this: Just go. I've learned the hard way that Adirondack winters are fickle. Too many times, I've said, "I'll go tomorrow," only to wake up to rain or sleet or 60-degree weather the next day. I know it's not always that simple (that whole work thing), but if you can figure out how to sneak away, do it. 
Now, on to my list...
The first two are skis I did in November of this year; the other two are skis I plan to do before the holiday season wraps up. 
Town of Duane Recreational Trails 
Duane is a rural town north of Paul Smiths, south of Malone. It's also a beacon for snow. The morning of my trip, we had about 5 to 6 inches of accumulation in Saranac Lake where I live. Driving out state Route 30 toward Duane, it felt like I crossed an invisible line and entered a different world. By the time I had pulled off the highway onto County Route 26, there was about a foot of snow on the ground. 
The all-season trails maintained by the town of Duane are a gem. To find them, turn off state Route 30 onto County Route 26 in Duane. About 2 miles down the road, the trails will be on the left -- the trail signs are visible from the road. There's no posted mileage total for the trail system; I would estimate a total of about 3.5 miles if you ski the whole thing. 
This was the first time I'd skied them, and they are a sure bet for early-season skiing for all skill levels. I parked right on the road, put on my skis, took a quick look at the map, and set out for a gentle ski through the woods--although I did break trail and was clearly the first person to venture out. 
The trails are flat and meander through a somewhat dense forest, with a mixture of maple and pine trees. I did the long loop, and pulled off onto some of the side trails. Keep an eye out for posted signs, as some of the trails leave the town property and enter private property. However, these are clearly marked.
Of note: I nearly jumped out of my ski boots when a pheasant -- hiding on the trail, completely covered by snow -- burst through and flew into the trees. It happened several times during this ski and once I got used to it, it was pretty cool (though I felt guilty about disturbing them). I read up on this behavior and it's normal, and I'd venture to guess more likely to occur on these less-travelled ski trails. 
Debar Mountain 
I did this on the same day I skied the Duane trails, since it was on my way back to Saranac Lake. This trip offers more adventure, since it's well off the beaten path and includes a moderate uphill ski.
Here's what you need to know: 
Get to the trailhead by turning off state Route 30 at the Meacham Lake State Campground. The road should be plowed all the way back into the turnoff for the trailhead. That said, if you don't have a four-wheel or all-wheel-drive vehicle, exercise caution. If the road is unplowed, parking closer to Route 30 is an option, though it will make for a longer ski.

Once you pass the main gate to the campground, take the first left and drive until you see the sign for the trailhead. This is where I parked. 
Ski about a quarter-mile and you'll reach the trail register, located next to a yellow gate. 

From the register, you'll ski along a wide trail for a little over a mile. It's good for all skill levels. 

Eventually, you'll hit a junction. Take a left here and follow the red trail markers. 

From the junction, the trail gets gradually steeper. Go with your judgement; if you're a beginner, turn around whenever it feels right, or continue on if you feel comfortable. 

The trail continues to climb and the grade increases until you reach the lean-to, approximately 3 miles from the trailhead. Here's a great place to stop for a snack and some water, and probably the best place to turn around for your return trip. I had my heavier backcountry gear and opted to ski to the top.
Overall, this is a fun trip. I'd plan on spending about a half-day depending on your skill level. If you're a more adventurous skier, bring your skins or a set of snowshoes so you can get to the top, about 0.8 miles from the lean-to, for a one-way ski of 3.7 miles. 
Other trips 
Here are two other northern Franklin County skis I plan on tackling early this winter -- both are well-worn hiking trails. 
Azure Mountain. This trailhead is located off state Route 458 on Blue Mountain Road. Similar to Debar Mountain, this is a popular summertime hike, with the added bonus of an awesome restored fire tower on the summit. If you've hiked it, you know that the first half of the trail is fairly moderate, which should make for a moderately difficult ski -- I'll probably torture myself and skin to the summit when I go. 
High Falls. This is a quick round-trip ski, accessible for all skill levels. The trailhead is south of Malone, off Duane Road, near Titus Mountain (which also has great cross-country skiing, for a price). The payoff for this short ski is a 30-foot waterfall, which should still be running early in the season. 
After your early winter ski trips, you can refuel at one of the region's many restaurants or recharge overnight at a cozy lodge.
---
This week in ADK news: