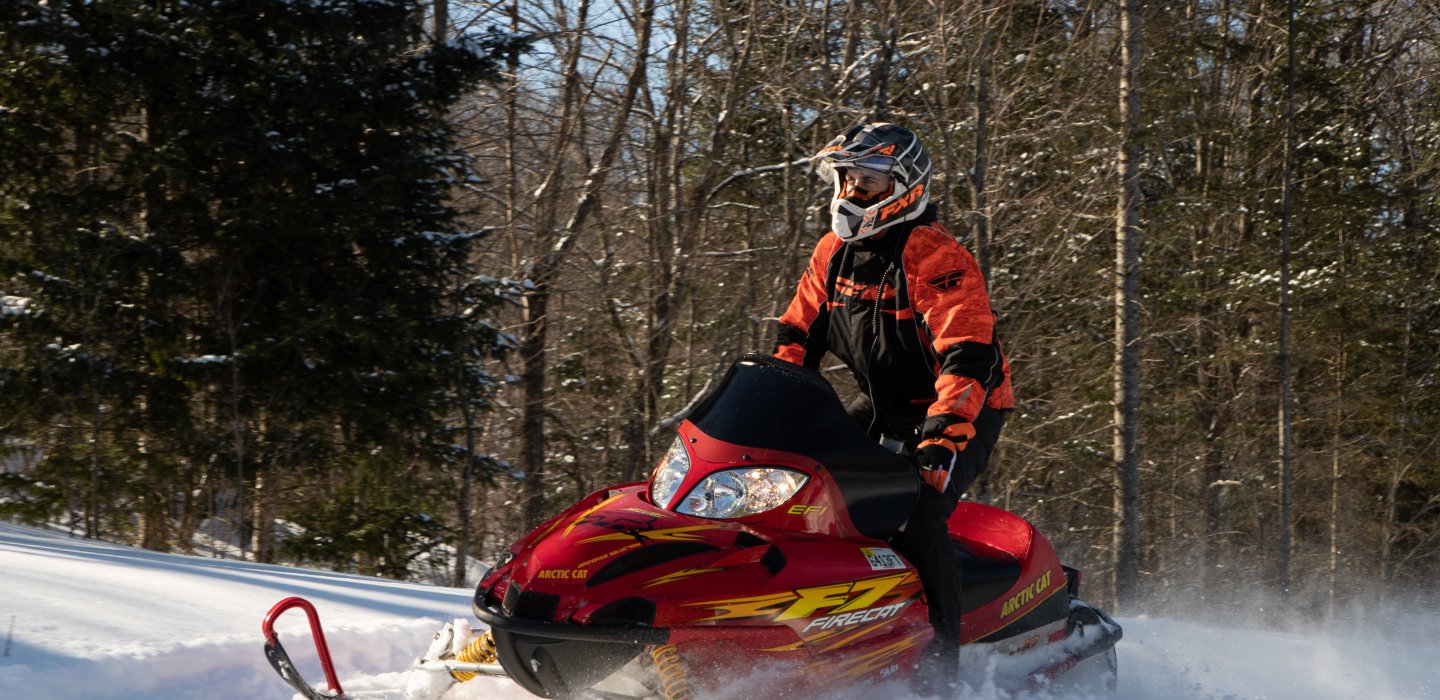 Snowmobiling in the Malone Region
The Malone region, in addition to being an outdoor enthusiasts' winter destination, is also perfect for beginners and families! It's likely that I'm biased because my kids learned to ski at Titus Mountain Family Ski Center, but Malone is truly both family-friendly and beginner-friendly regardless of the activity one chooses to enjoy. One winter activity that I've always wanted to try is snowmobiling. I didn't take my kids with me on this adventure because they're a bit young, but also because they wanted to go tubing instead.
Because I don't have my own snowmobile, it's been difficult to try the sport without making a huge investment in a sled, that is until Owls Head Tours, LLC opened their doors. This new company enabled to me explore snowmobiling while having no experience at all. The owner, Ray Breault, has been riding the trails as far back as his childhood and enjoys sharing his passion with others.
Ray's collection of snowmobiles that he rents out for his tours continues to grow, now with more than 10 sleds to select from (and growing). I arrived for my tour just a few minutes early since there is some paperwork to fill out, and then Ray got me fitted with the right helmet and snowmobile. 
Before leaving the shop, Ray provides a training on the overall operation of the snowmobile and ensures you're comfortable before you head out on the trails. Once you've got the basics down you're all set to ride. 
When we headed out on the trail, Ray was really good about making sure I was comfortable. After just a few miles, we stopped at Sugar Loaf Cabins just in case I had any questions, which was very reassuring for this newbie! The owners of Sugar Loaf were very friendly people and when they saw us, invited us in for some coffee before we headed back out.
When we left Sugar Loaf, feeling more confident, Ray continued on the trails in Mountain View. Although we were only going about 40 miles per hour it felt amazing! The cool winter air breezing by, your face protected by your winter gear and helmet of course, but you can still feel that fresh air that you've been missing since fall. 
Traveling these trails with Ray is an experience I won't soon forget and quite honestly, hope to do again very soon. The most impressive part of this experience for me, aside from the actual thrill of the ride (and wow, was it thrilling, never having been on a sled before), were the views. If you haven't experienced the beauty of the sparkling snow that covers the evergreens, it's pretty magical. The way the sun reflects off the snow casts a wide twinkle-like effect, which is perfect for the holiday season.
What's also great about Owls Head Tours is the convenience factor. Even if you're an experienced rider but don't feel like towing your sled around to new trails, Owls Head Tours has you covered, and Ray can help plan a tour that's exactly what you're looking for. There's also plenty of nearby lodging so when you return from your ride, kick back, relax, and then head out for some dinner. There are some good places located right on the trails, too!
This week in ADK news:
Must-do ice activities in Lake Placid
Blue Mountain Lake xc ski bliss